Recipes that are avo-control
Avocado is essentially synonymous with Los Angeles and we're definitely not mad about it. As you've probably noticed, the creamy green fruit (yes, fruit) is immeasurably glorified in modern day culture because, well, it's straight up delicious. We're not ones to adhere to the status quo, but this avocado phenomenon is tremendously trendy for good reason. One, it doesn't go out of style; and two, the more guac the merrier.
That being said, we're taking it to a whole new level this summer and cooking up some unique avocado-driven dishes. Follow suit and host your most epic summer soirée yet.
Crispy Avocado Fries & Chipotle Aioli
Do we even have to try to sell you on these? Crunchy, velvety, spicy. Potatoes are so passé.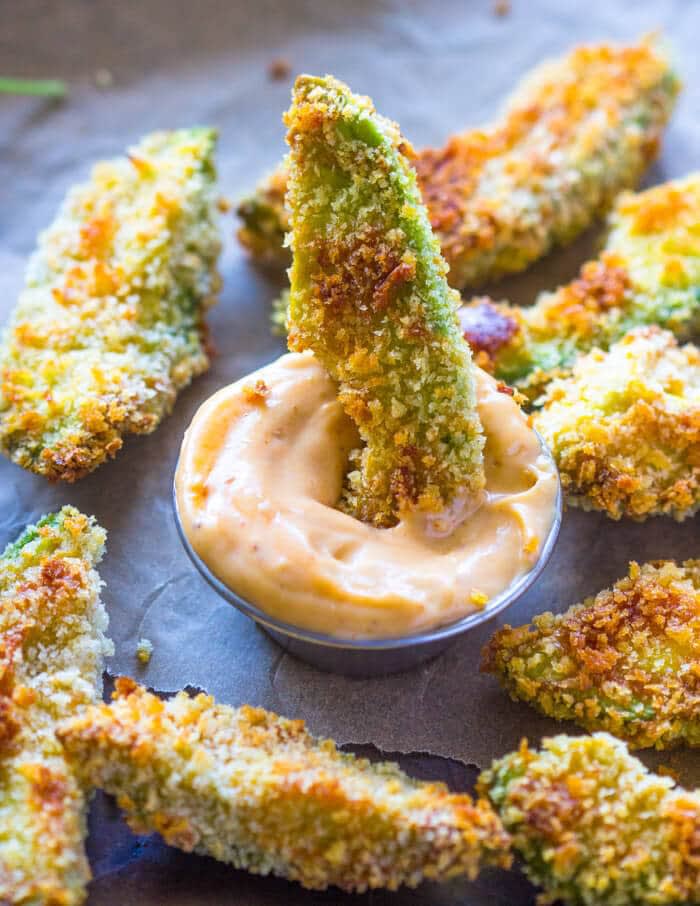 Avocado Fries Ingredients:
2 large avocados, sliced
Lime juice
Salt & pepper
1/4 cup flour
1 egg lightly beaten
1 cup panko bread crumbs
2 tablespoons olive or avocado oil
Chipotle Aioli Ingredients:
1 chipotle chile in adobo sauce plus 1 tsp. sauce (canned)
½ cup mayonnaise
⅓ cup plain Greek yogurt
¼ cup chopped cilantro
¼ tsp. ground cumin
¼ tsp. dried dill
Salt
Directions:
Pre-heat oven to 400°F.
Slice avocados and squeeze with fresh lime juice to preserve their color while baking. Season with salt and pepper, then dredge in the flour, dip in the egg and coat in panko breadcrumbs.
Arrange the slices on a greased sheet pan and drizzle with a tad more oil. Bake for 15 minutes, or until golden and crispy.
For the aioli, place all ingredients in a blender or food processor and puree until smooth. Now dip and devour.
Avocado Pesto Pasta
Up the ante on classic pesto with an avocado recipe that your guests will beg for. It's creamy and healthy, so everyone wins.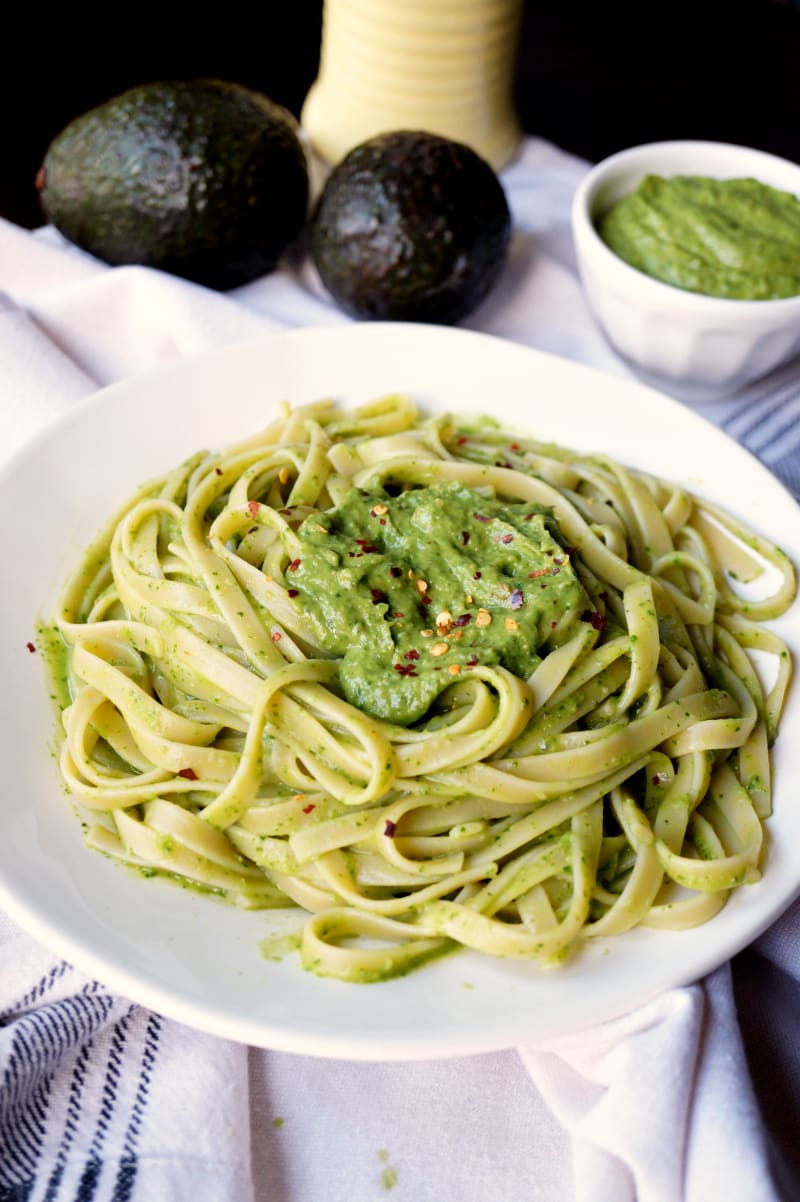 Ingredients:
8 oz. tagliatelle, or pasta of choice
1 cup packed fresh basil (reserve some for garnish)
1 avocado
2 tsp. lemon juice
3–4 cloves garlic
1/4 cup extra-virgin olive oil
1 tsp. kosher salt
Pinch of freshly ground black pepper
Directions:
Bring a large pot of salted water to a boil. Add the pasta and cook according to package directions. Drain and set aside.
Meanwhile, whip up the pesto by combining basil, avocado, lemon juice, garlic and oil in a food processor. Blend until smooth and season with salt and pepper.
Immediately after the pasta or noodles are drained, top with the pesto and gently toss until well-coated. Divide pasta among serving bowls and top with toasted pine nuts and shaved Parmesan, if you so please.
Steak Tacos with Avocado-Tomatillo Salsa Verde
Tacos and 'cado go together like peanut butter and jelly. Listen, we're all for guac, but we must admit this salsa verde may be our newest summer staple.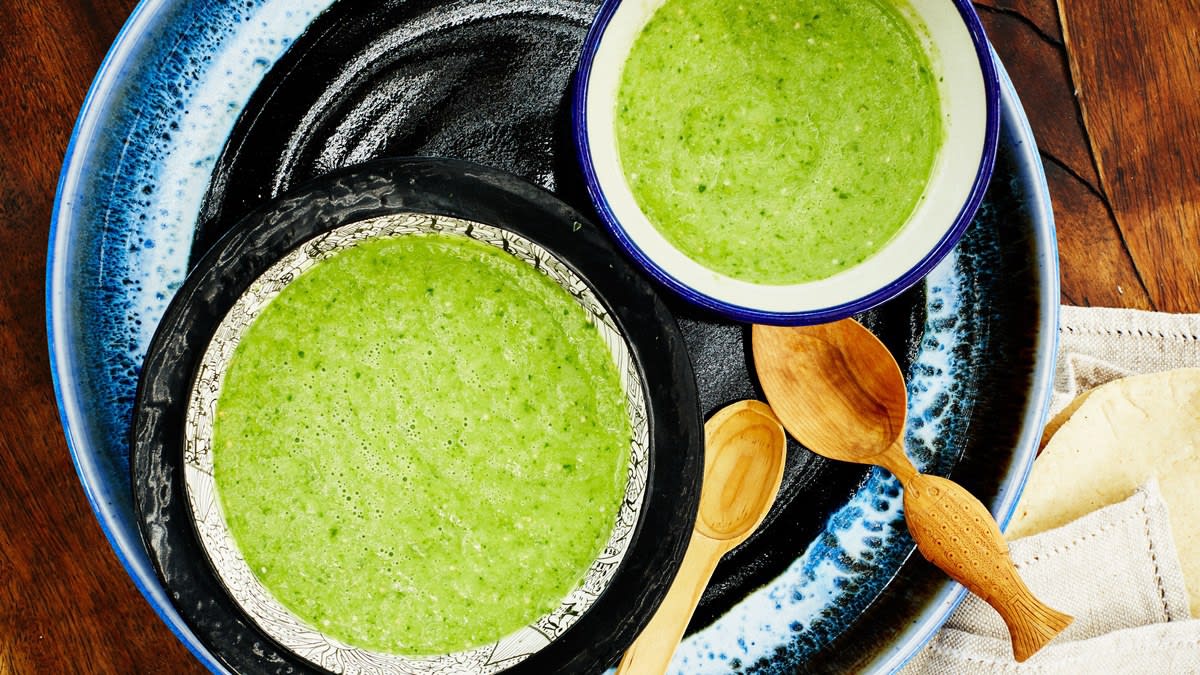 Steak Ingredients:
2 tablespoons vegetable oil, divided
1 pound skirt or flank steak
Kosher salt and freshly ground black pepper
Salsa Verde Ingredients:
½ medium avocado
1 romaine lettuce leaf, torn into pieces
1 serrano chile, finely chopped
¼ medium white onion
1 garlic clove, peeled
1 pound tomatillos (about 8), husks removed, rinsed & quartered
½ cup (packed) cilantro leaves with tender stems
Kosher salt
Directions:
Heat 1 tablespoon of oil in a large skillet over high heat. Season steak with salt and pepper and cook about 5 minutes per side for medium-rare. Let steak rest 5 minutes.
For the salsa, scoop avocado flesh into a blender and add lettuce, chile, onion, garlic, tomatillo, and cilantro and blend until smooth. Season with salt.
Grill corn or flour tortillas until soft and charred, slice steak against the grain then top each tortilla with a few pieces meat, salsa, cilantro leaves and cotija cheese. Buen provecho.
Avocado Margarita
Because why wouldn't we combine our two favorite things? You better believe we'll be whipping up this creamy tequila smoothie all season long.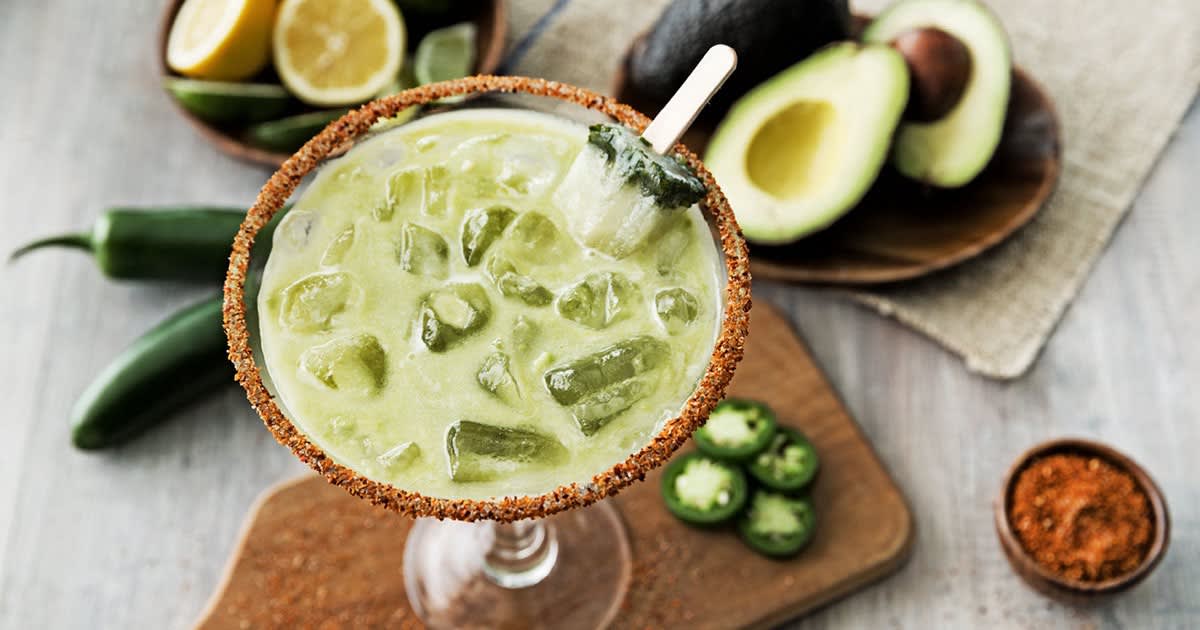 Ingredients:
2 tablespoons kosher salt
2 teaspoons finely grated lime zest, divided
1 lime wedge
1 avocado, pitted, peeled
¾ cup plus 2 tablespoons tequila blanco
¾ cup triple sec
¾ cup fresh lime juice
2 tablespoons chopped fresh cilantro
Pinch of cayenne pepper
8 lime wheels
Directions:
Toss salt and 1 teaspoon of lime zest on a small plate. Rub the rim of each margarita glass with lime wedge and dip into salt mixture.
Purée avocado, tequila, triple sec, lime juice, cilantro, cayenne, remaining 1 tsp. lime zest, and 2½ cups ice (preferably crushed) in a blender until smooth.
Divide among prepared glasses and garnish each with a lime wheel.