Everyone deserves a relaxing summer getaway. And lucky for those who live in Los Angeles, there are endless destinations to explore just outside our front door (aka, a few hours away by car). Among our favorites is the bohemian village-like town of Ojai, where not a single chain store can be found. With its distinct Spanish-style architecture, eclectic shops, farm-to-table fare, and bountiful natural attractions, Ojai offers a soul-nourishing escape from the hustle and bustle of LA life. Need more reasons to book a trip? We have six:
It's only 1.5 hours from Los Angeles.
Perhaps you're short on time, or maybe those flight prices have skyrocketed. Either way, driving to your vacation destination can be a real life-saver. Ojai rests just 80 miles north of Los Angeles, affording a short 1.5-hour drive that's over sooner than one of your favorite podcasts. Best of all, it feels like a world away. As soon as you open your car door, you'll be captivated by an immediate sense of peace and calm thanks to the town's nature-driven lifestyle. Did someone say tranquility? Sign us up ✅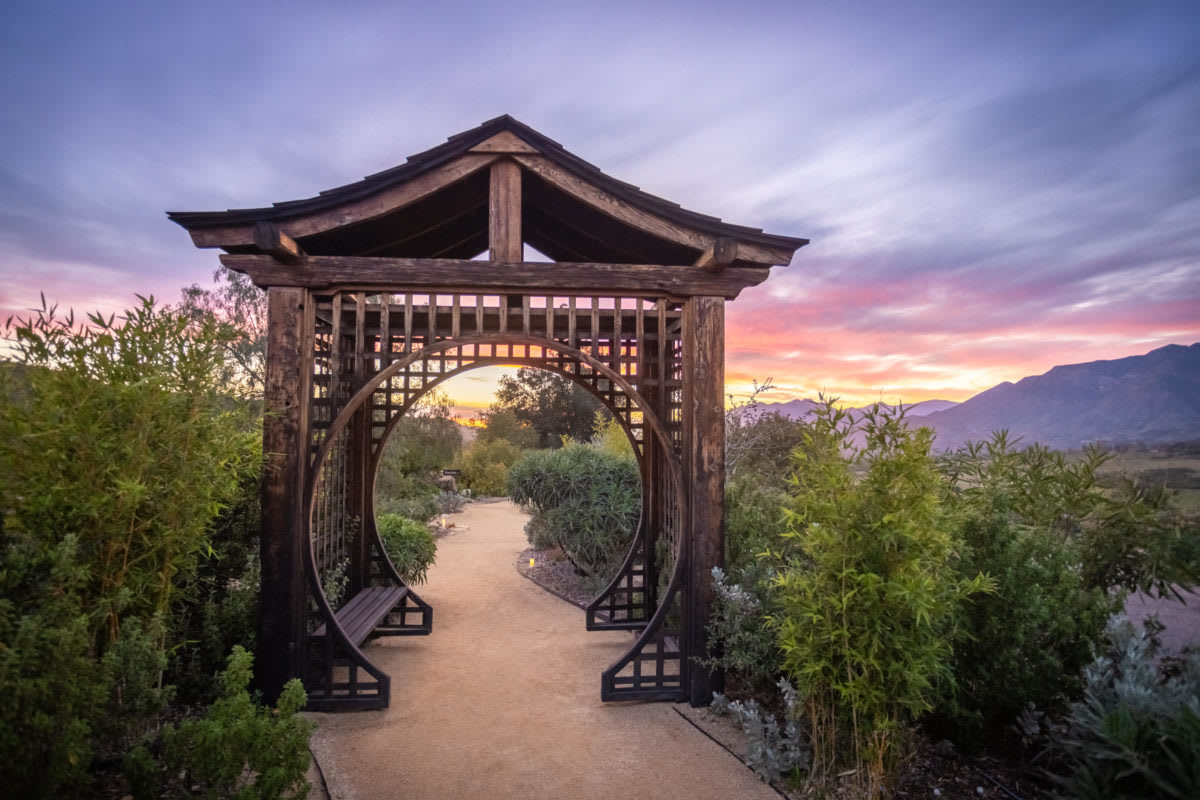 Photos courtesy of Meditation Mount.
There are epic hotels to choose from.
If you're envisioning a rustic California town based on our descriptions thus far, throw that idea out the window. Ojai is brimming with design-centric hotels and inns that embrace the free spirit of the valley while delivering all the luxuries you want and need. Here are our top picks:

Ojai Valley Inn & Spa: Set upon 220 tree-lined acres, this award-winning hotel exemplifies casual elegance at its finest with seven culinary outlets, a prestigious spa, a championship golf course and more.

Thacher House: Nestled inside Matilija Canyon, Tacher House features beautifully designed, English countryside-style cottages that bring upscale comforts to its natural setting.

Capri Hotel: This 1963 mid-century modern roadside retreat was completely renovated in 2020, featuring designer rooms with luxury amenities, a pool, lobby boutique, complimentary bikes and more.

Ojai Rancho Inn: At the base of the Topatopa Mountains, this reimagined 50's ranch-style retreat offers cozy cabin-style rooms, a pool, bar and more — a true "summer camp" for adults.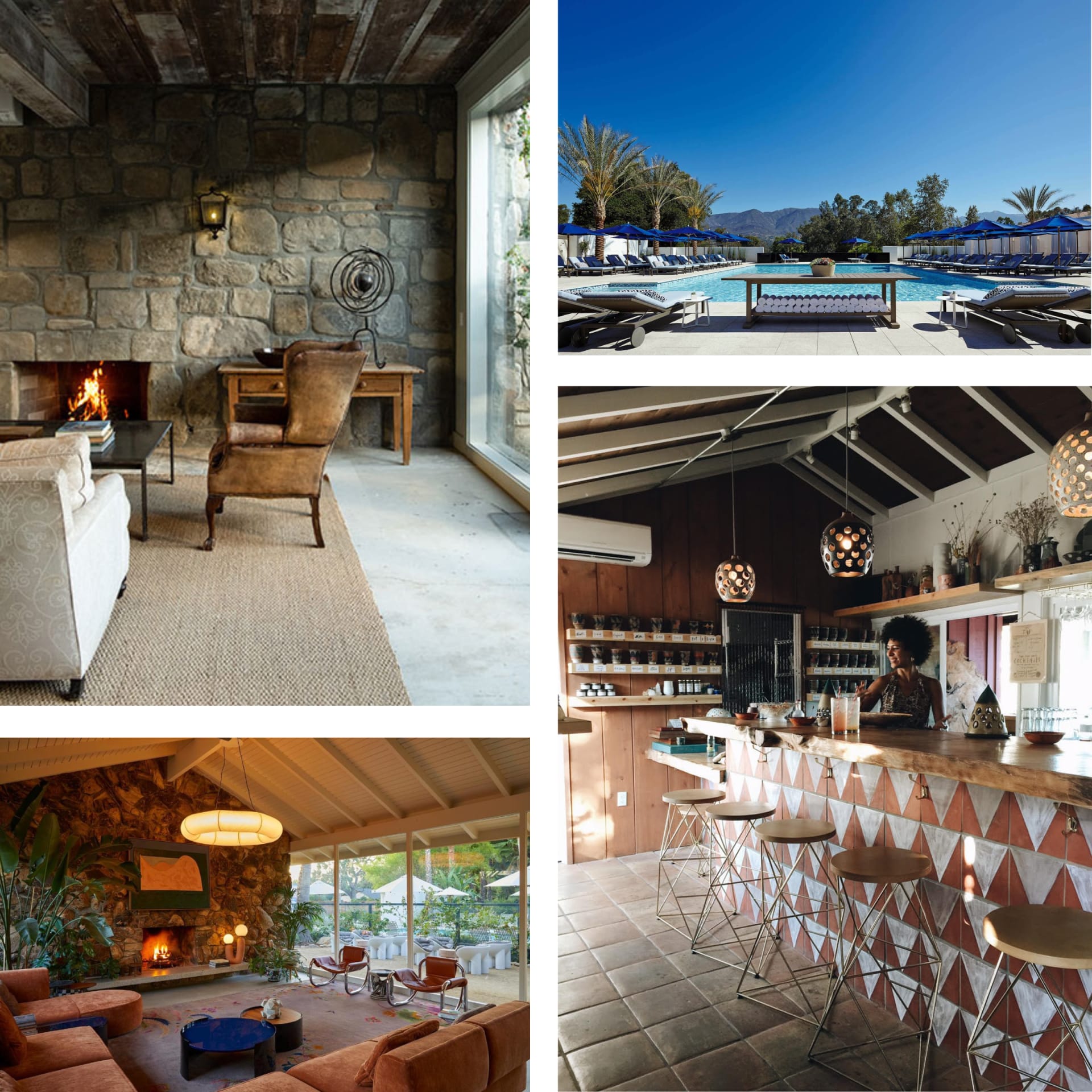 Photos courtesy of Thacher House, Ojai Valley Inn, Booking.com & NJ in LA
The farm-to-table restaurant scene is one to be reckoned with.
If you're going to come to Ojai for one thing, let it be the food. The town's culinary scene is centered on what's fresh and in season from nearby farms, made evident by the citrus, olive and avocado groves that overflow the landscape. Here are our favorite spots to grab a bite:

The Dutchess: Quirky bakery/cafe by day, trendy Burmese restaurant by night in a farmhouse-style space.

The Nest: Contemporary, order-at-the-counter joint serving locally sourced, healthy-ish eats.

Olivella & Vine: A refined farm-driven culinary experience at Ojai Valley Inn.

Pinyon: A family-run wood-fired pizzeria, bakery and natural wine shop.

Nocciola: Upscale Italian restaurant set in a Craftsman-style home in the heart of Ojai.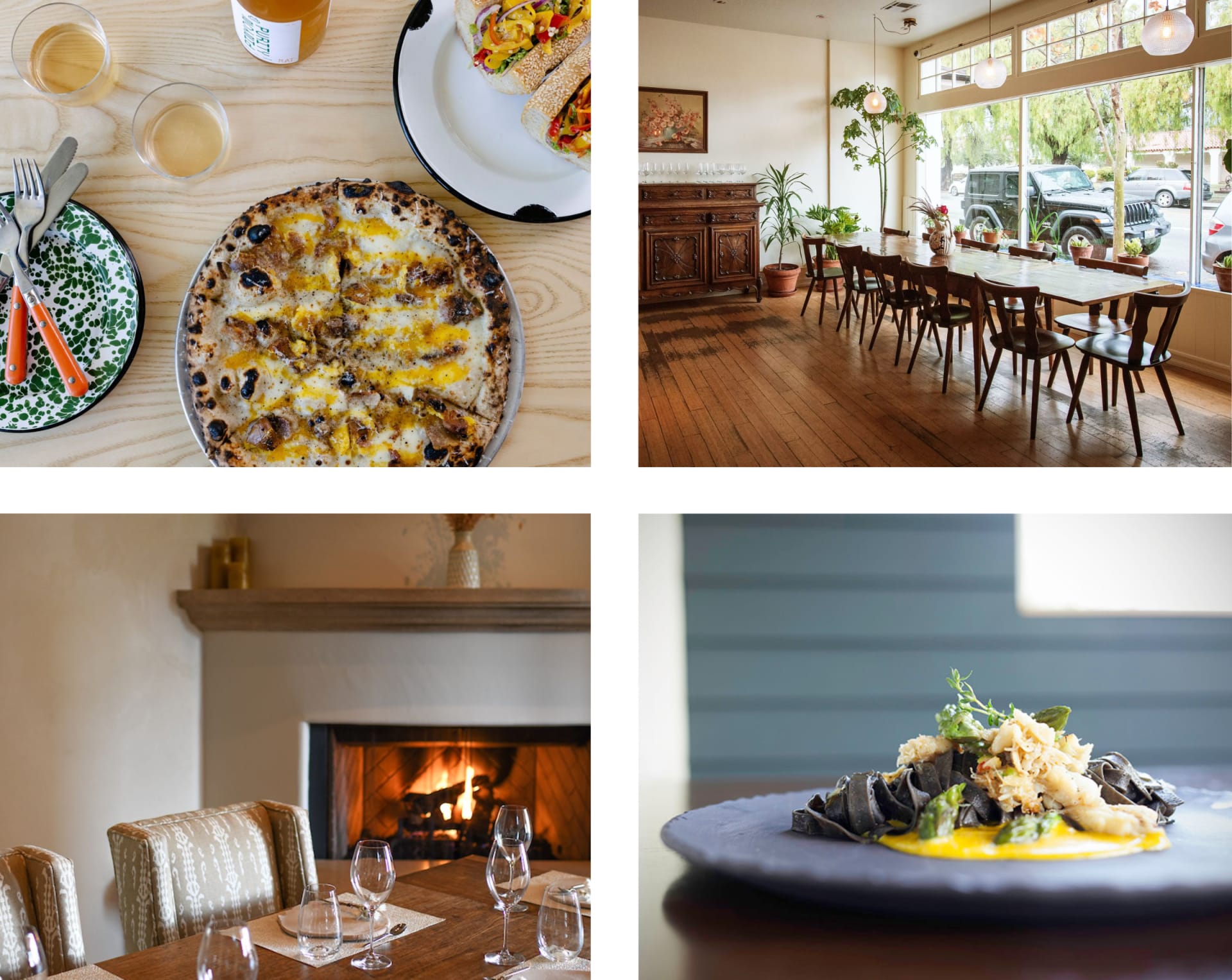 Photos courtesy of SB Mag, Infatuation, OpenTable & goop

Activities range from hiking to wine tasting to spa going.
No matter your interests, there's something for everyone to enjoy in Ojai. Play 18 holes at the Soule Park Golf Course, hike the Wills-Rice Loop Trail in the Ventura River Preserve (4.6 miles), take a farm tour with Ojai Olive Oil Company, sip on local wines at the Ojai Vineyard tasting room, book an indulgent treatment at the Ojai Garden Spa at the Lavender Inn, enjoy sunset yoga and sound meditation at Meditation Mount, the list goes on! Whether you're seeking relaxation or recreation, Ojai checks every box.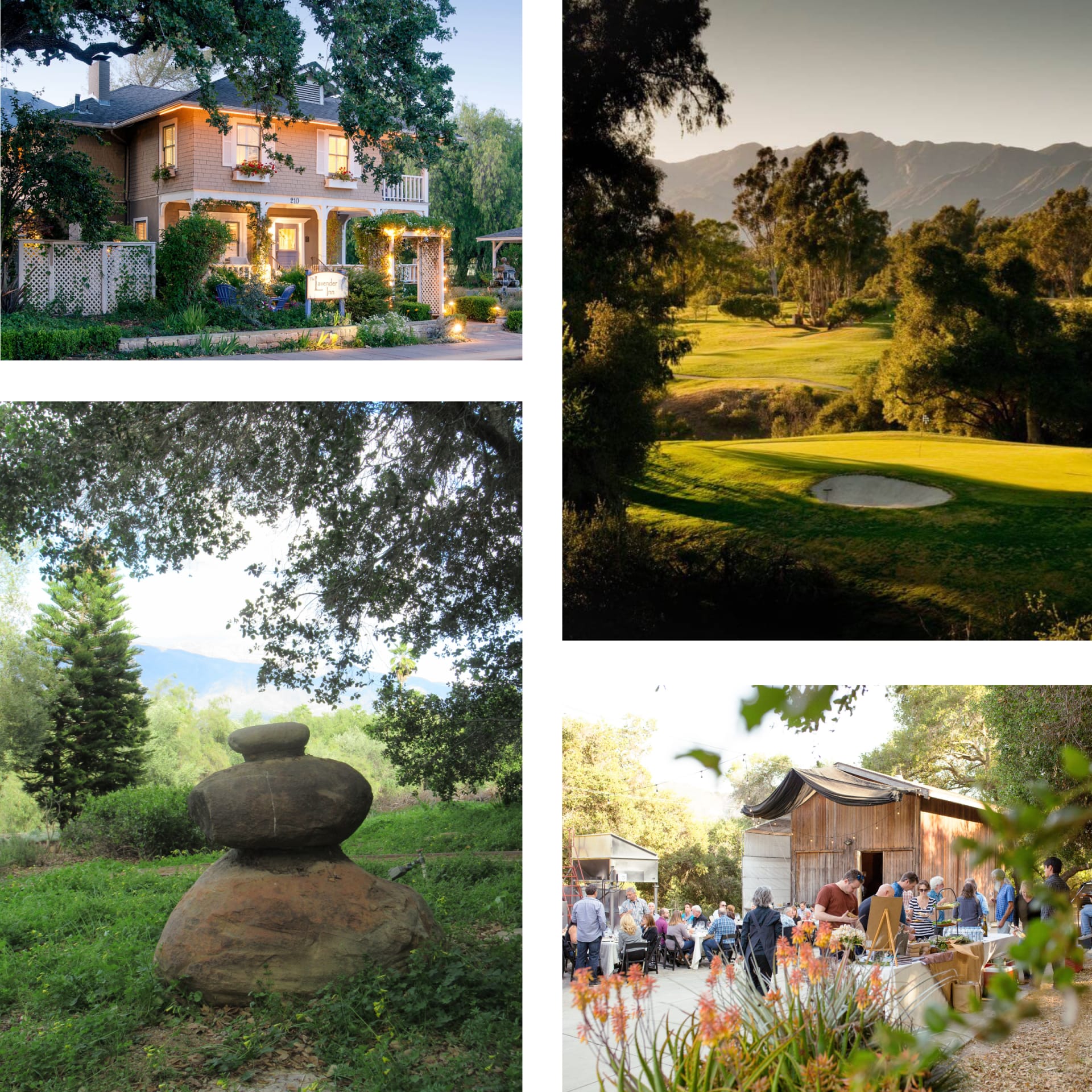 Photos courtesy of Lavender Inn, Golf Pass & Sunset Magazine
The town is brimming with one-of-a-kind shops.
If you're in the market for unique and/or vintage finds, you've come to the right place! Whether searching for home decor or clothing, the nouveau hippie hotspot features an array of boutiques with a distinctive edge. Here are a few you'll want to check out:

Fig Curated Living: Artfully curated home store featuring handcrafted garden decor, locally made jewelry, stylish homeware and more.

Bungalow: Sister store to Fig, featuring unique gifts, clothing and knick-knacks.

Blue Ojai: Elevated boutique offering home decor, fashion and art.

Summer Camp: Home, lifestyle and custom framing shop with unique vintage items.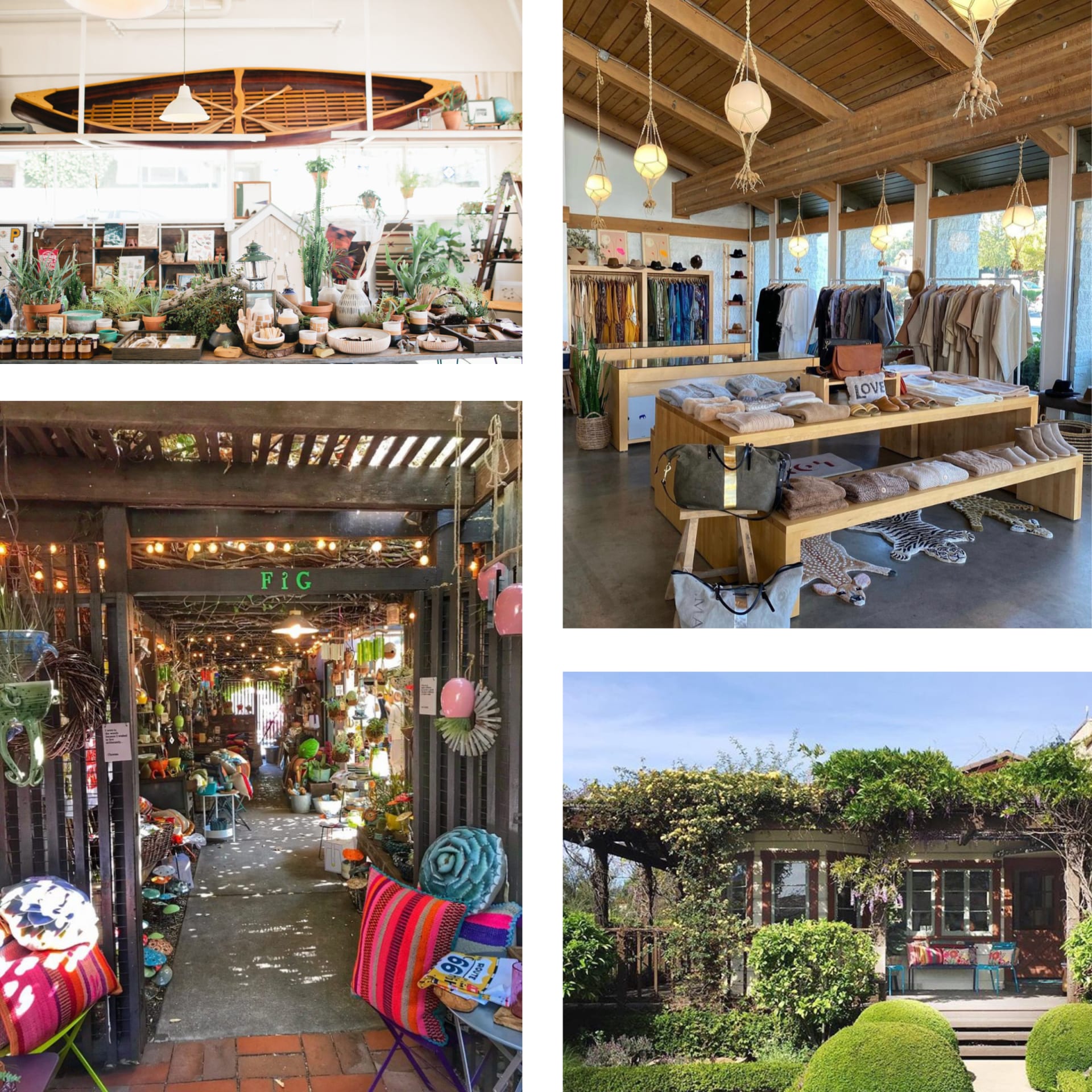 Photos courtesy of Summer Camp, Jetsetting Fashionista, Where Gals Wander & Edible Ventura

Feeling inspired to book a summer getaway to Ojai? Be sure to tag us in your travels @smithandberg to be featured!