When given the proper thought and attention, a cozy breakfast nook can easily become the highlight of a home. Banquette seating, windowside views, charming tabletop details — it's practically a recipe for an unmatchable setting to take your coffee and start your day off right. Luckily, the interiors of Instagram excite us daily, and we've curated a few nook ideas that we are certainly drawing inspiration from. From vibrant upholstery to cleverly-placed seating, here are some of our top IG picks.
Make it modern
Sharp angles, striking black lines and minimalist lighting fixtures — now that's how you spin together a modern breakfast nook. While we love perusing Instagram for cottagecore nooks, sometimes modern life calls for an upgrade that is both sleek and elegant.
Take a cue from Grandma's house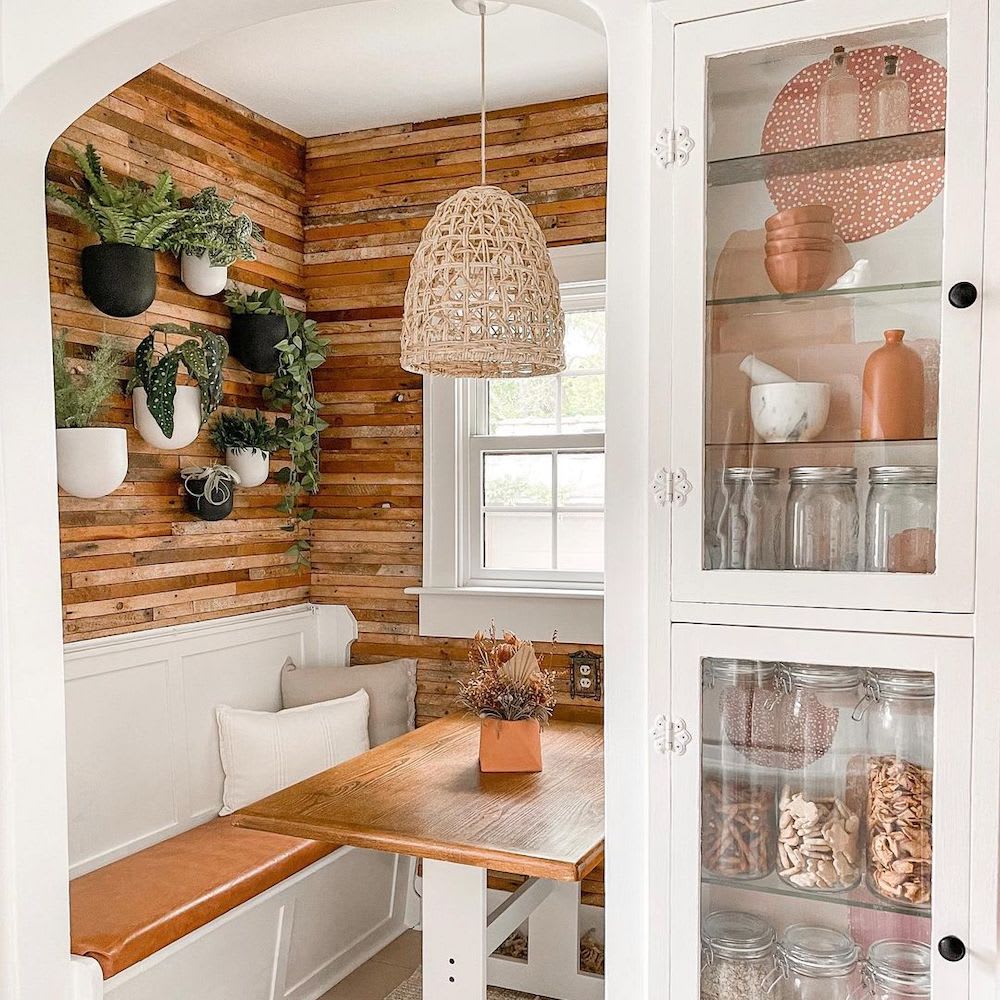 Another method of cozying up a nook is reaching into our childhood memories and picking out the warm, vintage details. Built in shelves and farmhouse glass cabinets for displaying fine china help make the space feel more full and lived in.
Play with accent colors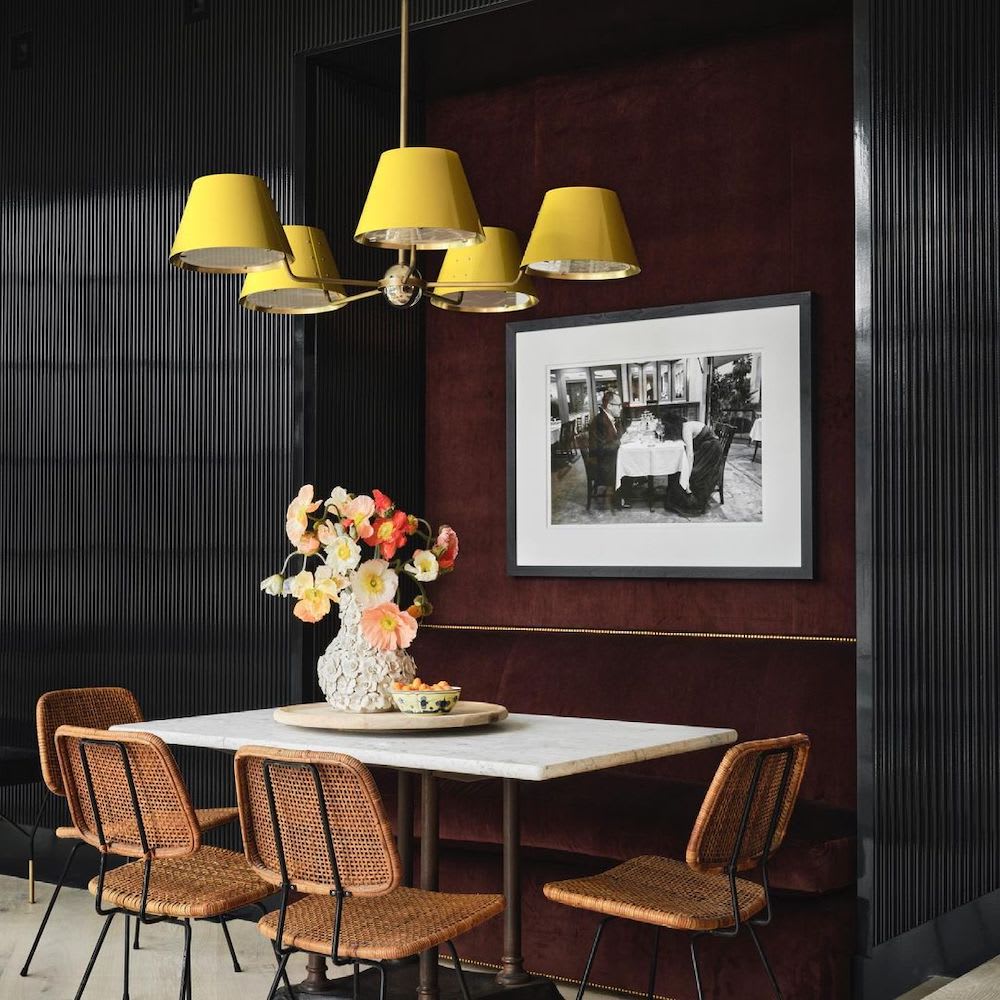 We love what Fern Santini has done with this breakfast nook by incorporating a lively yellow chandelier to brighten up this charming corner dining space. While the table itself can be neutral, details such as flowers and lighting are a great opportunity to spice up the color profile of a nook.
Immerse it in windows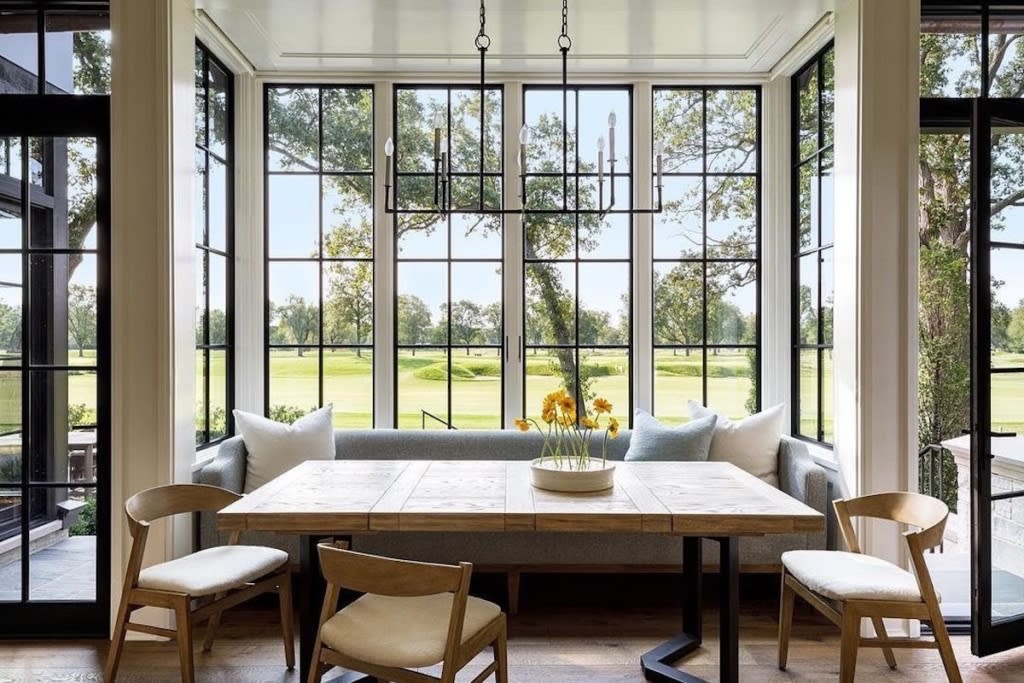 One of our dream breakfast nooks actually starts with a sun-drenched enclave made possible by floor-to-ceiling windows. Pushing up a couch to the wall to act as a booth and adding light-colored furnishings to reflect all that natural light? We couldn't ask for more.
Start with a corner couch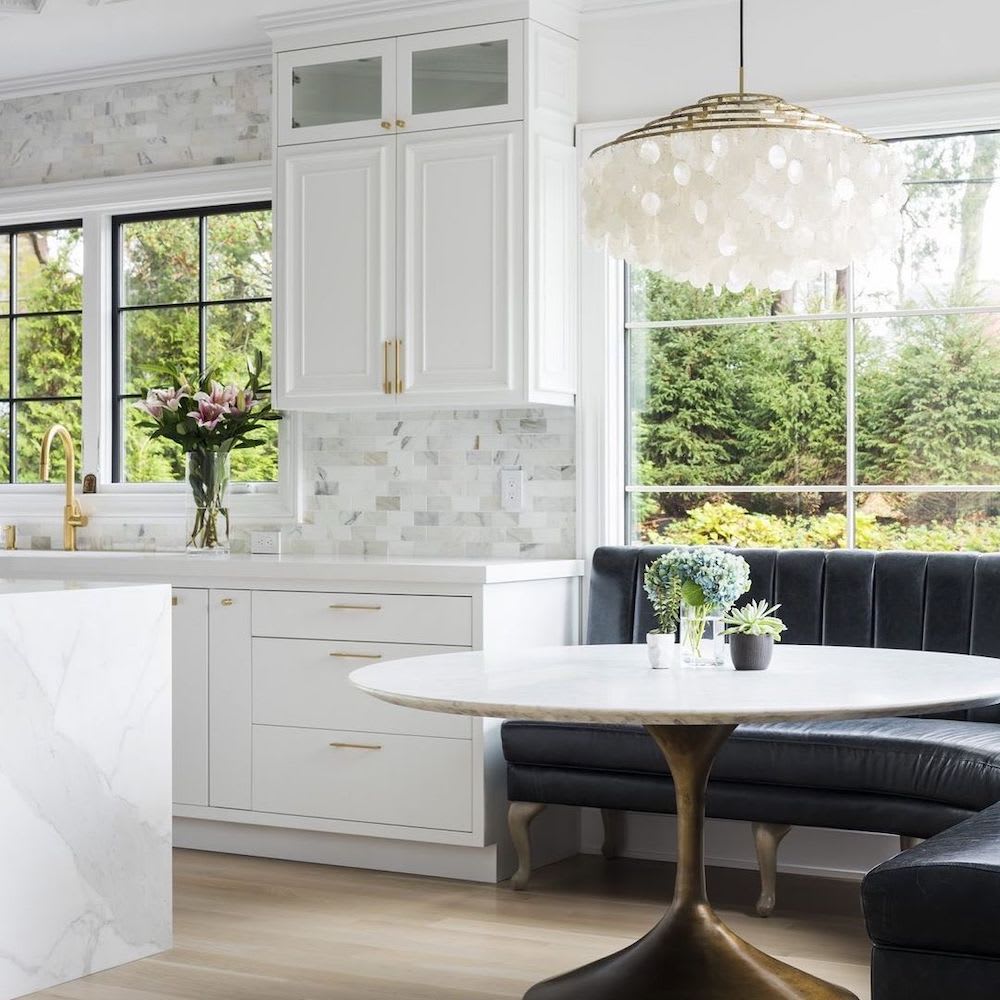 For those who don't know where to even begin designing a nook and are not ready to commit to a built-in booth, starting off with a statement corner couch is a great first step. We love how JSE Interior Design leads this space with a classic black leather couch that contrasts beautifully with the white tiles and marble in the kitchen.
Let artwork set your vibe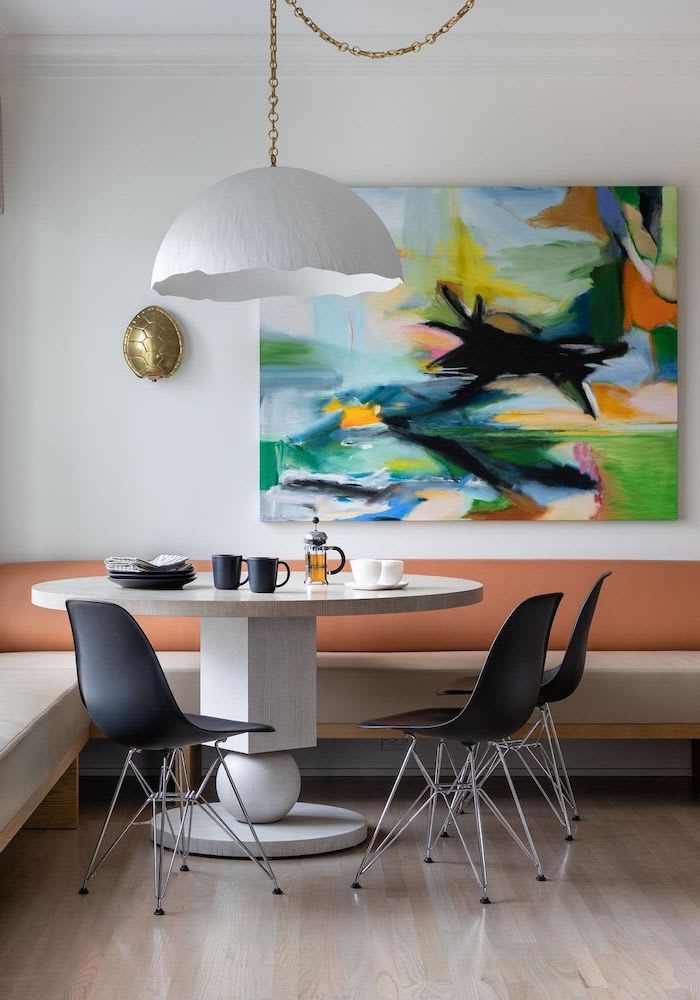 Nothing ties together a breakfast nook quite like a good wall painting does. Let your taste in artwork brighten and energize the space, and add decor flourishes that complement the established palette.
Rattan and wicker all the way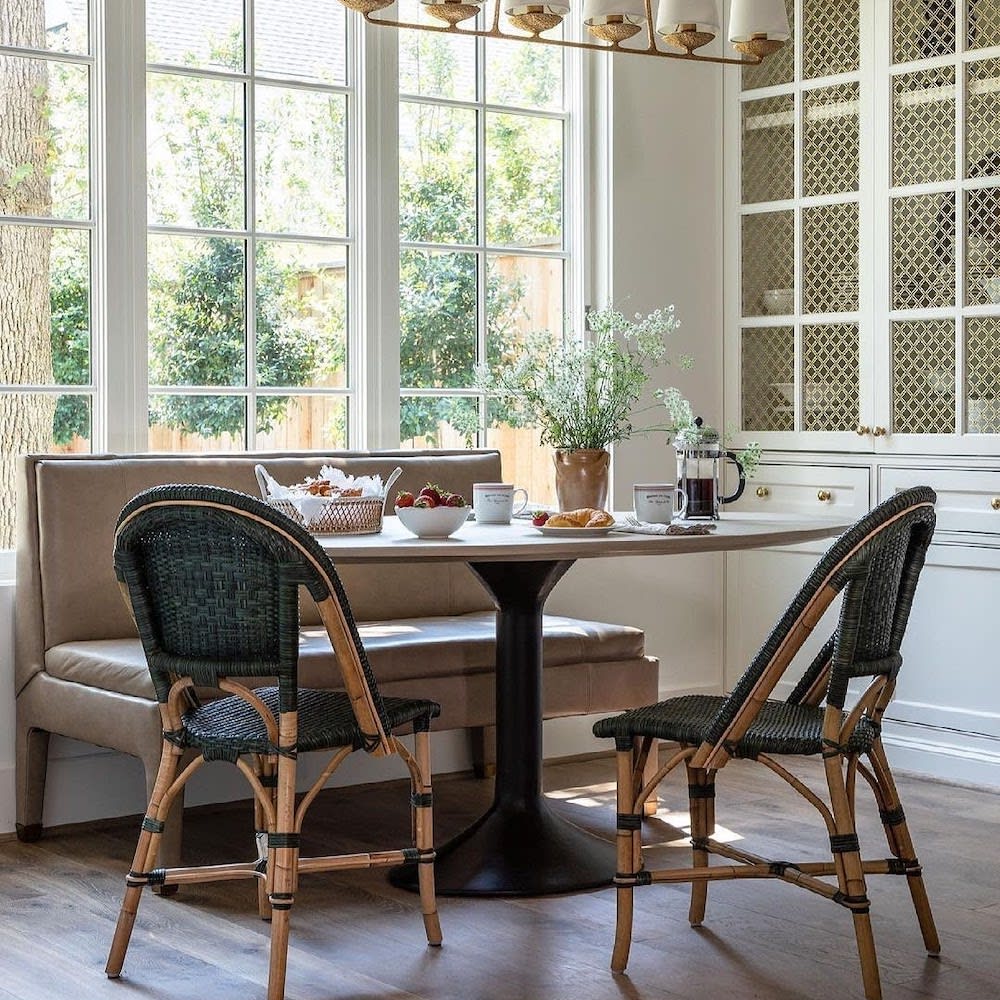 It's hard to go wrong when incorporating rattan and wicker details into a breakfast nook space. That ever-elusive idyllic feel of French countryside-design can be brought into your home with these woven textures. French press coffee and croissants, anyone?
Farmhouse nostalgia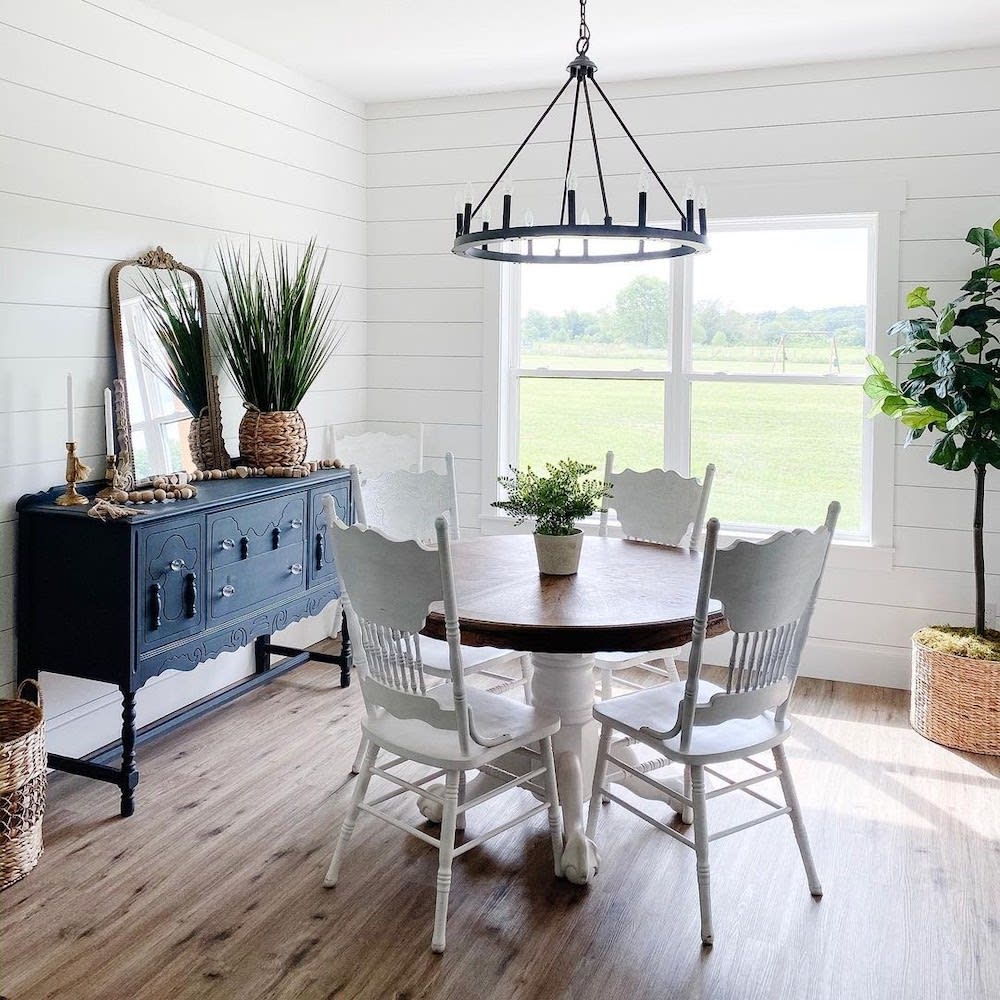 Farmhouse design seems to never get old when it comes to quaint dining spaces. Tune your nook into a rustic and pastorale vibe with whitewashed wooden chairs, cozy textures and natural colors. Small circular tables are great for intimate, family-style dining for smaller households, and the idyllic scenery framed through the window is just the cherry on top.
Solo banquettes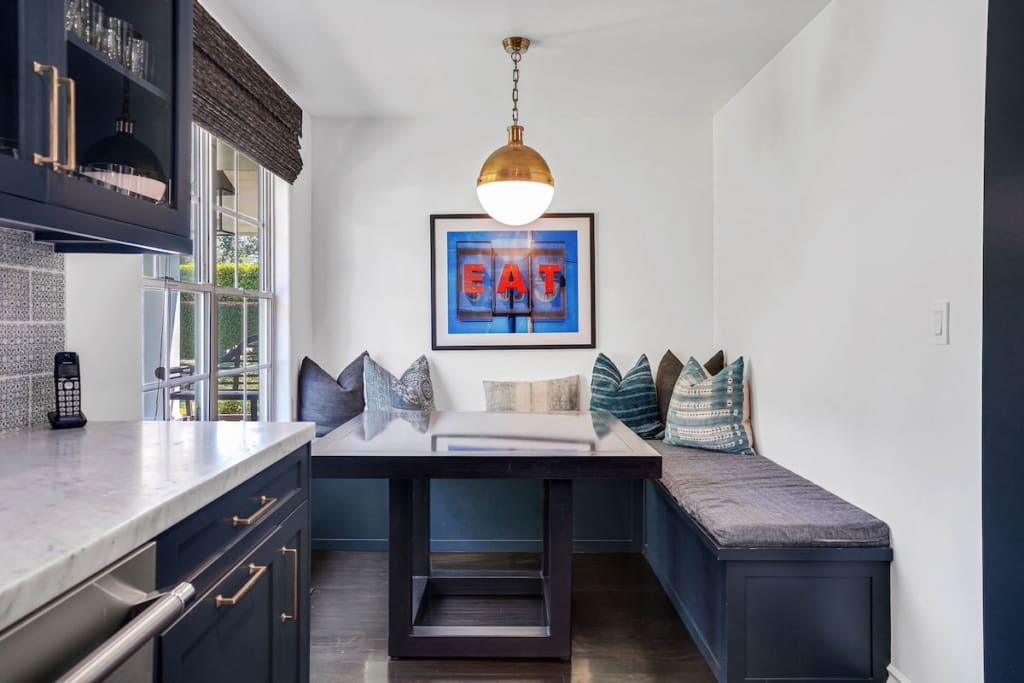 5209 Louise Avenue, Encino, CA
Is the wall-to-wall space already a bit tight in your dining area? We're into the idea of a solo wraparound banquette to simplify the space, yet still offer plenty of sitting room. Cozy it up with fine upholstery and beloved throw pillows and voila — a timeless nook for the family.
---
What does your dream breakfast nook look like? Tag us @smithandberg with photos of your dreamiest morning enclave for the chance to be featured on our page!