Bring on the Tequila
As summer gradually approaches, we have two things on our mind: tacos and…tequila. Since we've already given you the rundown on our epic
Taco Tuesdays
, it's about time we show tequila some love.
Warmer weather and longer days are drawing near and you're probably thinking about what cocktail is going to be this summer's perfect sundowner. So we've conjured up a list of seven fresh and vibrant libations, easy enough to fix up for a laid-back shindig — or, just for yourself. It's always important to stay hydrated.
Classic Margarita
Makes 1 serving


¼ cup tequila blanco
¼ cup fresh lime juice
1 tbsp agave
2 lime slices
kosher salt
Boom. Keep it simple.
Paloma
Makes 1 serving


1–2 shots tequila
grapefruit soda
That's it. Add a lime wedge if you're feelin' fancy
Blackberry Sage Smash
Makes 1 serving


¼ cup tequila

2 tbsp grapefruit juice

3 large blackberries

8 sage leaves

2 cane sugar cubes
In a cocktail shaker, muddle blackberry, sage and sugar. Add tequila, grapefruit juice, crushed ice and drink up.
Tequila Mojito
Makes 2 servings


¼ cup tequila (or more…)
1 tbsp simple syrup or agave
handful of fresh mint
juice of 1 ½ limes
soda water
2 cups ice
Blend or shake tequila, simple syrup/agave, mint, lime juice and ice. Pour in 2 glasses and add soda water. Top with sprigs of mint to impress your guests.
Watermelon Tequila Cocktail
Makes 8 servings


1 seedless watermelon
¾ cup lemon juice
2 cups tequila blanco
Blend chunks of watermelon (without seeds) and run juice through a strainer. Add lemon juice and tequila and you've got an easy, fresh summer cocktail. Or, if you're a big planner, freeze the watermelon and lemon juice in ice cube trays, blend with tequila, and there you go — a grown-up tequila slushie.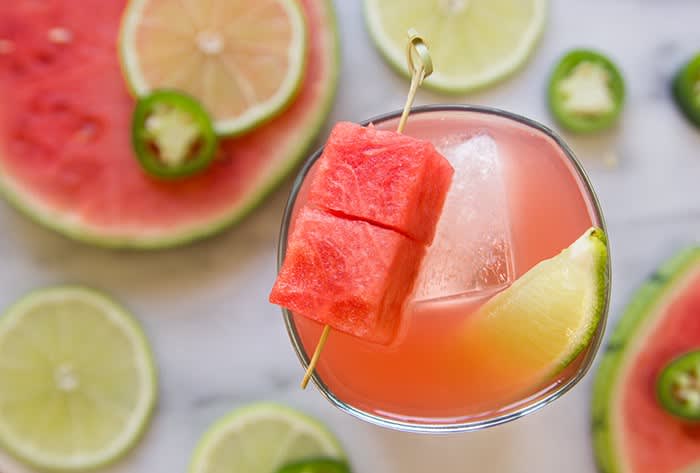 Wedbook
Tequila Sunrise Mimosa
Makes 8 servings


1 ½ cups orange juice
1 ½ cups pineapple juice
1 cup tequila blanco
¼ cup grenadine
Mix it all up, pour into champagne flutes and you have a killer take on a brunch classic.
The Pepino
Makes 1 serving


3 tbsp tequila
1 ½ tbsp lime juice
1 tbsp triple sec
1 tbsp pineapple juice
3 basil leaves
¼ sliced cucumber
Muddle the cucumber, add the rest, shake it up and pour over ice. Don't hold back with a classy cucumber and basil garnish.