When it comes to experiencing the great outdoors, nothing beats a night of camping beneath the stars. But sometimes an off-the-grid trip just isn't in the cards, especially if you've got little ones running around. The solution? A decked-out glamping experience in your own backyard. Combining the beauty of nature with the luxuries of modern living, glamping has taken the world (and SBP team) by storm, and for good reason. All of the amenities you love, but none of the bug bites?? Now THAT'S our kind of camping. Here's how we're setting up the ultimate glamping experience right outside our back door this summer — and how you can do it, too.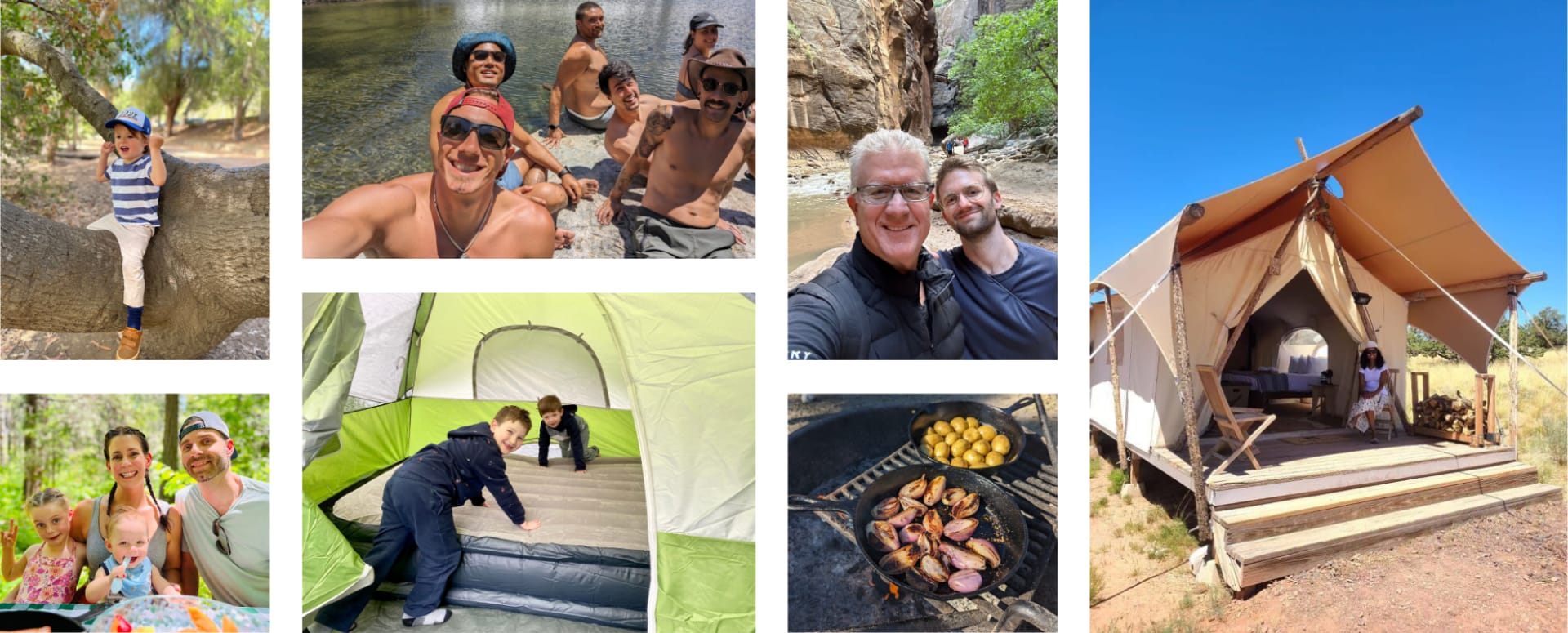 Step 1: Buy or Rent a Tent
First thing's first, choose the perfect tent. Depending on your budget and long-term plans, you can choose to either buy or rent. Our advice? Try one out before investing in a yurt or safari-style tent that'll certainly take up real estate in your garage. If you live in Los Angeles, here are a few companies you'll definitely want to check out:

Camp'd Out Tents
Shelter Co
Life in Tents

If you're ready to pull the trigger on a purchase, look for a high-quality tent that combines style and functionality. For a more basic bell tent yurt, check out this one for $399 on Amazon. For a larger canvas wall tent that's suitable for all seasons, consider this option for $4,700…also on Amazon. No matter your needs or price range, there's a tent out there that'll fit your backyard like a glove.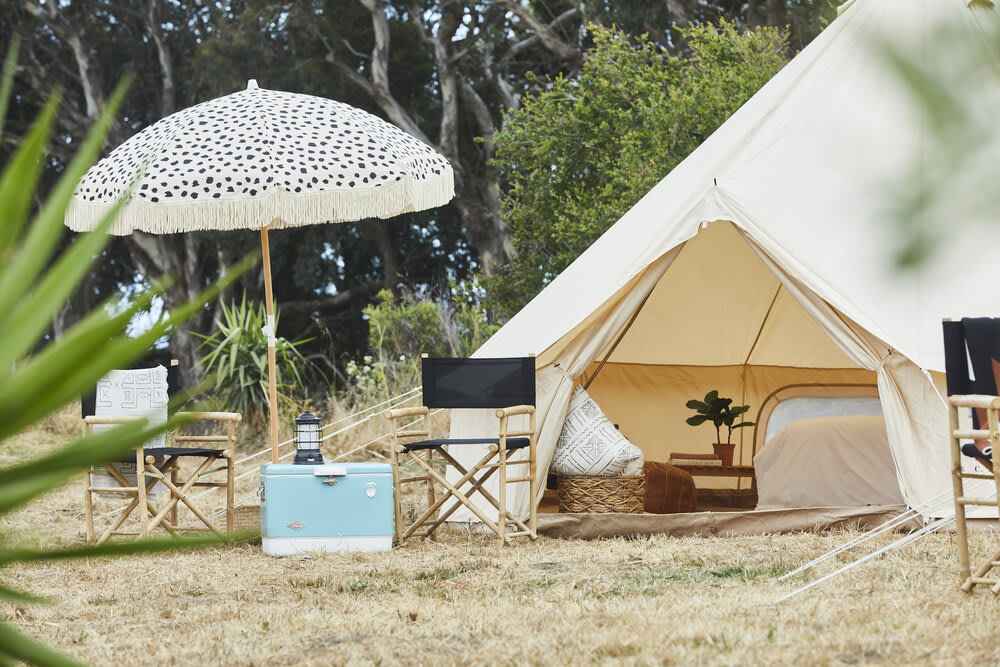 Photo courtesy of Camp'd Out
Step 2: Choose the Perfect Location
After you've secured a tent, survey the backyard for the ultimate glampsite. Flat areas are preferred, but what's even more important is a scenic spot beneath a tree or with a view. If you have a garden or a beautifully landscaped area in the yard, take advantage. Whether you're hanging with kiddos or adults for the night, the right spot can be a real game changer.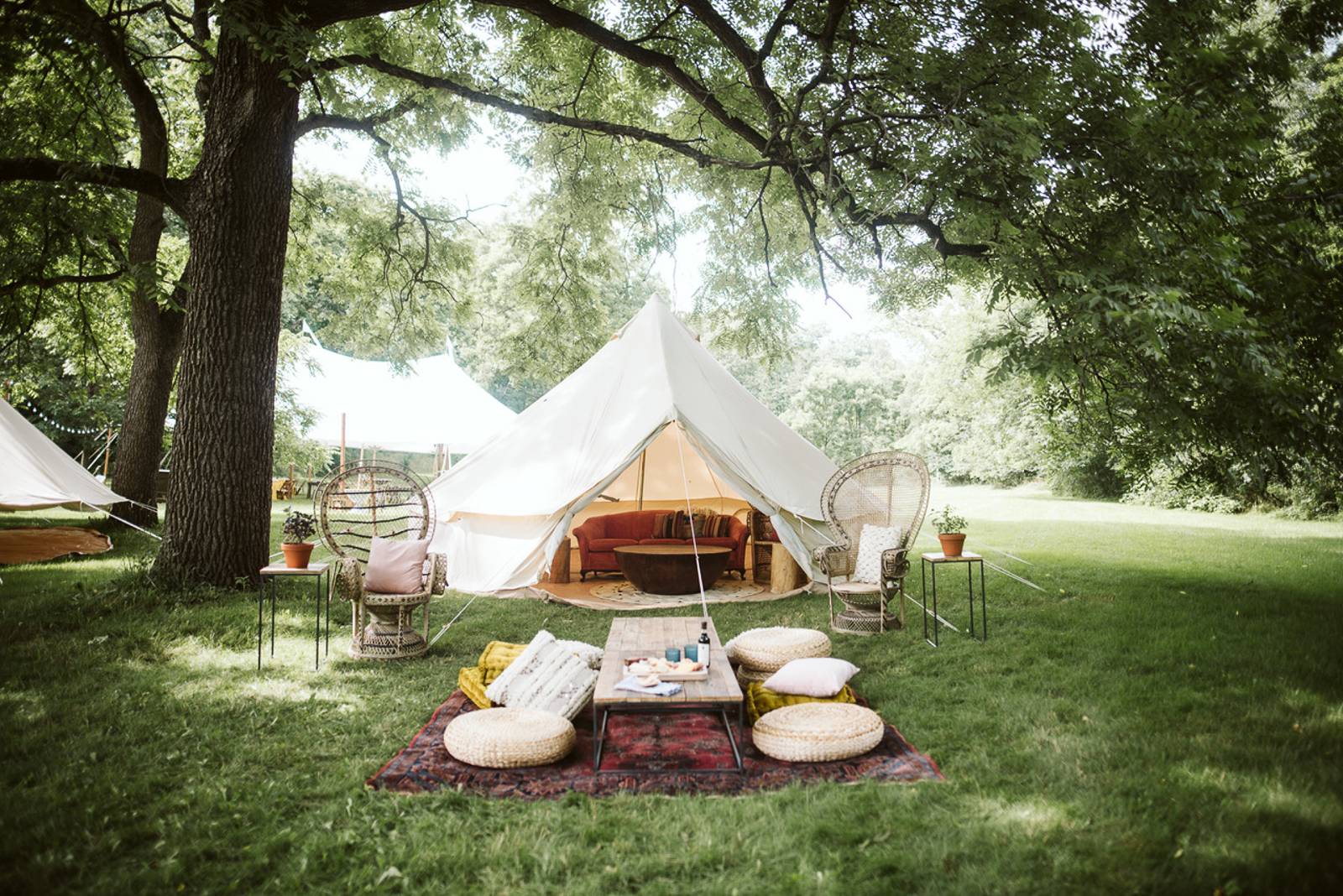 Photo courtesy of Wed Plan Madison
Step 3: Make it Cozy
Once the tent and location are set in stone, it's time to focus on comfort. If you're planning to glamp all night, a cozy bed is essential for a luxurious experience. Bring in a thick, high-quality mattress or airbed and cover it with plush bedding — sheets, fluffy pillows, a soft duvet, you name it. If you're only staying for a few hours, bring in a chic area rug, seating (bean bags FTW), pillows, side tables, a bar for the adults. This is the time to use your imagination and get crafty with design.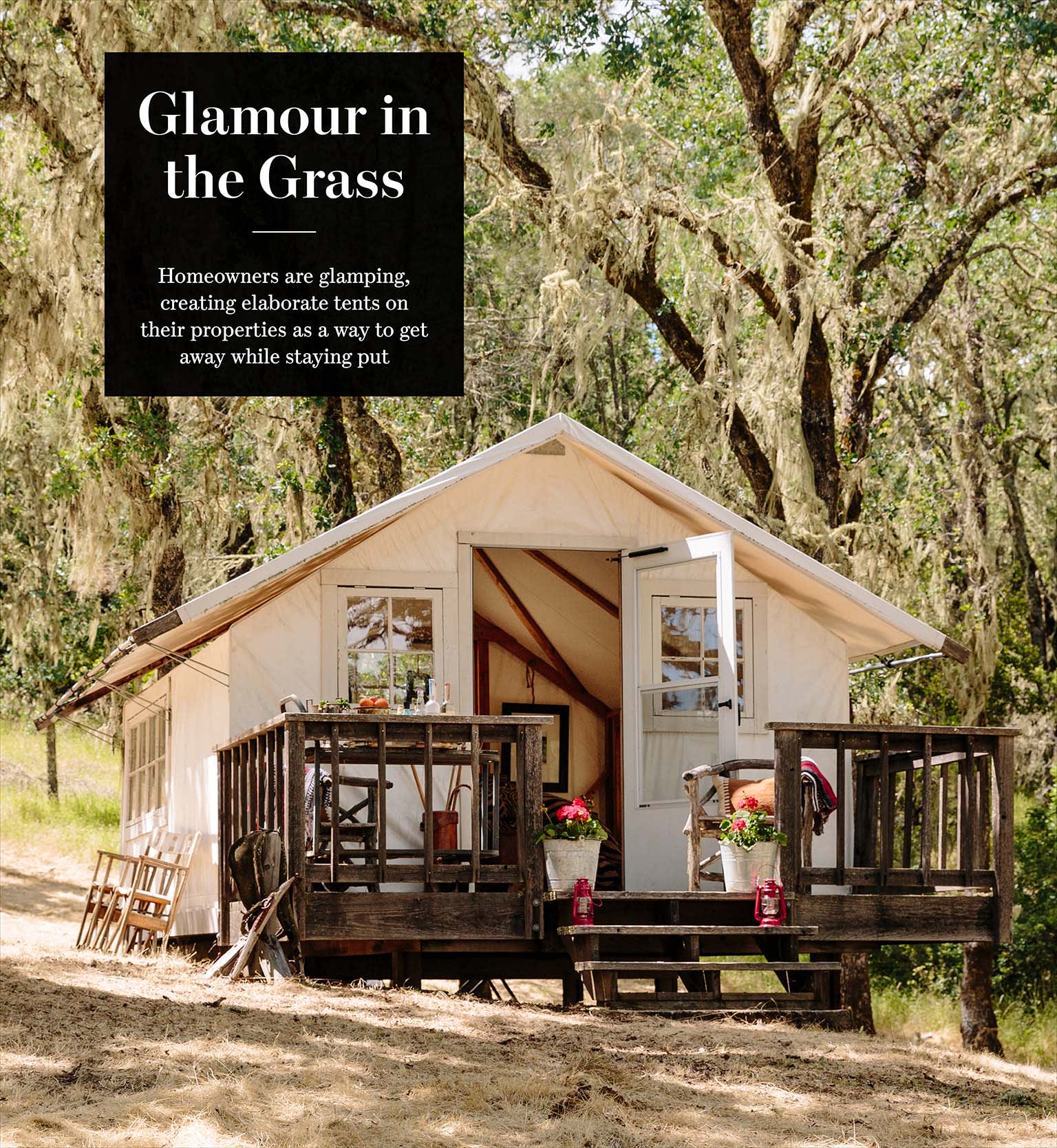 Photo courtesy of The Wall Street Journal
Step 3: Get Moody with Lighting & Decor
There's no better way to enhance your nighttime glamping experience than with moody lighting and decor. Hang string lights or lanterns from the trees or around the tent to create a warm, comfy atmosphere. Flameless LED candles add a touch of elegance and can create a romantic vibe…if that's what you're going for. Further enhance the atmosphere with plants, flowers, blankets, wine, cocktails — the world is truly your oyster.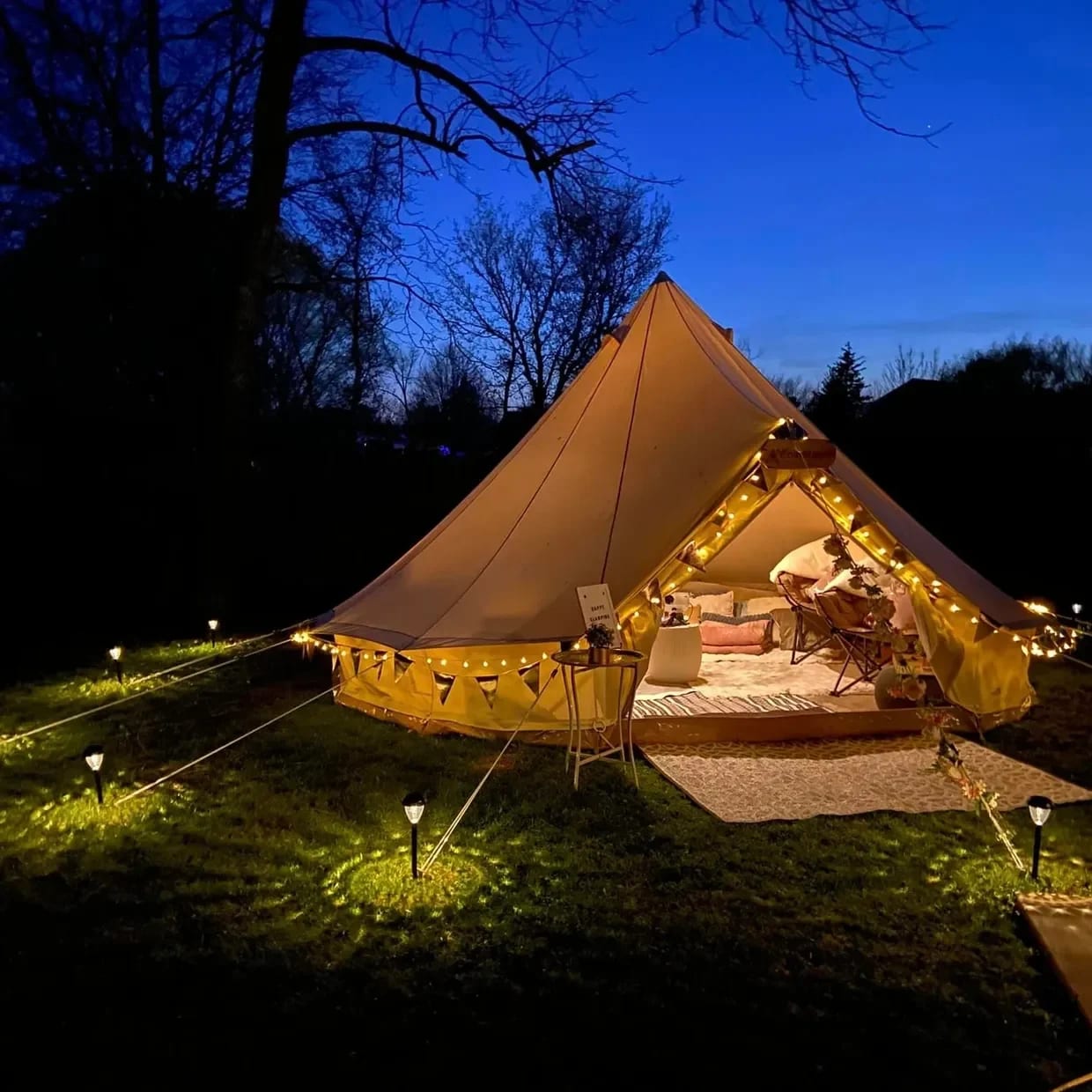 Photo courtesy of Cozi Moon
Step 4: Outdoor Entertainment
Step four: acquire some epic outdoor entertainment. Jam out with a portable Bluetooth speaker, create a small outdoor movie theater with a projector and screen, set up bocce ball or corn hole, whip out a deck of cards. The options are limitless, and we can guarantee your guests will love the friendly competition.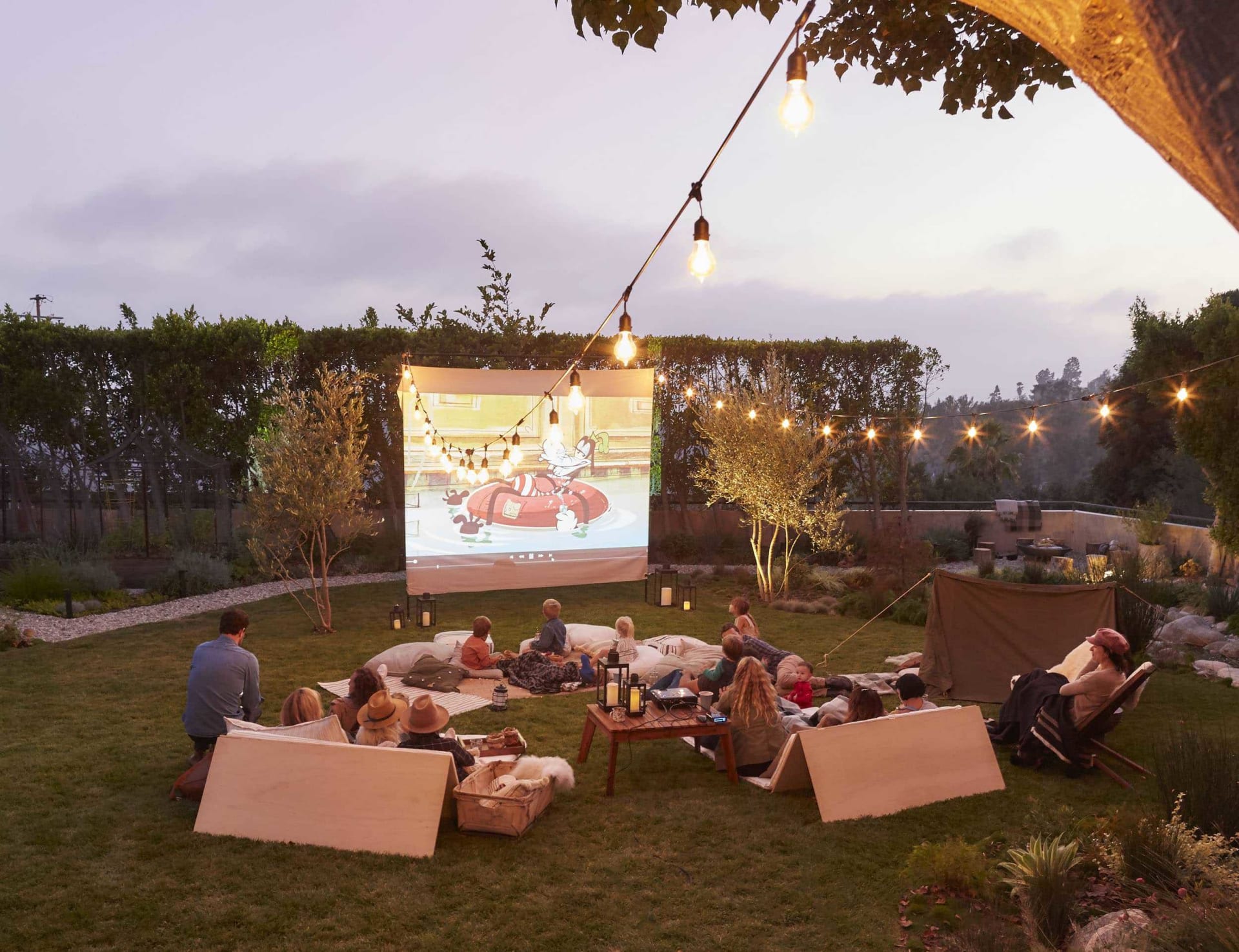 Photo courtesy of Emily Henderson
Step 5: Make Some S'mores
One of the most crucial elements of camping lies in the campfire. If you have a fire pit at home, by all means — get that thing roaring. If you have a gas fire table, go ahead — get that thing pumping. Whether you're 9 or 90, s'mores are, without a doubt, integral to the at-home glamping experience. Graham crackers + marshmallows + milk chocolate = all you need to cap off the perfect night in nature.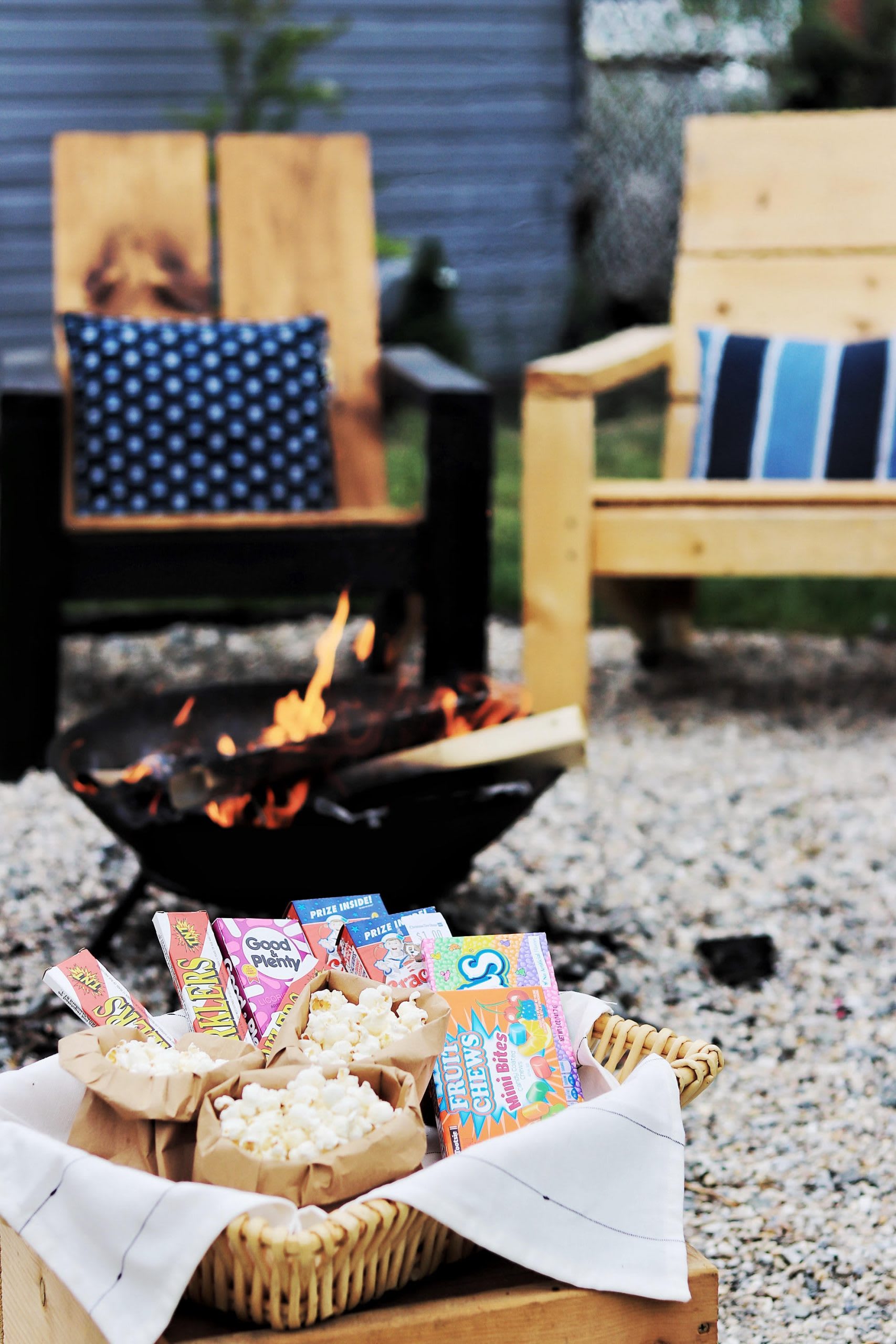 Photo courtesy of Made by Carli
The most important step of all? Putting your phone down, connecting with friends and family, and reveling in some good old fashioned time outdoors. If you're feeling inspired to set up an at-home glamping experience this summer, be sure to tag us in your photos at @smithandberg so we can repost!