Whether you're looking to make small upgrades or embarking on a complete overhaul in your home, a bathroom renovation will undoubtedly do the trick — and make a big difference in your self-care routine, no less. But, as with any home revamp, it's hard to know where to start. That's why we turned to three renovation experts — Goli Karimi of , Lee Stahl of , and our very own Trevor Edmond of Smith & Berg Partners — to get the inside scoop on their favorite reno projects, what made each space pop and tips on how you can redo the loo in your own home this year.
---

1916 English Tudor Goes Bold & Textured
Goli Karimi of
We tapped Goli Karimi, Director of Design at — an acclaimed architecture, interior design, and construction team out of Los Angeles — for her favorite bathroom renovation, and it's safe to say that we're totally inspired by the loo's bold, over-the-top statement. Set within an iconic 1916 English Tudor in Pasadena, the bathroom features stunning Andalucia tiles from Walker Zanger and a beautifully textured ceiling that, in Goli's words, "envelop you as if you're being carried by ocean waves under fluffy clouds towards the impressive Crosswater tub." Not only that, "the mirror-like polished stainless steel exterior of the tub reflects the floor tile, visually expanding the room."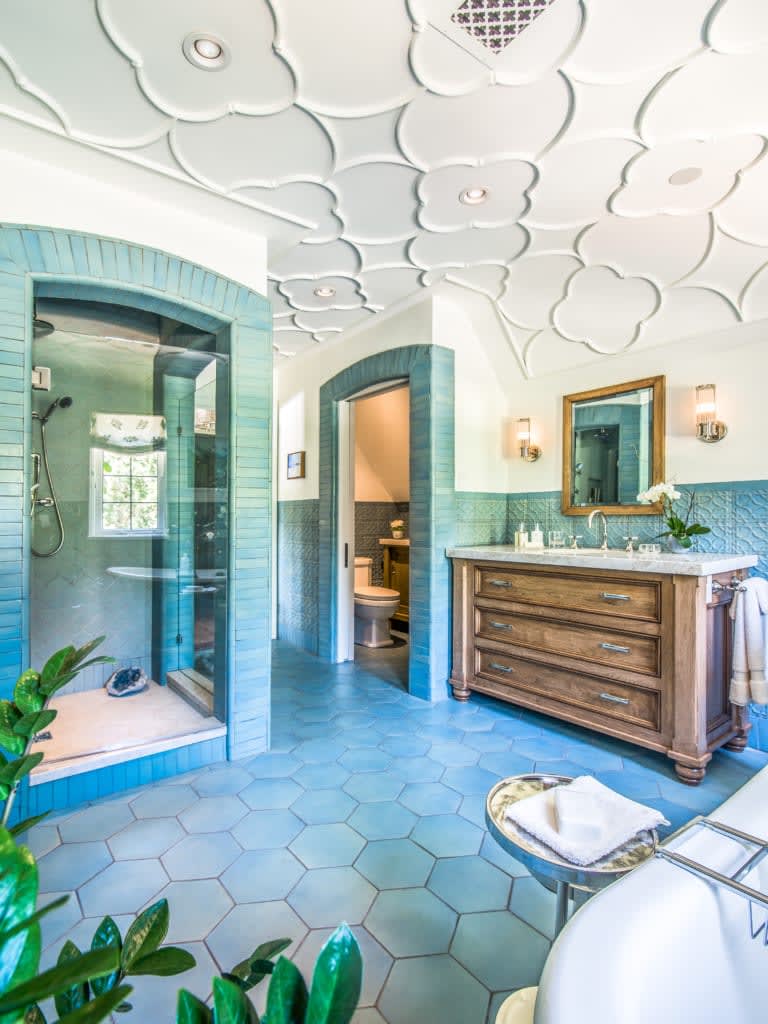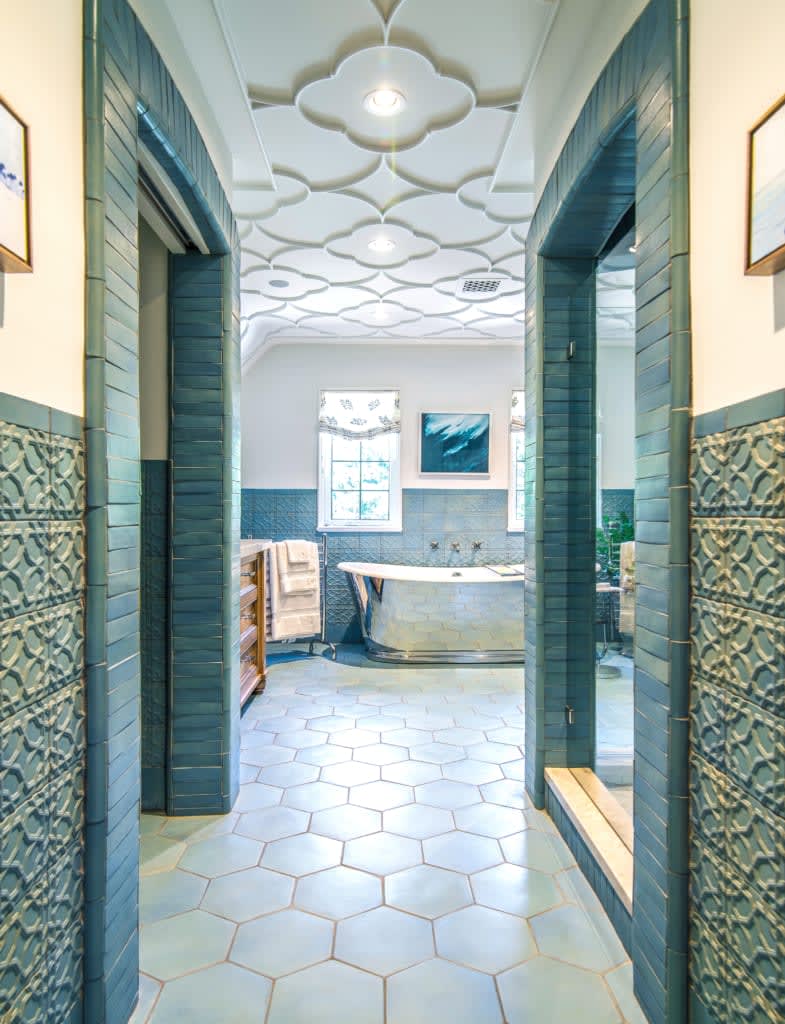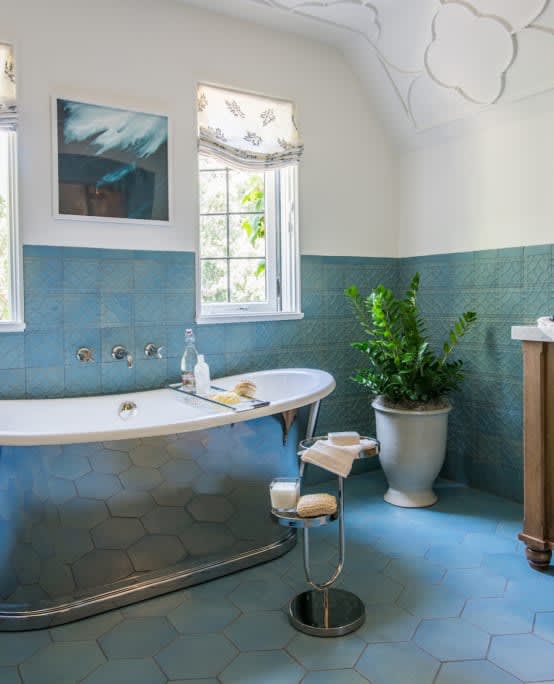 Replete with a sophisticated antique patina in a calm shade of blue, this bathroom is truly an oasis for relaxation. And, although it's brand-new, the bathroom feels like it's always been there. "The best compliment one can get when renovating a historic home is that it feels original," Goli said. And when we asked for her best tips and tricks when renovating, we were thrilled to get some great, timeless advice: "There are so many decisions to make, and hiring a professional gives you the peace of mind that all details will be thought through and worked out. Once you're done with the project, you should be able to enjoy it for many years without having to replace anything."
---

Marble-Clad Bathroom in Manhattan Penthouse
Lee Stahl of
Based out of Brooklyn, is a renowned design and planning firm helmed by Lee Stahl, who — much to our delight — provided a thorough backstory of his favorite bathroom renovation project in New York City. Back in 2009, an Architectural Digest 100 designer was tasked by a banking billionaire to freshen up his penthouse bathroom, but after submerging the space in all black ("something akin to the inside of a coffin," as Lee put it), The Renovated Home was hired to fulfill the owner's desire for a marble-clad bathroom that showcased a 16th-century panel from India inside the shower. So, Lee quickly got to work.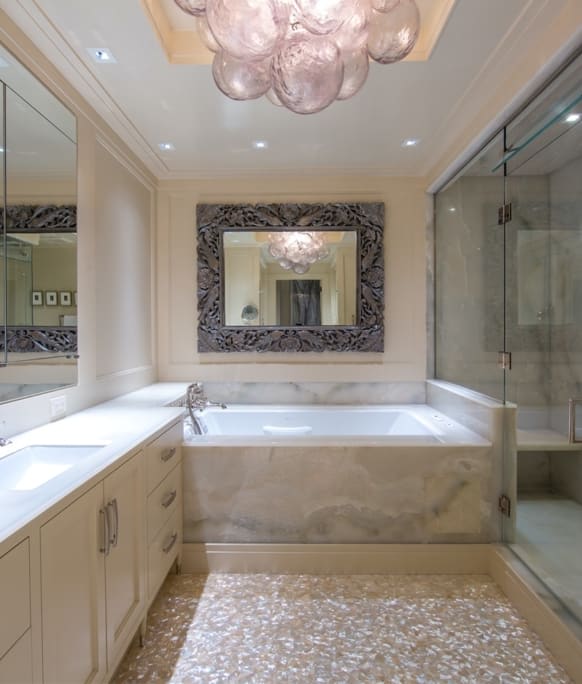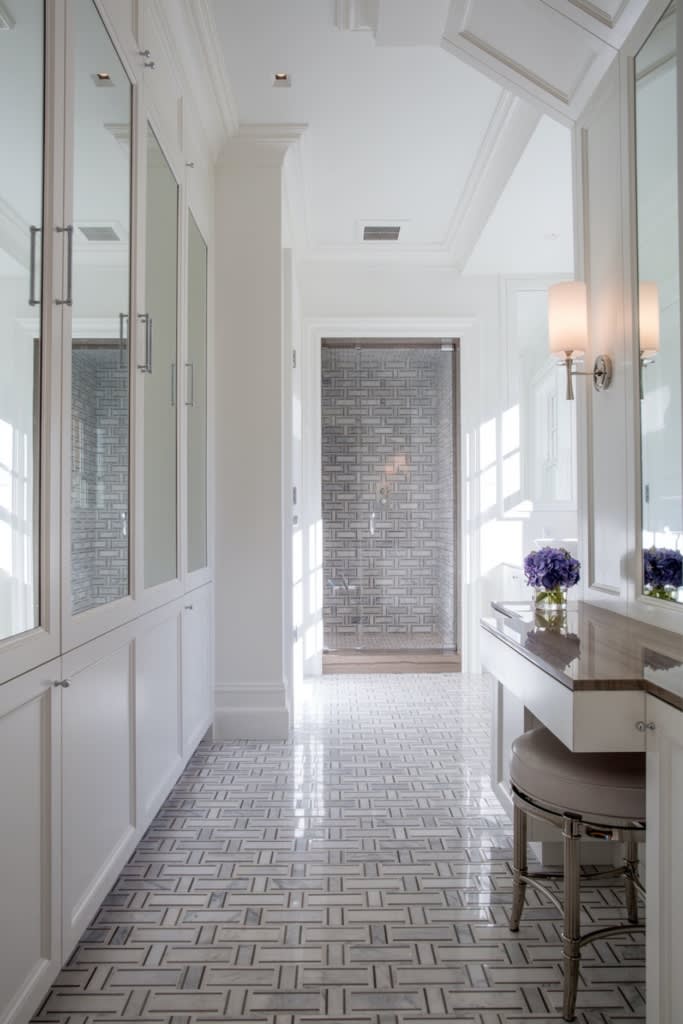 Thanks to Lee's overhaul, the bathroom now features 15 full slabs of white marble from the Tara line at Dornbracht, plus — per the owner's main request — a stunning, antique panel within the shower. "The entire bathroom picked up on the minimal vibe quite beautifully, even if the marble slabs and freestanding tub were anything but minimal," said Lee. "It all juxtaposed perfectly." So when we asked about his tips and tricks for renovating, let's just say we weren't too surprised by Lee's response: "Don't use black glass in your new bathroom!" But in all seriousness, the designer shared some stellar advice: "Always go to the web. Follow designers and suppliers who inspire you on Instagram. The internet is the greatest way to get the most bang for your buck, no matter the budget."
---

Bright & Airy Spa Bath in Pacific Palisades
Trevor Edmond of Smith & Berg Partners
One of our favorite bathroom renovations on the SBP team is within a spectacular in Pacific Palisades. So, we got Associate Partner to weigh in on the incredible work that went into it and what makes the space pop so effortlessly. Replete with marble, muted blue cabinetry, stunning brass finishes, and awash in natural light, the space is a true self-care sanctuary. "The stone finishes here all tie together and lend to a clean design with both character and contrast," Trevor shared. "There's nothing cookie-cutter about this bathroom. Its spaciousness, large windows, classic hardware, and unique surface materials leave a thoughtful impression."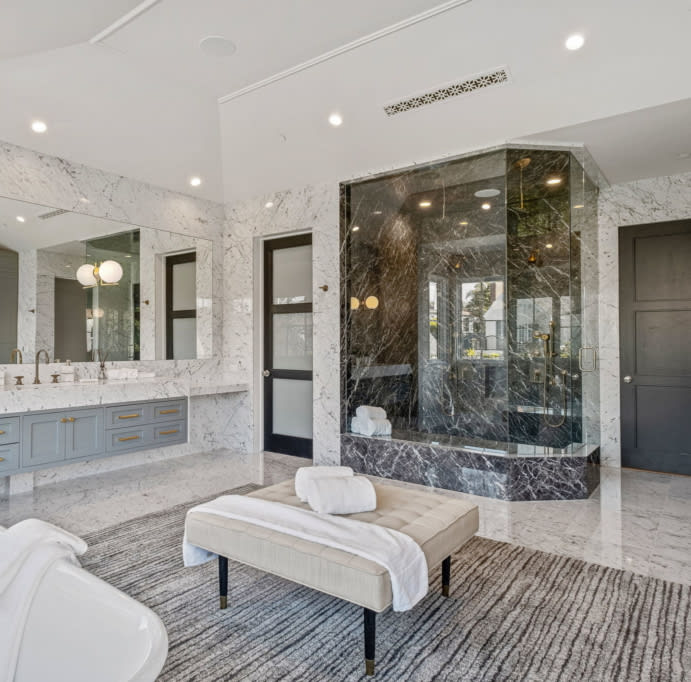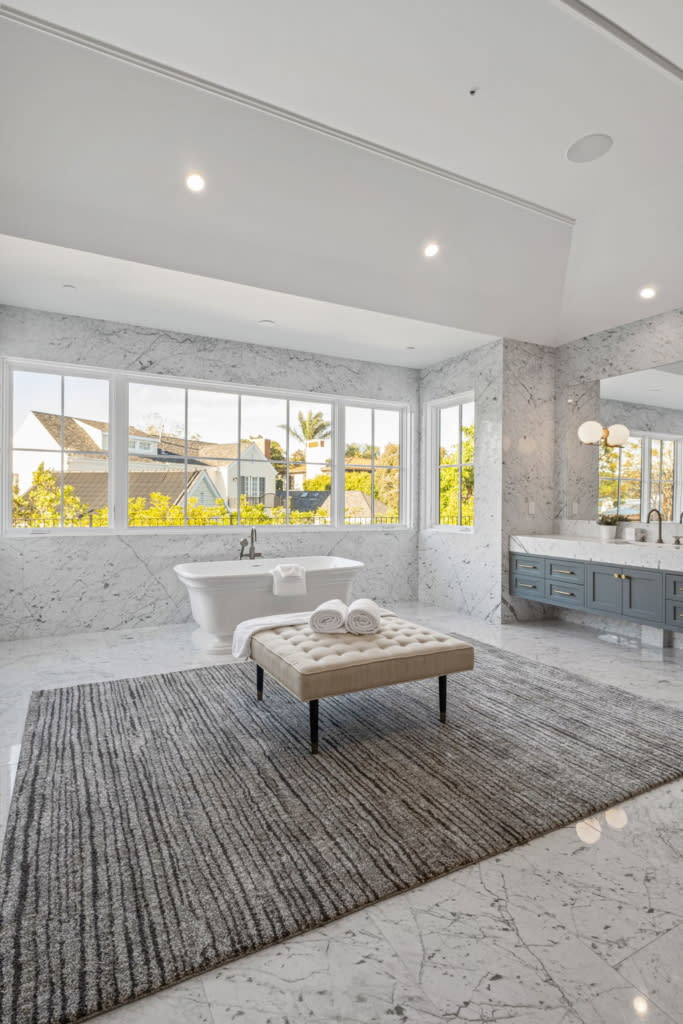 And his top tip? Bring in a killer freestanding tub: "I'm a sucker for a stand-alone tub as opposed to a tub that is incorporated with a shower or built into the side of the bathroom wall." This trick creates the idyllic spa haven you've been seeking. And when it comes to renovating your own space, Trevor recommends doing your research. "Pinterest, HGTV, Architectural Digest, Houzz — there are so many great resources," he shared. "So when you do team up with a professional, it turns into a meaningful collaboration that can save you both time and money."
---
Need help getting the ball rolling on your bathroom renovation? We're here to help — shoot us an email at and let's chat.