Step aside, aliens — we're taking a deeper look at the iconic architecture and design in Wes Anderson's latest cinematic masterpiece, "Asteroid City." Why? Great question. For starters, architecture and design are kindaaa our thing so we jumped at the opportunity to explore how Anderson combines out-of-this world themes with his highly specific retro design style. On that note, we're calling next year's design trend: Extraterrestrial Chic. You heard it here first, folks!
Not only that, the movie has inspired some real-life desert getaways just a hop, skip and a jump from LA proper. Book a stay at these destinations that echo the alluring world Wes Anderson so meticulously created.

And for the big-time Wes fans out there, we recommend booking a flight to London ASAP for the "Asteroid City" exhibition where visitors can get a behind-the-scenes look at the auteur's imaginative, uber-eccentric mind. Simply put, the impact of this film goes far beyond the four walls of your nearest theater.

Now, buckle up as we dive into the film's epic architecture and design that'll transport you to an enchanting realm where creativity knows no bounds — with some stellar Wes Anderson-inspired AirBnb properties to match. Lights, camera…ACTION.

*Featured image courtesy of CN Traveler
But first, a synopsis from IMDb:
"Following a writer on his world famous fictional play about a grieving father who travels with his tech-obsessed family to small rural Asteroid City to compete in a junior stargazing event, only to have his world view disrupted forever." There you have it — now let's get into the good stuff.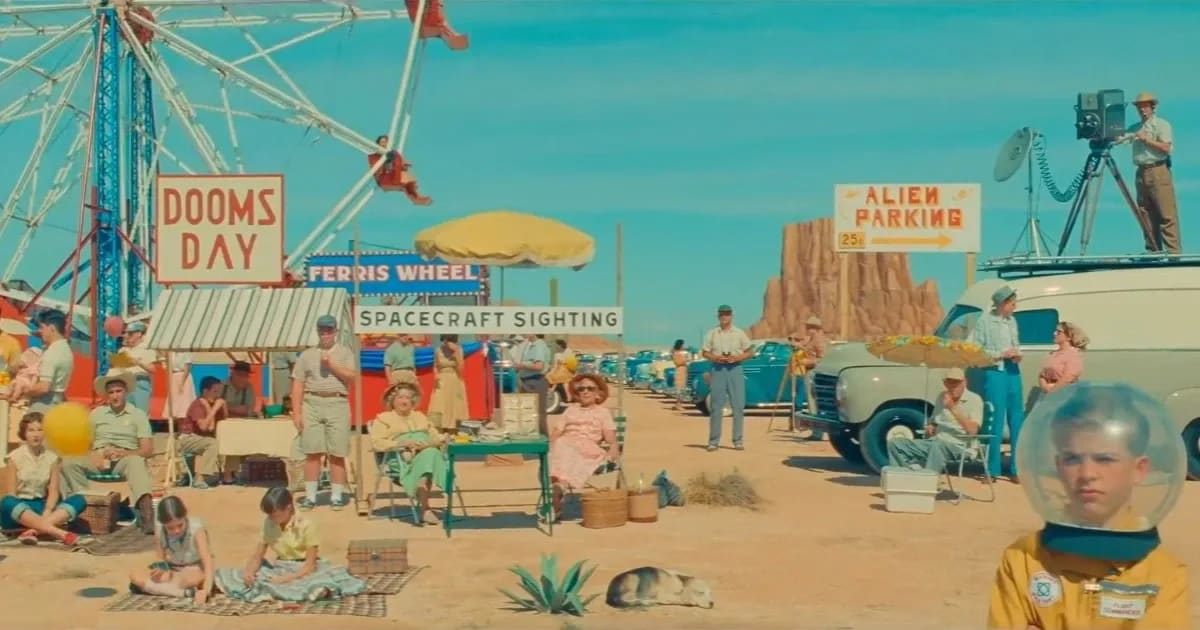 Photo courtesy of Laughing Squid
An Extraterrestrial Aesthetic
"Asteroid City" is a visual FEAST of extraterrestrial architecture. Wes Anderson's team has masterfully blended retro-futuristic elements with clean lines, vibrant colors and intricate details, creating a cityscape that feels both nostalgic and contemporary. Here, the past and future blend seamlessly.

Iconic Buildings & Spaces
From the grand central plaza, with its towering sculptures and cascading fountains, to the whimsical residential complexes that seem to defy gravity, every structure in "Asteroid City" is a world of art in and of itself.



Photo courtesy of Today
Unique Material Selection
As all of us Wes fans know, his attention to detail extends beyond architectural forms. The film's design team explores unconventional material choices, combining metallic finishes with vibrant ceramics and glass panels, creating a truly otherworldly atmosphere. No minimalism here — only maximalism allowed.
Innovative Transportation Systems
In the film, transportation is as much a part of the design as the architecture. Vintage yet futuristic vehicles seamlessly navigate the city's winding streets, flying effortlessly through the air. After watching, you'll understand why the transportation aspect really showcases Anderson's commitment to creating a fully immersive world.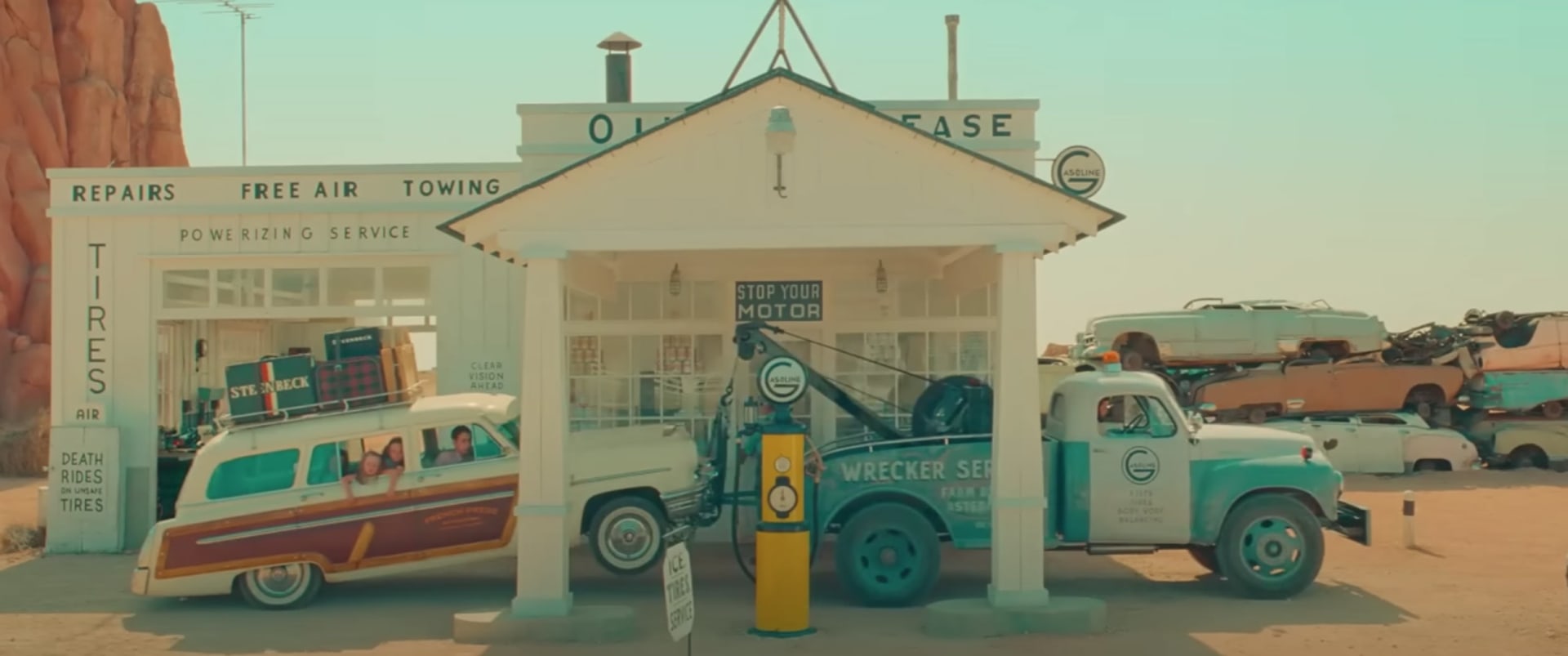 Photo courtesy of Film Stories
Now, experience it for yourself:
If you find yourself in London before July 8, we BEG you to check out the "Asteroid City" exhibition at 180 Studios. Here, you have the opportunity to explore original film sets, props, costumes and even grab a bite (plus a signature martini, duh) at the 1950s Anderson diner. This is about the closest you'll ever get to Anderson's brain.
And if that's not enough, discover these real-life desert getaways:
While "Asteroid City" might take place in a fictional 1950s American town, there are real-world locations near Los Angeles that capture the essence of Anderson's architectural vision (the truth of the matter is, LA isn't the easiest place to film — so Spain it was!). In fact, Universal Studios just partnered with Airbnb to share listings that are so Wes Anderson that you'll feel like a character in his movies. We did even further research to curate a list of our favorites: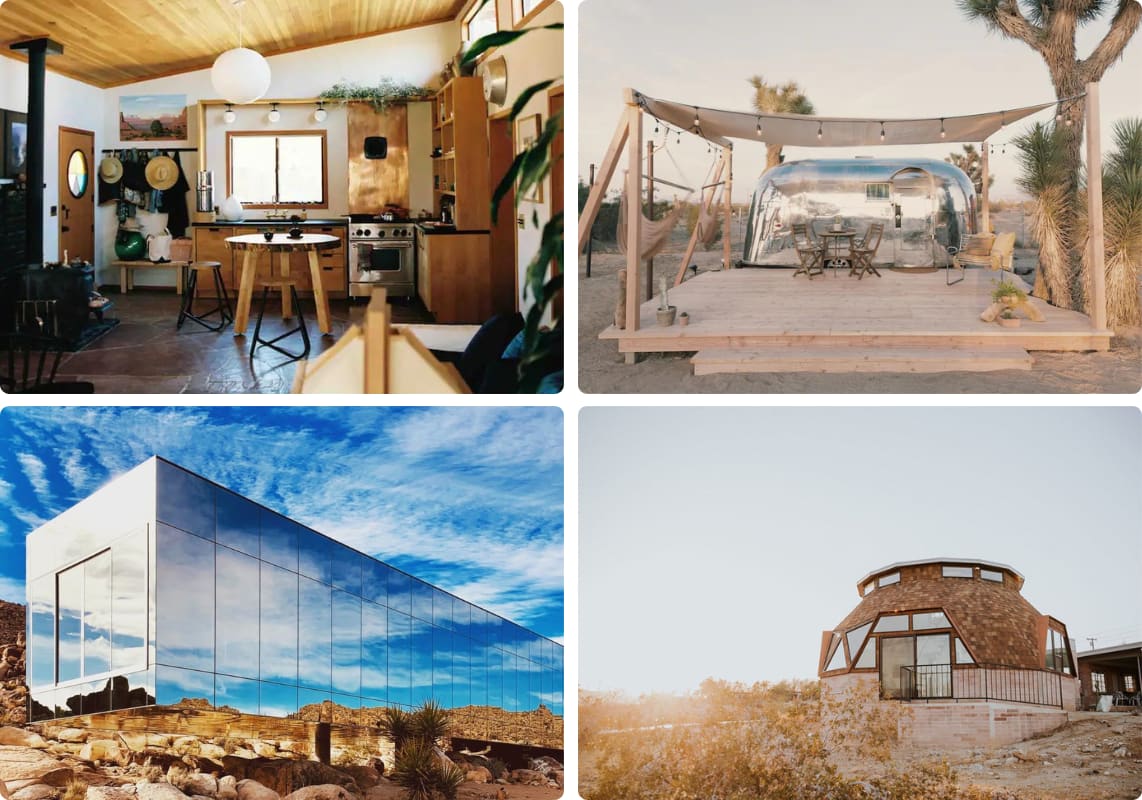 Photos courtesy of Airbnb, Airbnb, CNBC & The Spaces

→ Desert Oasis in Joshua Tree: Two-bedroom, one-bathroom hideaway featured in Architectural Digest and Bon Appetit.

→ 1959 Airstream in Joshua Tree: Newly renovated airstream featuring a modern aesthetic with one bedroom and two shared bathrooms.

→ Invisible House in Joshua Tree: Legendary mirrored desert home that doubles as a work of art with three bedrooms and four bathrooms. Oh, and you can also buy it for $18 million — any takers??

→ Geodesic Dome House in Palm Springs: Thoughtfully restored geodesic dome by LA-based architect Pavlina Williams with three bedrooms and two-and-a-half bathrooms.
Are you feeling as inspired as we are? Be sure to catch "Asteroid City" on a big screen near you, and when you do…let us know @smithandberg. We can't wait to hear what you think!