If you're tired of wrestling through crowds, snagging restaurant reservations, or dealing with overpriced anything, you're going to want to keep reading. Summer destinations like Lake Tahoe and Cape Cod get all the hype, but SBP is here to shed light on some of the lesser-known spots that'll steer you clear of dreaded tourist traps. From charming nautical towns out east to adventure-packed mountain towns out west, here are the top six best-kept vacation spots to add to your summer bucket list.
Saint Michaels, Maryland
Maryland may not be the first state you'd liken with 'summer,' but trust us — nestled on the eastern shore, St. Michaels is a little slice of paradise. The picturesque waterfront town (which you'd most definitely recognize from Wedding Crashers) is teeming with quaint colonial-style homes, laid-back seafood joints, historic maritime sights and so much more. Above all, St. Michael's is an F. Ron Smith favorite…need we say more?
STAY
Inn at Perry Cabin: Luxury waterfront hotel on 26 stunning acres with well-appointed guest rooms, a great pub and a quaint, intimate atmosphere while offering everything you want in a full-service resort — from golf to tennis, fitness, spa, boating, kayaking, swimming and more.
Wildset Hotel: Upscale-modern hotel located in four nineteenth-century buildings on the idyllic North Talbot Street.
EAT
Ruse: Reimagined take on traditional east coast dining, located in the Wildset Hotel.
Bistro St. Michaels: Seasonally inspired French restaurant with cozy vibes.
Limoncello: Southern Italian food in a casual trattoria setting.
DO
Play 18 holes on the epic course Links at Perry Cabin (a 'game-changer,' as F. Ron says), check out the Chesapeake Bay Maritime Museum, stroll through the historic district, indulge in local seafood, rent a kayak or charter a boat on the Chesapeake Bay, visit the sandy shores of Tilghman Island, sip rosé at St. Michael's Winery, drive to Oxford and grab ice cream at Highland Creamery along the way, the options are endless.
"Likely unknown to many (besides us) who live on the West Coast, we've been visiting St. Michaels for over two decades as we have family in the area. The town, which calls itself 'the heart & soul of the Chesapeake Bay,' is a small, charming old-fashioned seaport town on the Eastern Shore, and an easy drive from Washington D.C."
Tracy & F. Ron Smith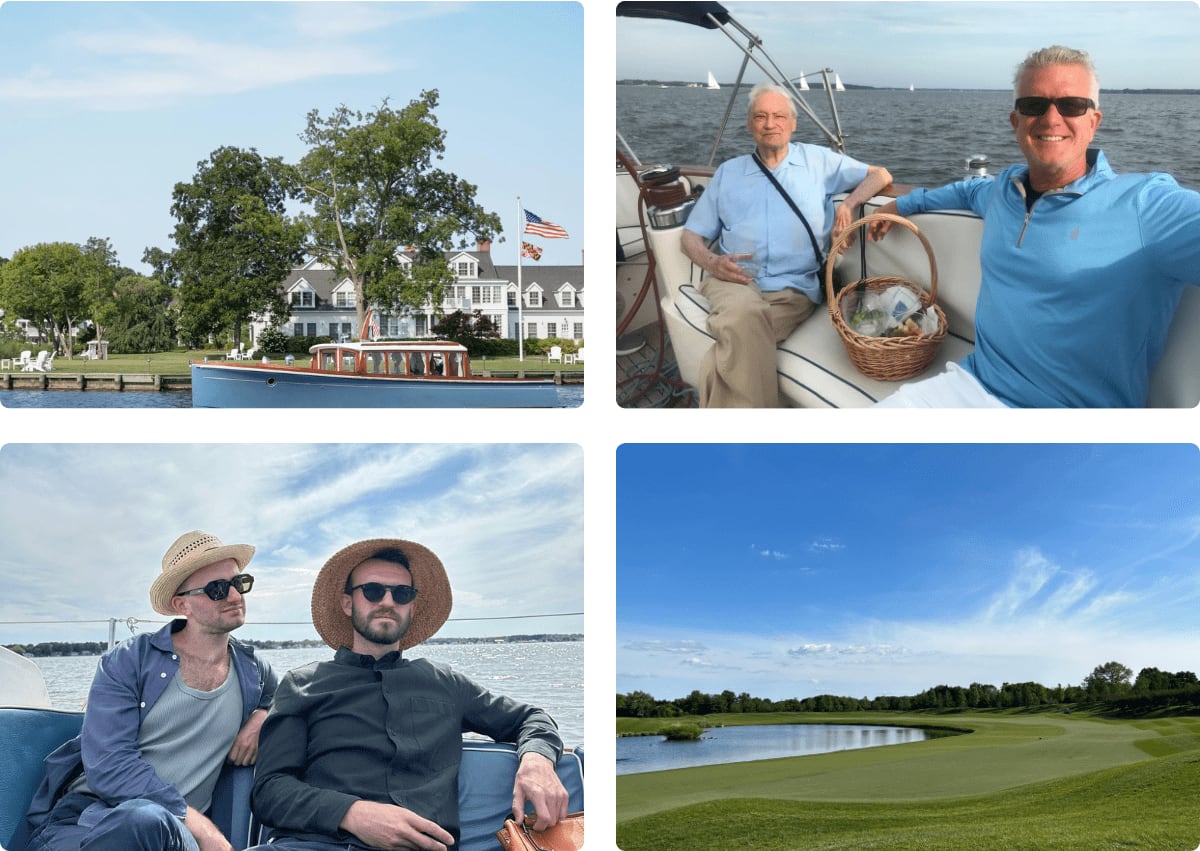 Photo courtesy of CN Traveler
Guerneville, California
While Napa might lack any 'secret' spots, Guerneville is brimming with them. Tucked into the Russian River Valley, this small town is a haven for both wine and outdoor enthusiasts. Spend your days floating down the river, hiking through ancient redwood forests and, after you've gotten your nature fix, sipping on world-class wines. Just consider it a best-of-all-worlds vacation destination on the golden coast.
STAY
Stavrand: Newly renovated, high-end retreat located on a six-acre forested estate.
Dawn Ranch: Beautifully designed luxury cabins, chalets and tents nestled into the redwood forest.
EAT
Boon Eat & Drink: Bustling farm-to-table California bistro in the heart of Guerneville.
Brot: Modern take on Midwest-inspired German food in a rustic ambiance.
Big Bottom Market: Gourmet sandwiches, fresh salads and Oprah's favorite biscuits.
DO
Kayak or float lazily down the Russian River, explore Armstrong Redwoods State Natural Reserve, sip Pinot Noir, Chardonnay and other varietals during a wine tasting, take a refreshing dip in the river at Johnson's Beach, attend summer festivals and events like the Russian River Jazz & Blues Festival (September), Russian River Beer Revival (August) and more.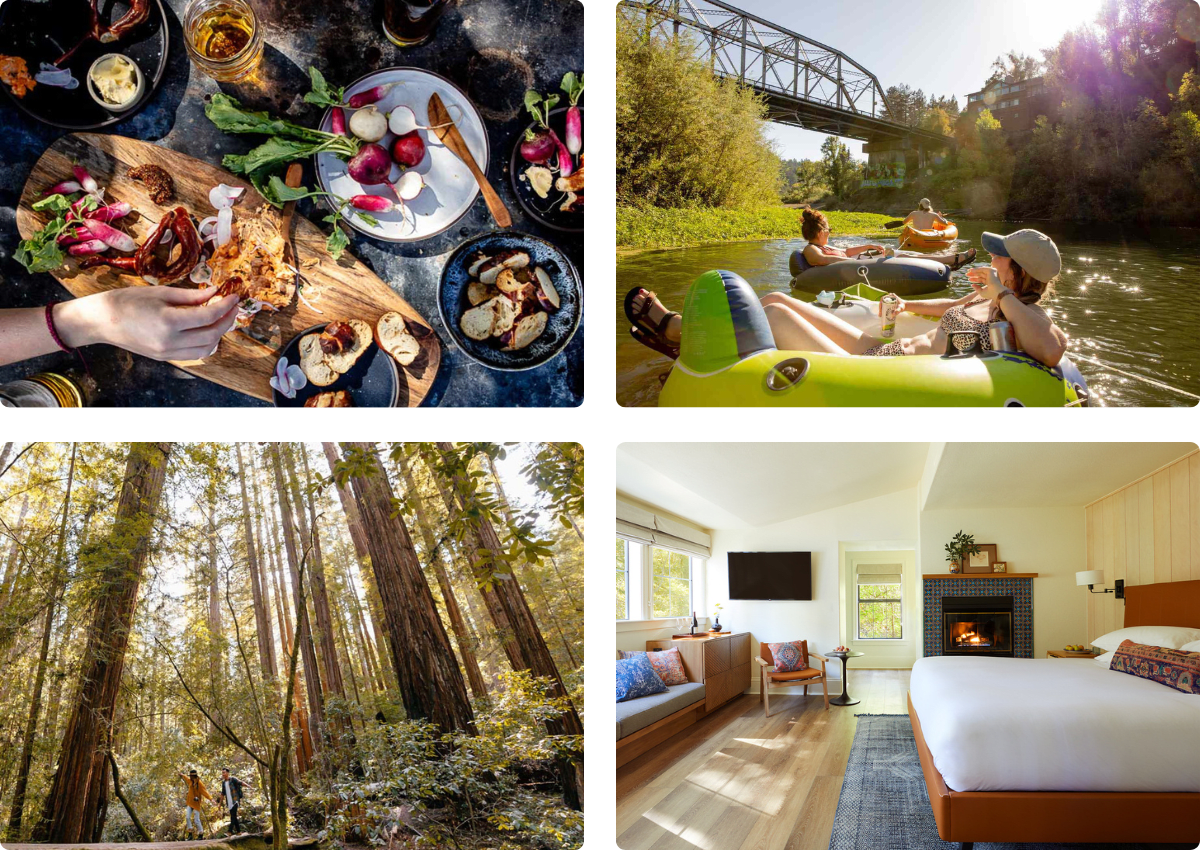 Photos courtesy of Sonoma County, Travel + Leisure, Sonoma County & The Stravard

San Juan Islands, Washington
What's more off the beaten path than an archipelago of over 450 islands in Washington State's Puget Sound? The San Juan Islands are a Pacific Northwest dream, offering a natural haven with pristine beaches, abundant wildlife (think orcas and eagles), emerald waters, rolling hillsides and so much more. Each island offers something different, from rustic cabins to luxury resorts, but all guarantee endless summer fun for everyone in the fam.
STAY
Outlook Inn on Orcas Island: Modern hideaway with luxurious waterfront rooms.
Friday Harbor House on San Juan Island: Contemporary accommodations with panoramic views of the San Juan Channel.
EAT
New Leaf: Seasonal, tide-to-table fare in a beautifully designed setting at Outlook Inn.
Restaurant at Friday Harbor House: Upscale spot at the Friday Harbor House Inn serving local cuisine, wine and cocktails on the water.
DO
Explore the pristine waters surrounding the islands by kayak, embark on an epic whale-watching tour, hike along easy or challenging coastal trails (don't miss Mount Constitution on Orcas Island), bike around the islands, visit a local farm for fresh produce and cheese.



Photos courtesy of Outlook Inn, New Leaf & Friday Harbor House

Ashland, Oregon
We all know Portland and Bend, but if you're looking for an Oregon hidden gem, behold Ashland — another Smith family favorite. Home to the famous Shakespeare Festival, this picture-perfect town features loads of mom-and-pop shops, casual coffee hangouts, wineries and vineyards, immersive culinary experiences and so much more. If you're into theater whatsoever, Ashland is a must in the summertime.
STAY
Ashland Springs Hotel: Elegantly restored 1925 historic landmark in the heart of downtown Ashland.
The Winchester Inn: Award-winning boutique hotel that's been an Ashland favorite for more than 30 years.
EAT
Osteria La Briccola: A warm and welcoming Northern Italian restaurant offering homemade pastas and authentic cocktails.
Peerless Restaurant & Bar: Seasonal dishes, cocktails and wine in a breathtaking garden setting.
Alchemy: New American dishes and craft cocktails in a polished venue at Winchester Inn.
MÄS: James Beard Nominated chef Josh Dorcak is pushing the envelope of creativity with meticulously crafted tasting menus that the New York Times calls, "eye-opening cooking."


DO
Catch a performance at the renowned Oregon Shakespeare Festival (now through July 16), take a stroll through Lithia Park, explore the nearby Cascade-Siskiyou National Monument or Pacific Crest Trail, take part in the Ashland Art Walk (first Friday of each month), visit a winery in Rogue Valley.
"Ashland, Oregon is perfect for an easy getaway from LA, a very fun girls trip or a special celebration."
Tracy Smith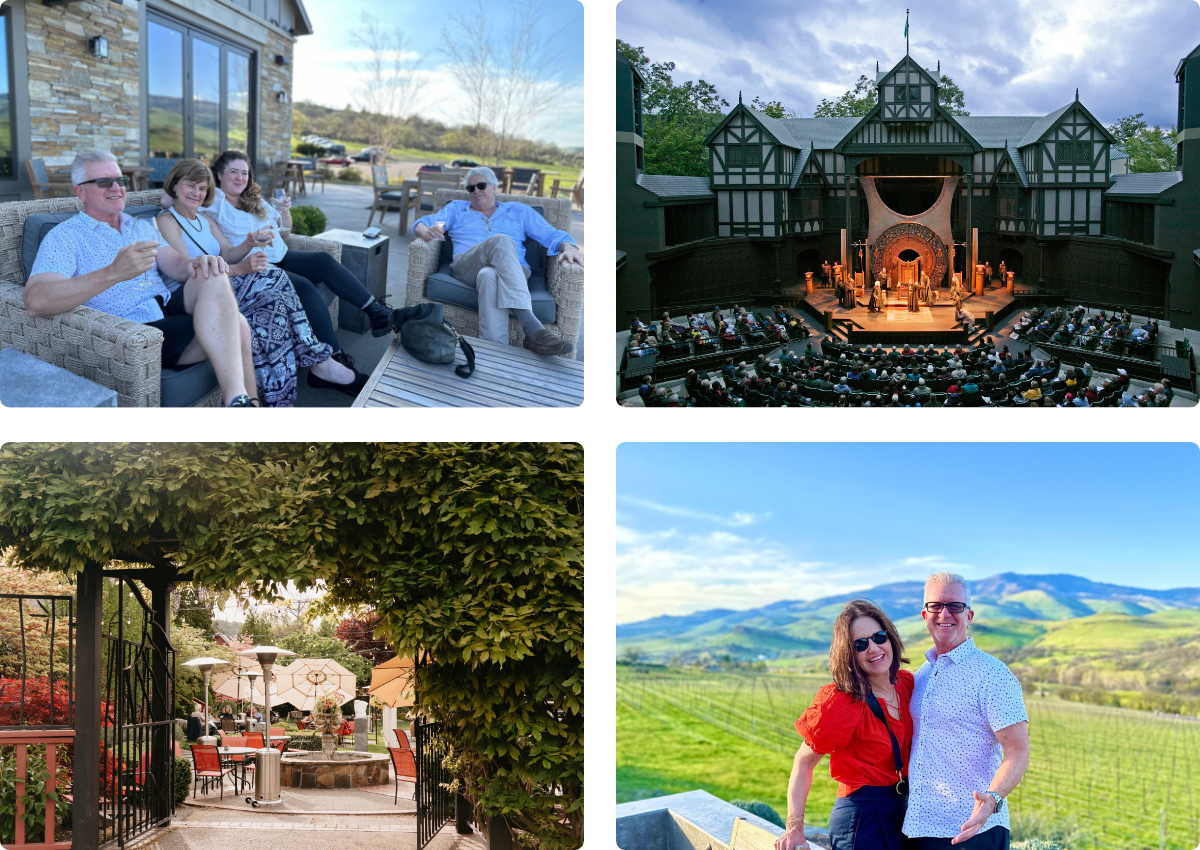 Photos courtesy of Oregon Live & Peerless Restaurant
Bar Harbor, Maine
Nothing says summer like a decadent lobster roll, and the best place to find one? Maine, of course. Nestled on Mount Desert Island, Bar Harbor is a stellar coastal town that offers an undeniable sanctuary for those who love an east coast stint. With breathtaking views of Acadia National Park and the Atlantic, Bar Harbor is a summer-lover's dream.
STAY
Chiltern Inn: Sophisticated bed and breakfast in a historic carriage house with elegant rooms and floral gardens.
Bayview Hotel: Modern boutique hotel with all oceanfront rooms and private decks.
EAT
Galyn's: Traditional downeast seafood in a cozy Victorian-era boarding house.
Bar Harbor Lobster Co.: Seafood dishes (aka lobster rolls) and cocktails in a down-to-earth venue.
Side Street Cafe: Vibrant eatery and bar with burgers, lobster rolls, sandwiches and more.
DO
Catch the sunrise atop Cadillac Mountain, go whale watching along the coast, discover hidden coves, cliffs and beaches by kayak, delve into the fascinating world of marine life at the Mount Desert Oceanarium, walk along the Bar Harbor Shore Path, tour the lighthouses that dot the coastline.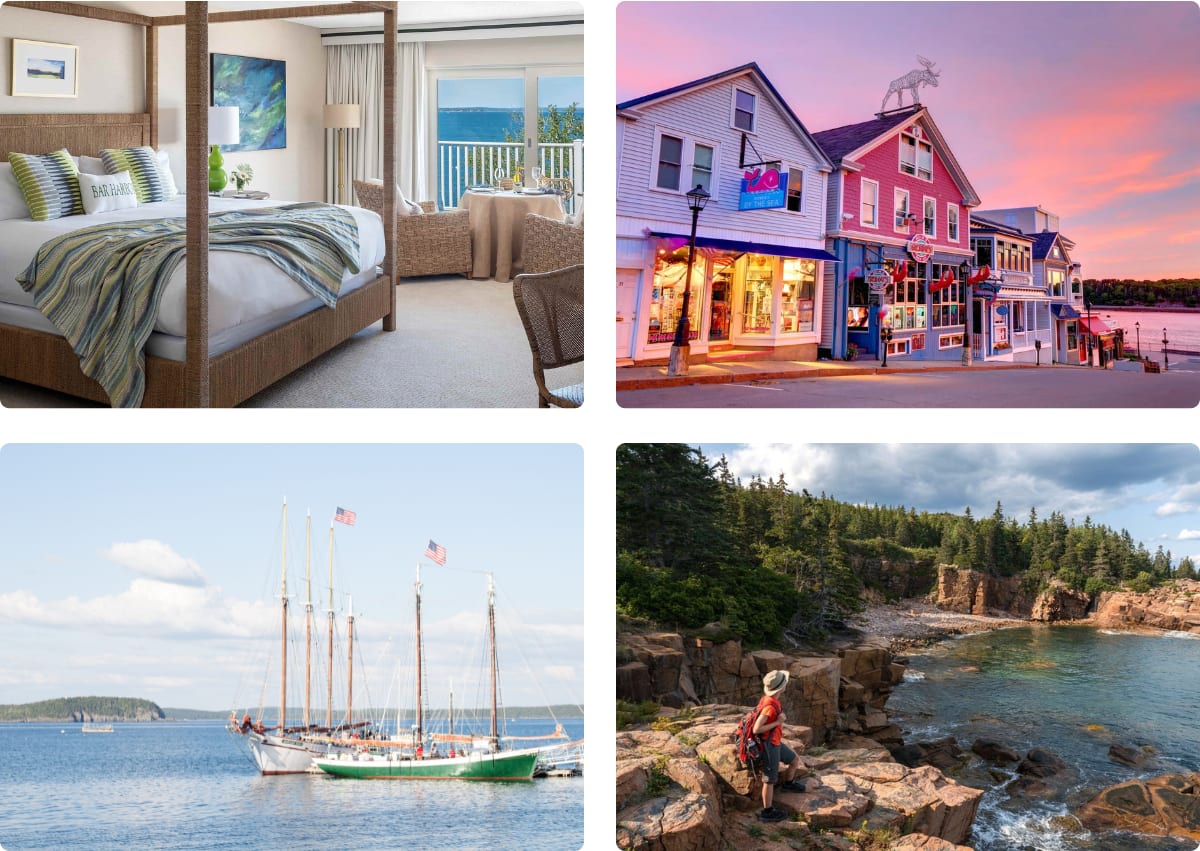 Photos courtesy of Bayview Hotel Travel Lens

Block Island, Rhode Island
Ah, Block Island — the beacon of summer bliss. With its rugged coastal beauty, sandy beaches, and charming atmosphere, this hidden east coast gem lacks the touristy hordes that nearby summer spots struggle with. Think boutique-lined streets, spectacular natural sights and pristine white sand beaches, best explored by either bike or moped.
STAY
Block Island Beach House: Beautifully designed boutique hotel with an elevated coastal vibe.
Spring House Hotel: Block Island's largest and most historic hotel with 32 guest rooms that preserve the island's authentic charm.
EAT
Dead Eye Dick's: Modernized New England seafood joint with a beautiful waterfront setting.
The Surf Block Island: Beach bar at Block Island Beach House with a full, open-air outdoor beach experience.
Persephone's Kitchen: Block Island's beloved coffee shop and eatery serving healthy, high-quality food in an eclectic space.
DO
Spend your day lounging on Crescent Beach, rent a bike and ride along the scenic coastal roads, hike the Greenway Trails or Clay Head Preserve, kayak or paddleboard along the shoreline, charter a fishing boat and cast for striped bass and bluefish, climb to the top of the iconic Southeast Lighthouse for panoramic views.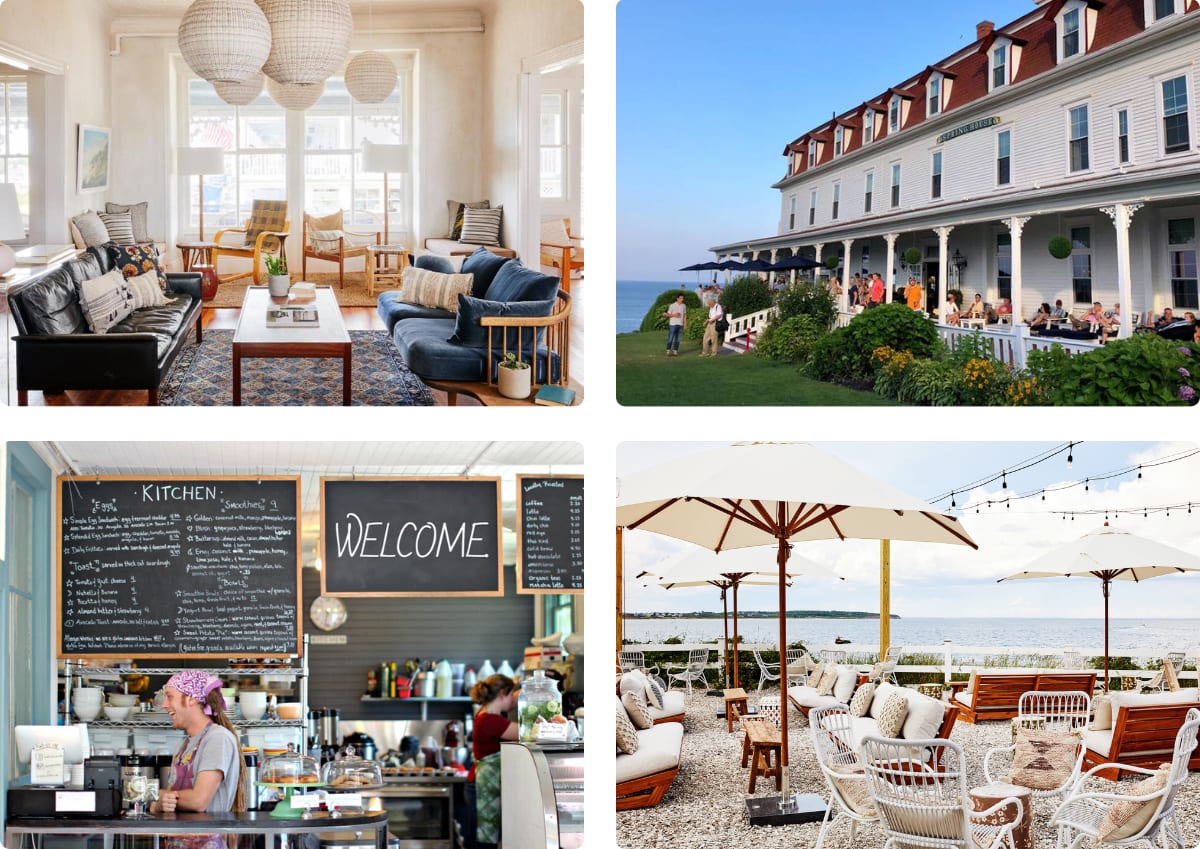 Photos courtesy of Booking.com, Open Table, Persephone's & Surf Block Island

There you have it, SBP's six favorite, lesser-known summer vacation spots in the U.S. Booking a family trip to any of these destinations? Be sure to tag us in your summer travels @smithandberg! And stay tuned to Tacos & Tequila because we may be bringing you some international vacation destinations you've never considered very soon. 🌮🥃