See ya, summer! Cozy season is officially upon us (pumpkin spice lattes, warm sweaters and all), which means it's time to transition your home decor and maintenance routine for fall. From integrating down-to-earth hues to refreshing your living space with comfy accents, we've got all the tips and tricks on how to spruce up your abode for autumn — including some fave local shops where you can stock up on fall pieces. Read on and snuggle up.

Featured image courtesy of Decorilla.
Bring in the fall foliage.
Let's start with quick and easy. While summer is for hydrangeas and peonies, fall is for marigolds and dahlias. Of course, you can opt for the traditional pumpkin or two, but we're all for elevating your space with moody, minimalist arrangements that integrate branches and leaves for a rustic look. You can even get the kiddos involved by foraging in your backyard.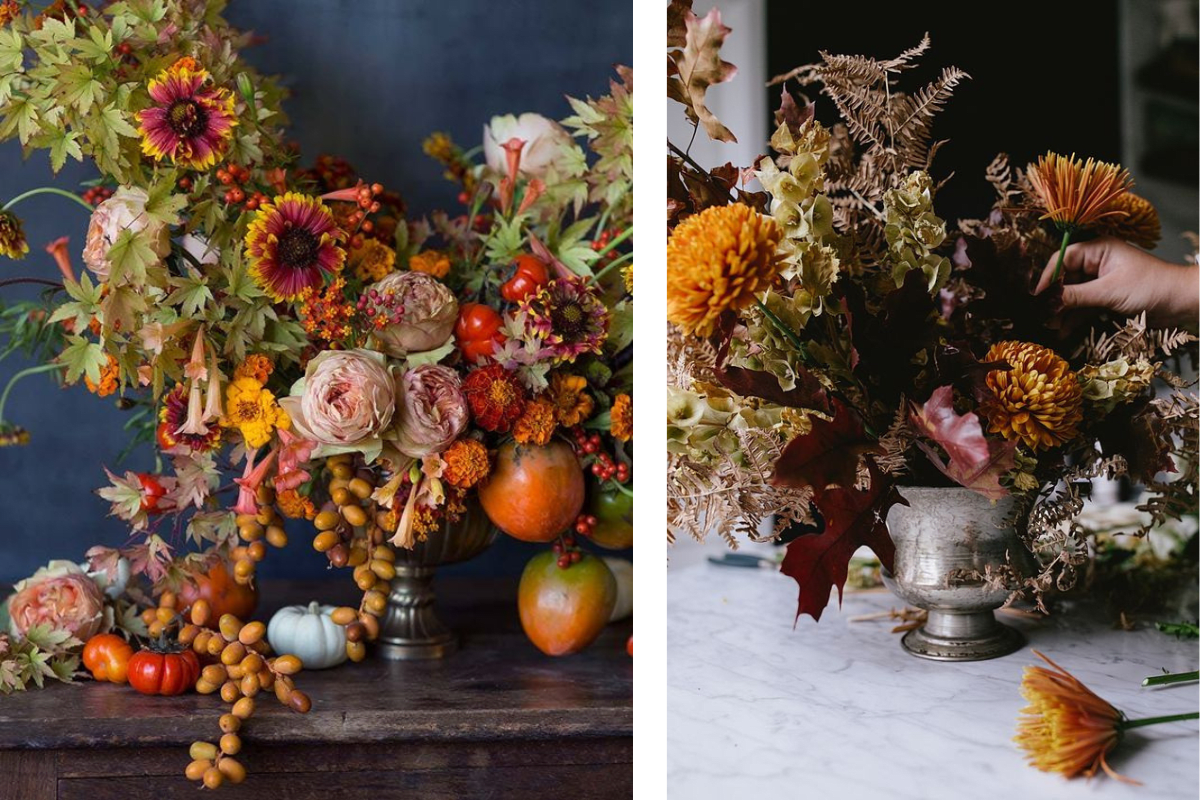 Photos courtesy of Pure Wow & Jojotastic
Switch up your color palette.
Why stick with the same color scheme year-round when it's easy to switch it up for the seasons? For fall, think deep burgundy, burnt orange and sage green — as seen in the kitchen of our new listing at 10436 Kinnard Avenue below. And no, we're not telling you to get rid of your furniture. You can make subtle tweaks by updating curtains, tablecloths or even adding decorative accents like vases and candles to evoke the spirit of fall. Not sure where to look? Dekado Home Decor on San Vicente has an epic MacKenzie-Childs fall collection that gives us all the autumn feels. And if you're in the market for new table linens, check out Hudson | Grace at Brentwood Country Mart.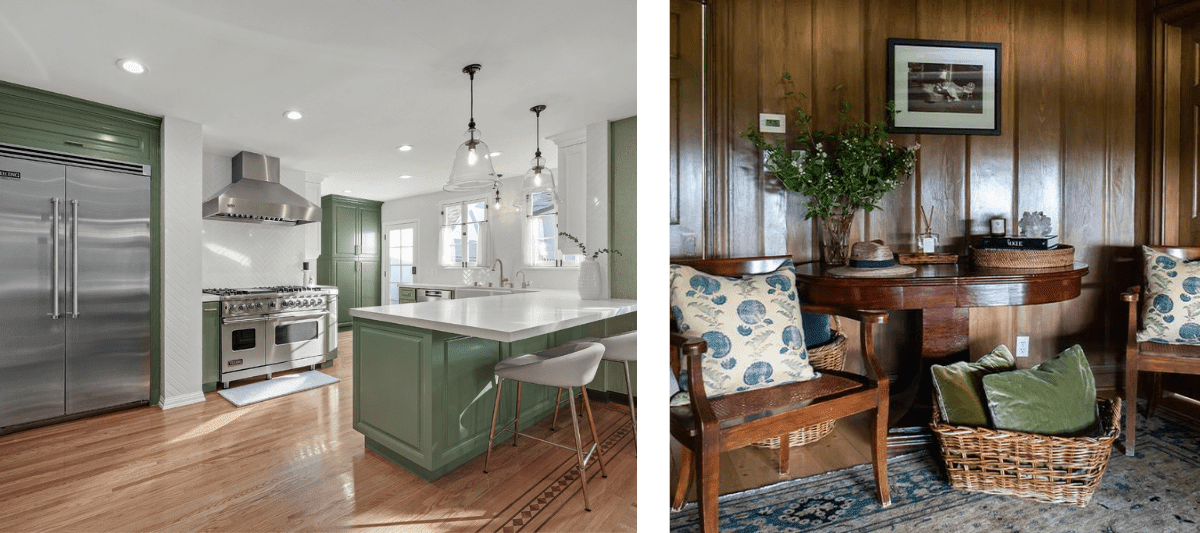 Photos courtesy of 10436 Kinnard & House of Porter
Swap out your throw pillows and blankets.
As temperatures drop, it's the perfect time to replace lightweight summer throws with chunky knits or plaid patterns. As for your pillows, consider incorporating autumnal colors and textures to create a chic, cozy vibe. Located on Abbot Kinney, Tumbleweed & Dandelion has a number of pillows and textiles that give big fall energy. And can we take a moment for the cashmere throws at House of Porter? We'll take one of each, please.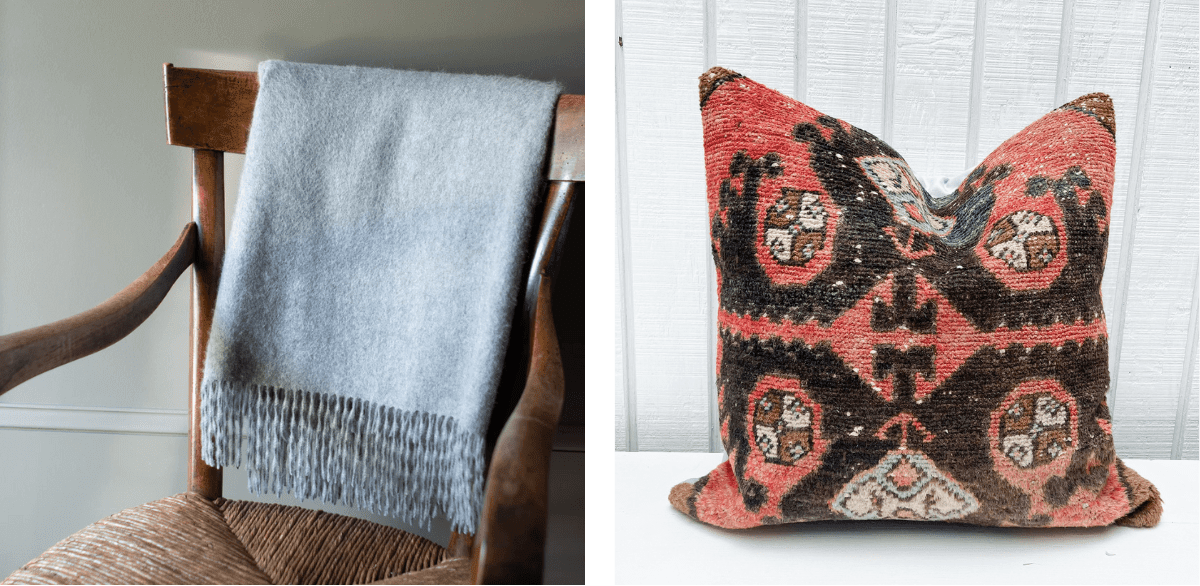 Photos courtesy of House of Porter & Tumbleweed & Dandelion
Rearrange your furniture.
Sometimes the simplest sprucing can have the biggest effect. Case in point: optimizing the functionality and aesthetics of your living space by rearranging your furniture. For instance, if you have a fireplace, move your sofa or chairs toward it to enhance the coziness. If not, just experimenting with a different layout will give your home a nice little refresh for fall.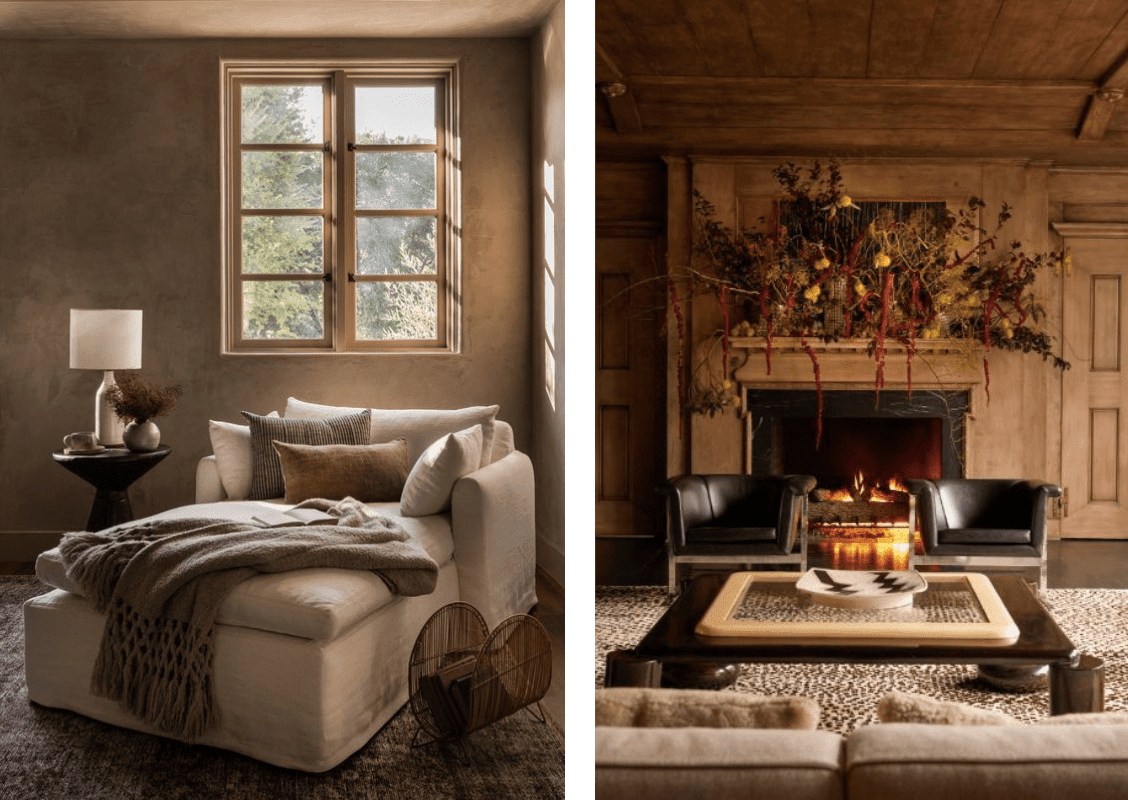 Photos courtesy of Shoppe Amber Interiors & Homes & Gardens
Move around your artwork.
Not in the mood to rearrange your furniture? Give your home a fresh look by reimagining the placement of artwork and wall decor. If you have a light and bright piece above the mantle that evokes feelings of summer, you may want to bring in a painting with darker, more introspective hues and themes that align with the fall season. This simple adjustment can revitalize your space without spending a dime.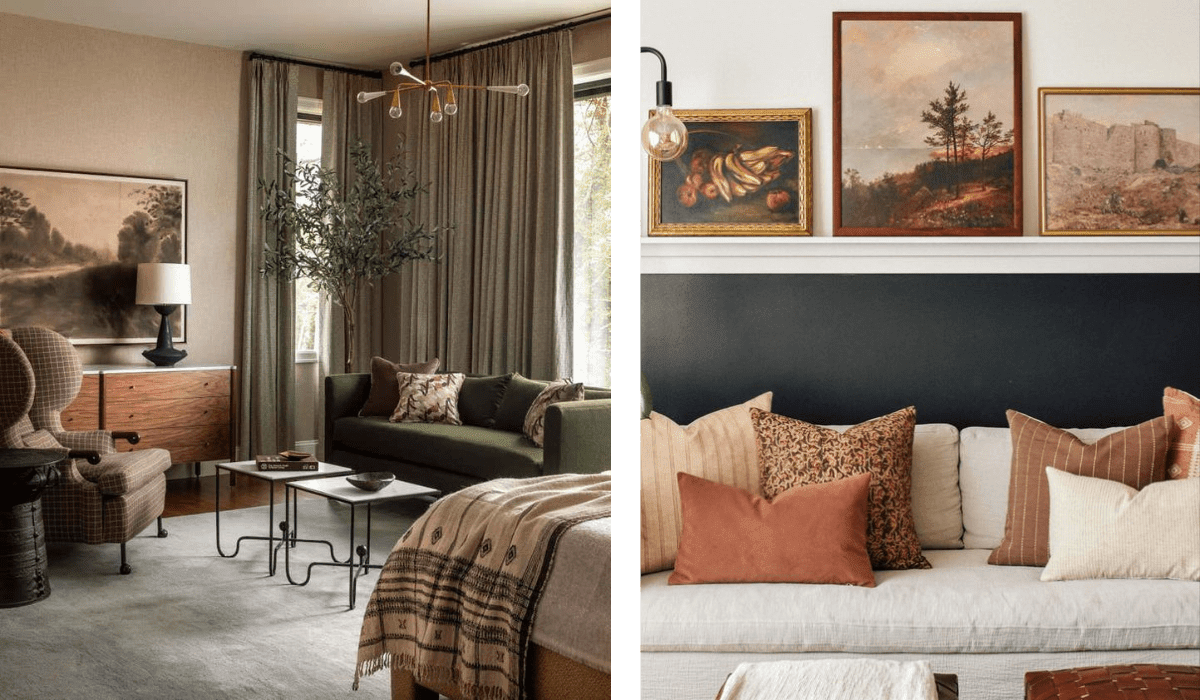 Photos courtesy of 1st Dibs & Collectiv Co.
Winterize your lawn.
Exterior enhancements don't stop after you've cleaned the gutter. Extend your fall preparations by "winterizing" your lawn and garden. What do we mean? Clear fallen leaves, tidy your garden beds, trim overgrown branches and shrubs, fertilize your lawn, plant fall flowers like chrysanthemums…the list goes on. You can also use this as an opportunity to curate the ultimate outdoor gathering space for when the weather cools.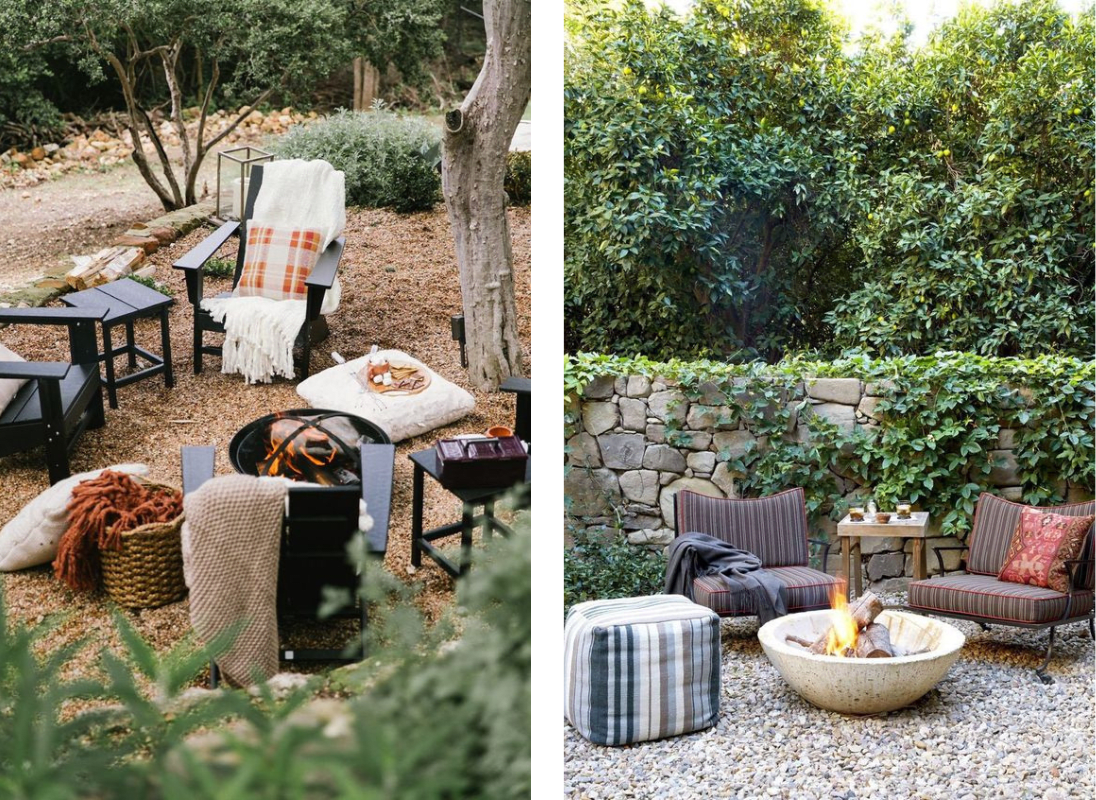 Photos courtesy of Camille Styles & Youtube
Clean out your gutters.
As the leaves begin to fall, cleaning your gutters is a must. In fact, clogged gutters can lead to water damage and structural issues, giving you a serious headache that's totally avoidable. For that reason, be sure to regularly remove leaves, debris and blockages to ensure proper water flow and prevent potential problems. Bonus points if you can make an arrangement with your findings. You can thank us later.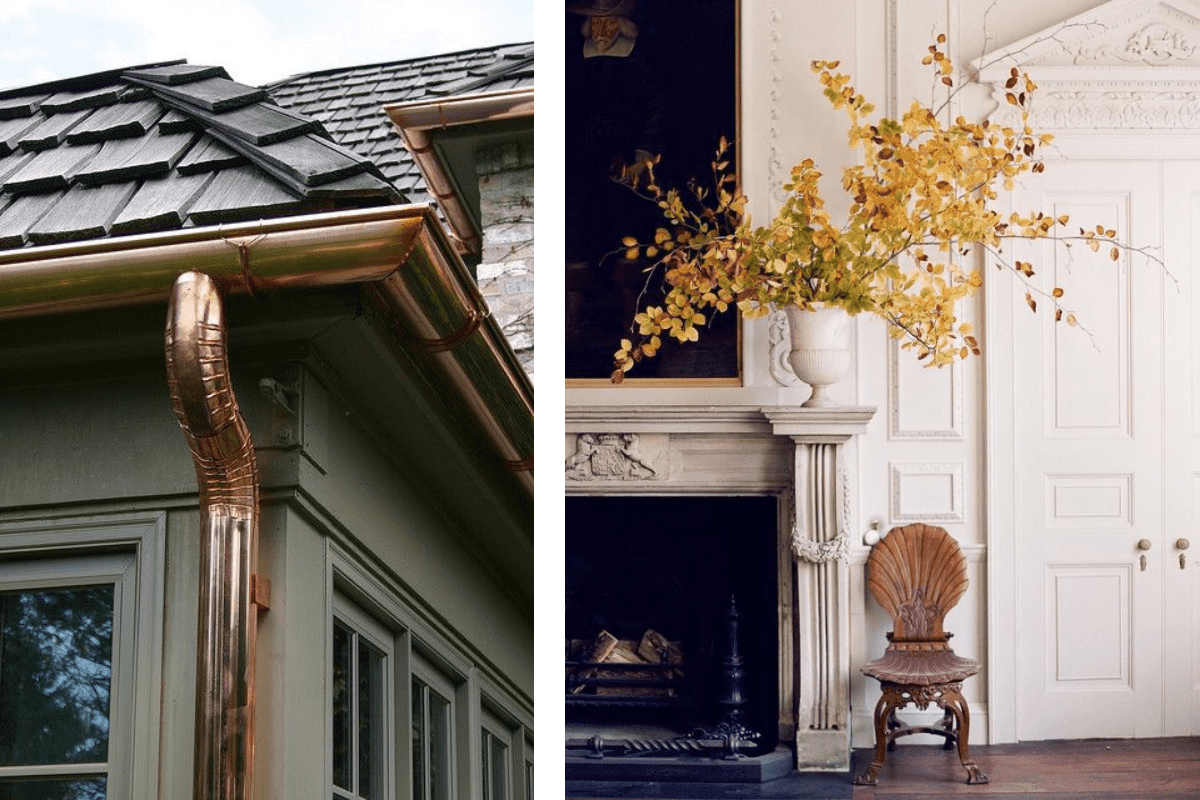 Photos courtesy of Flickr & My Scandinavian Home
Want more spruce-up ideas for your home? Let's chat! Email us

[email protected]

. We'd love to share ideas with you!