Much like the rest of the business world, the real estate industry has begun embracing the power of Artificial Intelligence (AI), and one place you can start may be in your own backyard. Yup, that's right — you can visualize your dream landscaping plan using AI. Overwhelmed? Don't worry…we've put it all into layman's terms below.

We at Smith and Berg Partners truly appreciate the power of crafting an outdoor space that not only provides a serene sanctuary for you and your family, but also enhances your property's value. AI is quick, efficient and, despite most assumptions, highly realistic. And BTW, landscape designers already use AI to their benefit. No job-stealing here! Support your local landscapers and, together, see what AI can do for you.

Now, using a little AI, let's visualize an enhanced landscape design utilizing our new listing at 12247 Milton Street. Want to check it out IRL? Get in touch to schedule a private showing.
The Role of Landscaping in Real Estate
Landscaping isn't just about aesthetics; as we well know, it plays a significant role in the value and visual appeal of your property. "A well-designed landscape can boost curb appeal, increase property value and even reduce energy costs by providing shade and insulation," Founding Partner F. Ron Smith shared. "It also creates a unique space for relaxation, entertainment and outdoor activities."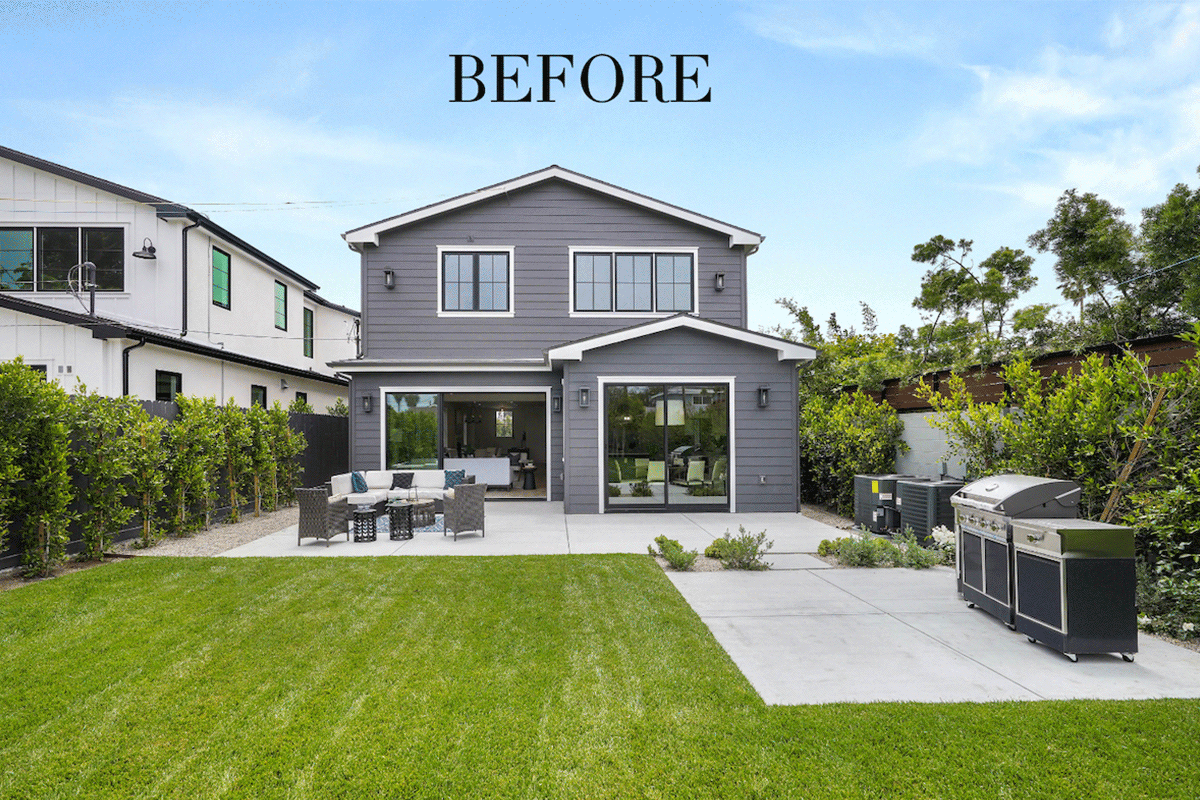 Made with: homedesigns.ai

Given these advantages, it's no wonder that homeowners are increasingly investing in landscaping to transform their properties into stunning and functional living spaces. While traditional methods, such as sketches and 2D blueprints, may fall short in conveying the full potential of your outdoor space, AI has the potential to revolutionize the landscape design process.
Utilizing AI for Landscape Design
AI-powered landscaping tools have emerged as a total game-changer for homeowners looking to create their dream outdoor spaces. These tools employ advanced algorithms and computer vision to provide realistic and detailed 3D visualizations of your landscaping ideas. Here's how they work:

Image Recognition: AI algorithms can analyze images of your existing outdoor space, identifying elements like trees, structures and terrain. This data serves as the foundation for your landscaping design.

Design Input: You can collaborate with professional landscape designers or use user-friendly interfaces to input your ideas. AI can suggest everything from plant types and hardscape elements based on your preferences and the local climate, as well as pool designs, loungers, fencing, dining areas, fire pits, water features, sports courts…the list goes on. [Insert mic drop here.]

Plant Selection: AI can recommend plants that are well-suited to your region's climate, ensuring your garden thrives year-round with minimal maintenance.

Cost Estimation: Perhaps most importantly, these tools can also provide cost estimates, helping you budget for your landscaping project more accurately.




Before & after of 12247 Milton Street using Fotor AI

The Benefits of AI-Powered Landscaping
Visual Clarity: AI provides a detailed and realistic preview of your landscaping plan, eliminating guesswork and ensuring your vision is accurately represented.

Time and Cost Efficiency: AI can speed up the design process by automating tasks like plant selection and cost estimation, saving you time and money. In under a minute, you'll have a completely renovated backyard.

Sustainability: AI can suggest eco-friendly landscaping options, such as drought-resistant plants and water-efficient irrigation systems, helping you reduce your environmental footprint.

Collaboration: AI tools make it easy to collaborate with landscape professionals, architects and contractors, ensuring everyone is on the same page from the start. Now THAT'S what we call a win-win.



Before & after of 12247 Milton Street using DreamzAR
Try Them Out: The Best AI Landscape Generators
Whether you're aiming to boost your property's value or create a relaxing outdoor retreat, AI is here to help you achieve your landscaping dreams — and we're here to find you the perfect property to house that dream landscape. Get in touch with us today and let's turn your vision into reality, one beautiful backyard at a time.