What's the holiday season without a jolly good cocktail in hand? Whether hosting friends and family or looking for a seasonal beverage to sip by the fire, the SBP team's got you covered. From F. Ron's favorite winter-spiced marg (which we filmed the making of, just for you) to David's classy Midnight Manhattan (like the OG, but with a bit of cherry), our list of libations is sure to keep things festive and fun this holiday season.
F. Ron Smith: Winter-Spiced Margarita
You better believe I'm drinking margaritas year-round, but during the holiday season, I like to spice things up with a winter version that has blood orange, vanilla, cinammon and chile. In fact, I love it so much that I brought a camera crew in to film me making it. You're welcome.
Ingredients (makes 1)
For the Cocktail
1.5 oz reposado tequila
1 tsp agave nectar
½ oz lime juice
½ oz blood orange juice
½ tsp vanilla extract
For the Rim
½ tsp flaky salt
½ tsp sugar
¼ tsp cinnamon
¼ tsp chile
Instructions
Combine the sugar, salt chile and cinnamon on a plate, then rub the rim of a glass with lime and dip it in the mixture. Fill with ice and set aside. For the cocktail, combine the tequila lime juice, blood orange juice, vanilla extract and agave nectar in a cocktail shaker. Fill with ice and shake until cold. Strain the marg through a strainer into your glass, and if you're feeling fancy, garnish it with a cinnamon stick, star anise pod and/or a blood orange slice.
David Berg: Midnight Manhattan
My favorite cocktail to drink around the holidays is a Midnight Manhattan. The spiced aroma and rich taste remind me of winter celebrations with family and friends. Whip up the recipe below or if you have the opportunity, or even reach out to our very own Trevor Edmond who makes a killer version that I also highly recommend.
Ingredients (makes 1)
2 oz bourbon
½ oz Italian amaro
¼ oz bitter orange liqueur
¼ oz maraschino liqueur
4 dashes orange bitters
1 orange peel for garnish
1 cherry luxardo or aged cherry for garnish
Instructions
Combine bourbon, amaro and liqueurs into a mixing glass with ice and stir. Strain into a coupe glass. Finally, flambe the orange peel and skewer with cherry and serve.
Garrett Sanders: Cinnamon Espresso Martini
I'm going with an espresso martini with a cinnamon sugar rim. The hint of cinnamon smells like Christmas and the espresso is a great pick me up to keep the long holiday season merry and bright! Add a mini candy cane off the glass to make it extra festive. The espresso martini at Violet Bistro was perfect at our SBP holiday party.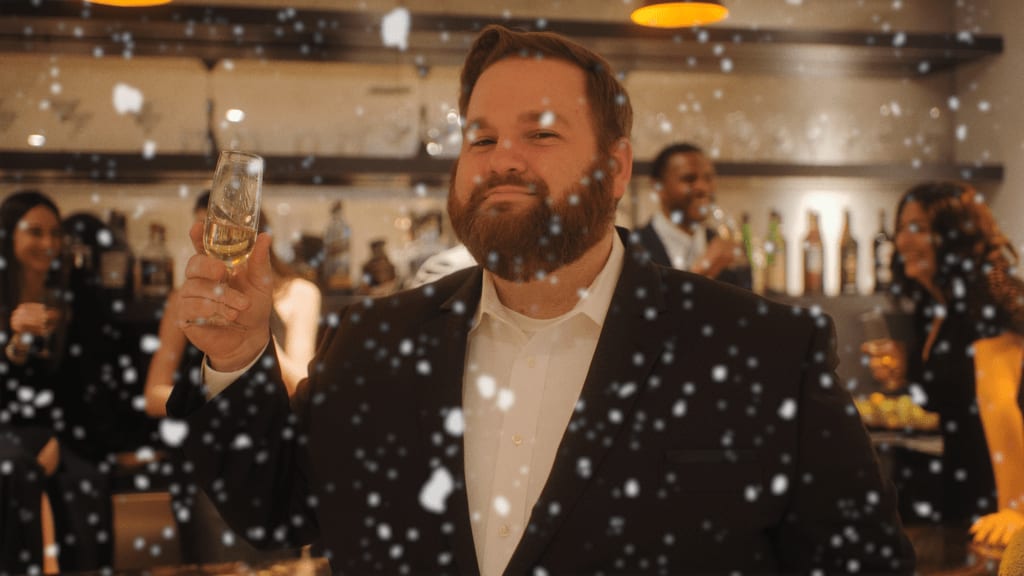 Ingredients (makes 1)
2 tablespoons sugar
½ tablespoon cinnamon
3 oz espresso, freshly pulled
1 tablespoon heavy cream, plus more for dipping the rim
Ice, for shaking
1.5 oz vodka of your choice
Instructions
In a small bowl, mix the sugar and cinnamon. Add 1 tablespoon of cinnamon sugar to the espresso and stir until sugar dissolves. Set aside for a few minutes to cool slightly. Dip the rim of a martini glass in heavy cream then coat with the remaining cinnamon sugar.
Add ice to the cocktail shaker, then pour in the espresso mixture, vodka and remaining heavy cream. Shake until very cold. Strain into a martini glass and enjoy!
Courtney Welsh: White Russian
My husband and I have a tradition of trimming our tree with a White Russian every year. I seem to only drink them in December so now they just taste like Christmas to me!
Ingredients (makes 1)
2 oz vodka
1 oz Kahlúa
1 splash of heavy cream
Instructions
Add the vodka and Kahlúa to a rocks glass filled with ice. Top with the heavy cream, stir and sip.
Andres Vargas: Carajillo
It's all about the Carajillo during the holidays (think espresso martini but with a sweet Spanish liqueur). It's a popular Mexican after-dinner digestif, which is the perfect solution for all the heavy holiday food and a great pick-me-up to keep the festivities going!
Ingredients (makes 1)
½ cup espresso or strong coffee
1.5-2 oz Licor 43
Ice cubes
Instructions
In an Old Fashioned glass, pour the Licor 43 over ice and slowly pour your espresso over the top. Gently stir and drink!
Katy Yambao: Mulled Wine
While not a cocktail, per se, mulled wine is my favorite because it's warm, delicious and truly tastes like the holidays in a cup. At family holiday gatherings, I always have a batch going and the whole house smells amazing. I always follow Ina's recipe.
Ingredients (makes 8)
4 cups apple cider
1 bottle red wine, such as Cab Sauv
¼ cup honey
2 cinnamon sticks
1 orange, zested and juiced
4 whole cloves
3 star anise
4 peeled oranges for garnish
Instructions
Combine the cider, wine, honey, cinnamon sticks, zest, juice, cloves and star anise in a large saucepan, bring to a boil and simmer over low heat for 10 minutes. Pour into mugs, add an orange peel to each and serve.
Brandon Smith: Penicillin
Nothing keeps a winter cold away like the Penicillin cocktail. It's made with scotch, lemon juice and a honey-ginger syrup, so it's essentially a wellness drink — right?
Ingredients (makes 1)
2 oz blended scotch
1 oz lemon juice
1/2 oz honey syrup
1/2 oz ginger syrup
1/4 oz Laphroaig scotch
Instructions
Shake the blended scotch, lemon juice, and syrups with ice and strain into a double old fashioned glass with a single large ice cube. Pour Laphroaig over the back of a bar spoon so that it floats atop the drink and finish with a lemon wheel.
Parisa Schnider: Hendrick's Gin & Tonic
I like to keep it classic with a Hendrick's gin and tonic. Adding a few slices of cucumber makes it feel like a little spa day, which is something we all need over the holidays.
Ingredients (makes 1)
1 part Hendrick's Gin
3 parts tonic water
3 slices of cucumber
Cucumber to garnish
Instructions
Combine all ingredients in a highball glass filled with cubed ice and lightly stir. Garnish with 3 thinly sliced rounds of cucumber and serve.
Trevor Edmond: Old Fashioned
Around these parts, I'm known as the king of Old Fashioned. You can often find me mixing one up at the end of a long week to share with the team.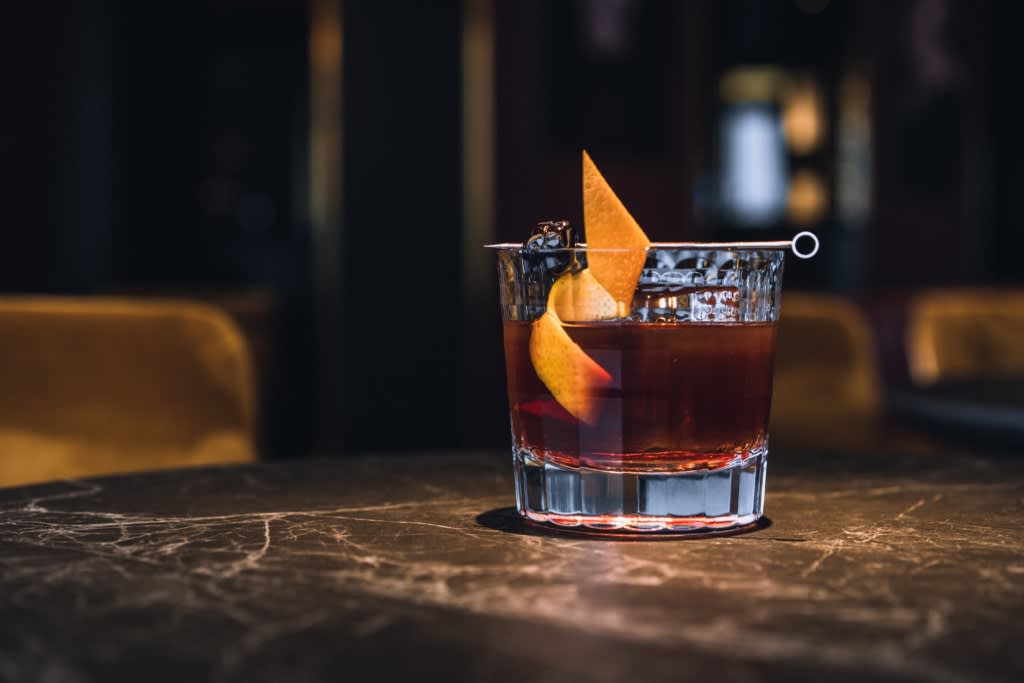 Ingredients (makes 1)
3 oz of Rye or Bourbon (I prefer Pikesville Rye)

2 shakes of angostura bitters

1 shake of orange bitters

1 Luxardo black cherry

1/2 teaspoon of the cherry juice OR 1/2 teaspoon of simple syrup
Instructions
Pour all the above into an ice filled shaker cup for 15 seconds. Then pour over a large block of ice and garnish with an orange peel.
Bobby Neely: Spiked Eggnog
Spiked eggnog is my favorite holiday drink because I used to sneak it all the time as a kid. I would try to take a sip of my aunt and uncle's (my parents did not drink), and they would always say, "No Bobby. This is no-no juice." To this very day, I feel as if I am getting over on them.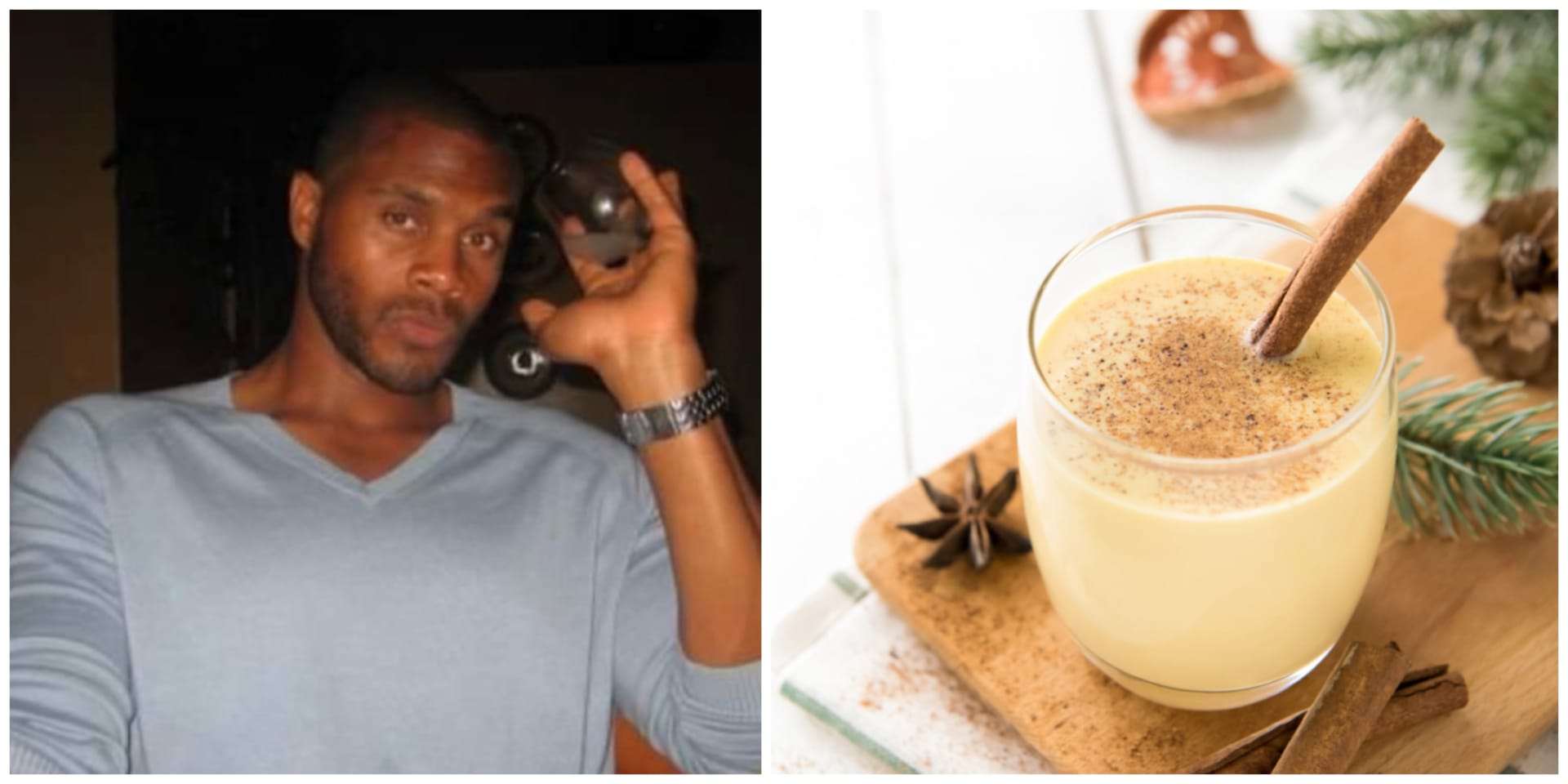 Ingredients (makes 5)
3 cups store-bought eggnog
½ cup amaretto liquor
¼ cup white rum
Dash of nutmeg or cinnamon on top
Instructions
Pour eggnog, amaretto liquor and white rum into a pitcher. Using a wooden spoon, stir to mix everything together. Pour into glasses, garnish with a dash of nutmeg or cinnamon and serve.
Krista Masella: Christmas Caipirnha
My favorite holiday cocktail is a Christmas Caipirnha. In California we don't ever get an extreme winter, so a fresh cocktail with ginger and lime is always on my recipe list. I like this one because you can make it ahead and the addition of mint gives it that holiday flair.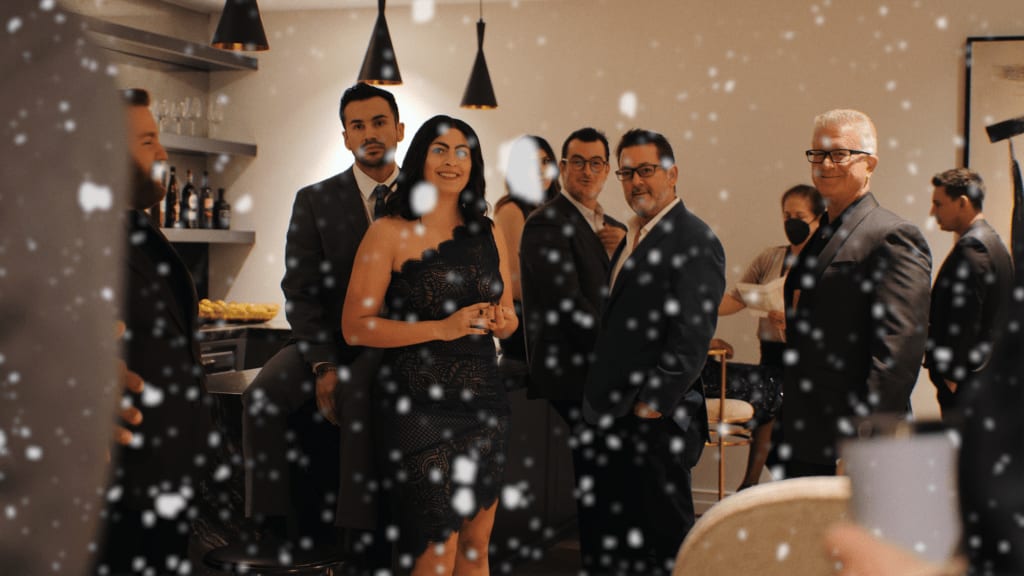 Ingredients (makes 10)
Peel from 4 large limes
1 cup fresh lime juice
8 slices peeled fresh ginger
¼ cup sugar
30 large fresh mint leaves plus 10 fresh mint sprigs for garnish
1 cup Brazilian rum (such as cachaça)
3 cups ice cubes, plus additional for serving
5 cups ginger beer or ginger ale
Instructions
Combine lime peel, lime juice, ginger, sugar, and 30 mint leaves in mortar or medium bowl. Using pestle, muddler, or handle of wooden spoon, crush lime peel, ginger, and mint leaves together. Transfer mixture to large pitcher. Stir in rum. DO AHEAD Can be made 6 hours ahead. Cover and refrigerate.
Add 3 cups ice cubes to lime mixture in pitcher and stir to blend. Stir in ginger beer. Fill 10 cocktail glasses with ice cubes. Strain or pour cocktail mixture into prepared glasses. Garnish each drink with mint sprig.
Ryan Bergum: Dirty Martini
There's no time like the holidays to feel like James Bond. That's why my favorite holiday cocktail is a dirty martini with blue cheese stuffed olives. Shaken, not stirred. Because they call me Bergum, Ryan Bergum.
Ingredients
2.5 ounces gin or vodka
½ ounce dry vermouth
½ ounce olive brine
2 to 4 olives for garnish
Instructions
Add the gin or vodka, vermouth and olive brine to a mixing glass filled with ice and stir until well-chilled. Strain into a chilled cocktail glass and garnish with a skewer of olives.
---
Wait…should we make a cocktail recipe book? Sound off by emailing [email protected], and be sure to tag us in your snaps this holiday season!