Breakfast: for some, it's a green smoothie and oatmeal, for others, it's bacon, eggs & all the trimmings. Los Angeles is bursting at the seams with breakfast joints, and while many Angelenos choose a restaurant by seeing a long line out the door, our team often goes for underrated yet no less epic spots right here on the Westside. Read on for the delicious SBP-approved list.
Lazy Daisy | Santa Monica
If you've got a soft spot for cozy cafes and homemade pastries, Lazy Daisy in Brentwood is your jam (pun intended). The adorable spot, which just so happens to be near SBP's flagship office, serves up a mean cup of coffee alongside delectable breakfast eats, including everything from the Sunrise Sandwich to the fan-favorite breakfast burrito. "A personal fave of mine: make your own omelet with mozzarella cheese, loads of fresh veggies, chicken sausage, and a side of bacon," F. Ron says. "Truly a breakfast of champions."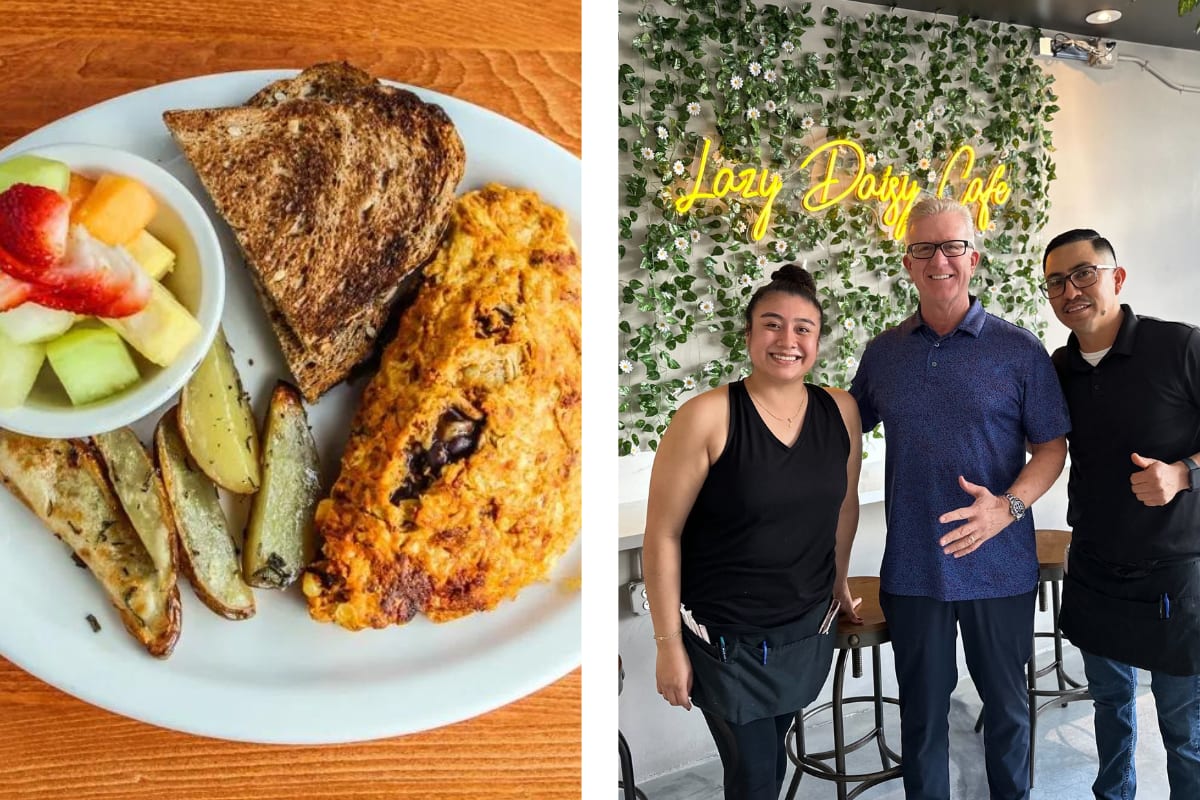 Photo on left courtesy of Lazy Daisy
Nina's Mexican Food | Sawtelle Japantown
If you're in the mood for a breakfast that packs a flavorful punch, look no further than Nina's Mexican Food in Sawtelle Japantown (they don't even have a website, so you know it's good). This hidden gem serves up authentic Mexican breakfast dishes that'll blow your socks off, and it's even got David Berg's stamp of approval. "I get the chorizo burrito, no beans," he says. "Perfectly cooked eggs, tasty chorizo and cheese. I like to add avocado, all wrapped in a fresh flour tortilla. Everything is made in house. It's a winner."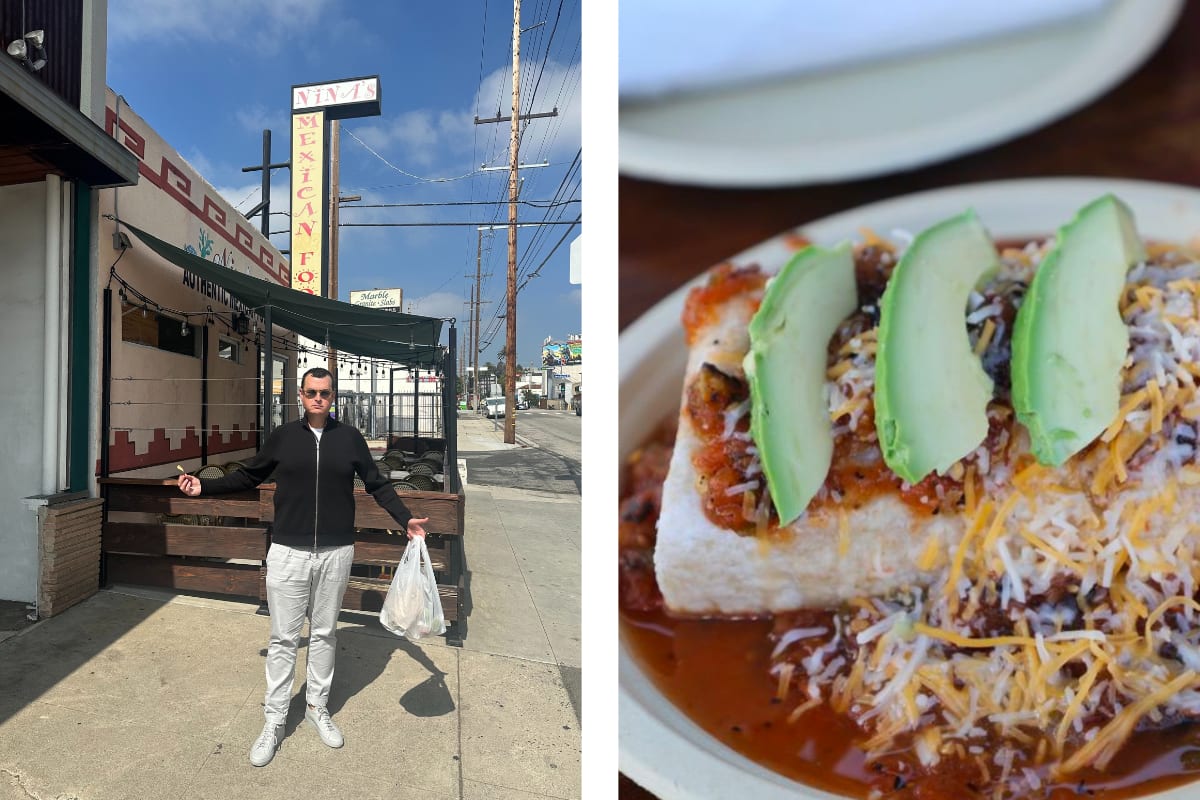 Photo on right courtesy of Yelp
John O'Groats | Rancho Park
Located in the charming neighborhood of Rancho Park, John O'Groats is a quaint little diner that's been serving up breakfast since forever. Their biscuits are legendary (F. Ron recommends the bacon & cheddar), but don't sleep on their fluffy buttermilk pancakes. For the real deal experience, sidle up to the counter, order a cup of joe and nosh on epic bites. "John O'Groats feels like home!" Garrett Sanders says. "The staff always remembers your name and welcomes you with a smile. Their homestyle cooking keeps me coming back, especially their biscuits from heaven."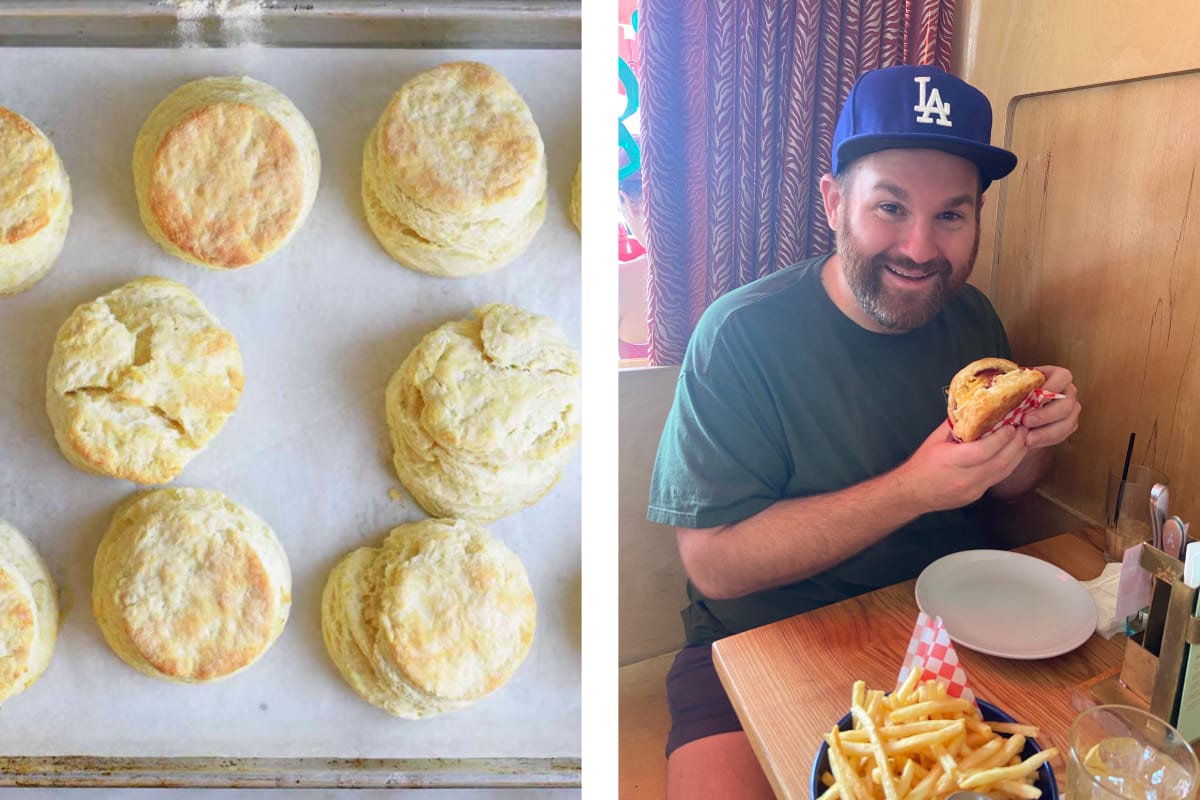 Photo on left courtesy of John O'Groats
The Courtyard Kitchen | Santa Monica
Set along Montana in Santa Monica, The Courtyard Kitchen offers a hidden oasis with a beautiful courtyard and delish food to match. Their chocolate crepes are always a huge hit for the table, topped with almonds, sliced bananas, and a chocolate drizzle. But if you're in the mood for something savory, their morning bowl is a must, featuring scrambled eggs, pesto, goat cheese, arugula, bacon and grilled bread.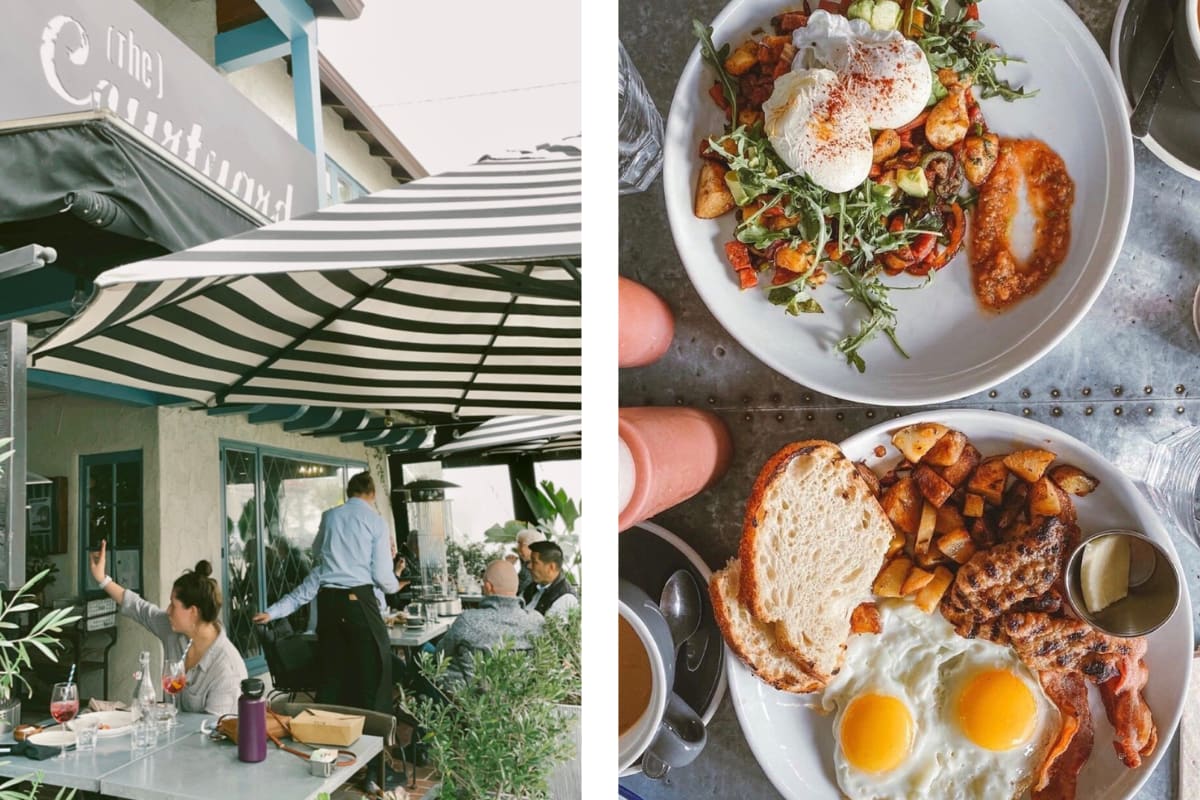 Photos courtesy of The Courtyard Kitchen
Butcher's Daughter | Venice
This Venice hotspot may not be on your breakfast shortlist since it's vegetarian, but we're here to convince you otherwise. Located on Abbot Kinney, Butcher's Daughter offers healthy but totally satisfying breakfast dishes, including everything from waffles to egg toast to cheddar jalapeño biscuits. "The Surfers' Breakfast is fantastic," Morty shares. "Last time I was there I sat next to Jessica Chastain as an added bonus! As for Sewit, the breakfast sandwich reigns supreme. "They buy products from local farmers and support the community," she says. "Plus, the decor is on point."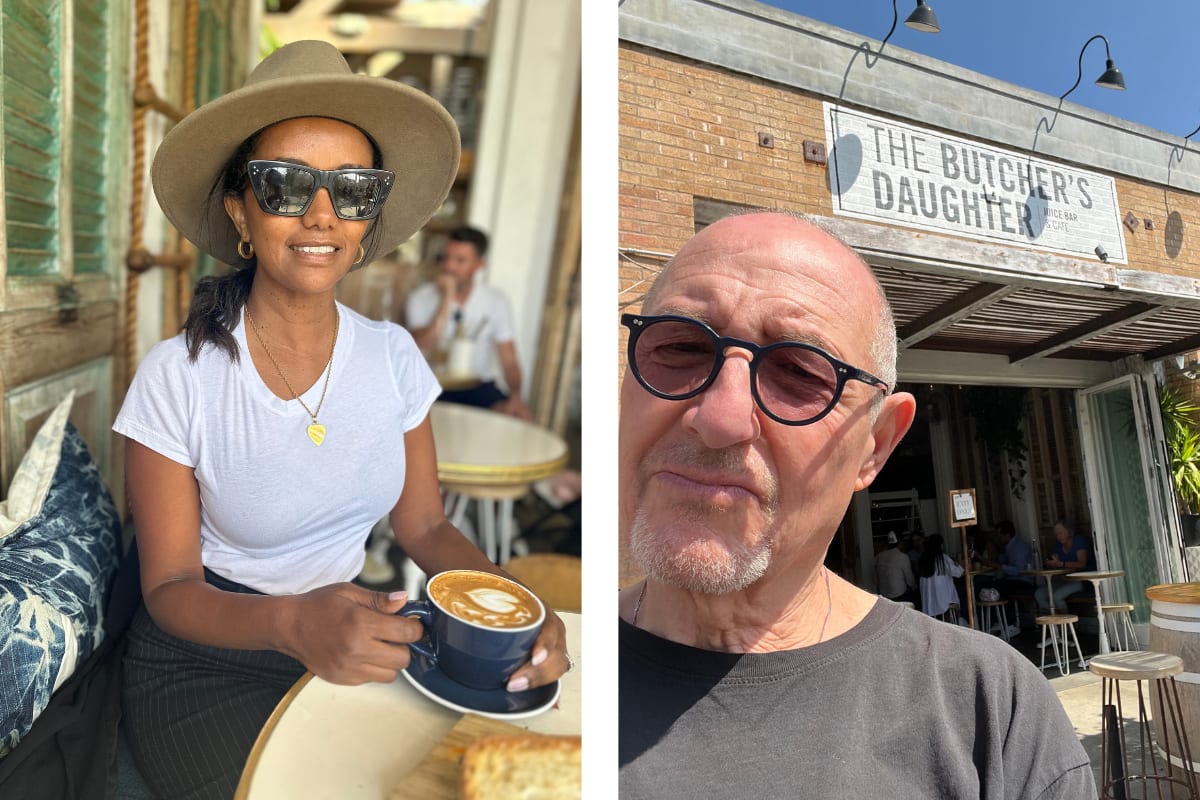 Lodge Bread | Culver City
The bakery at Lodge Bread is among the best in Los Angeles with soft, chewy sourdough (among other types) that's used in an array of delectable breakfast items. "There's no better bread in the city," Krista Masella says. And Brandon Smith agrees: "Whether you're looking for a quick, simple pastry and coffee or a smoked salmon platter with fresh bread and all the fixin's, Lodge is the spot." Oh, and do NOT forget the cinnamon bun. It's required.


Photo on right courtesy of Lodge Bread
Rae's Restaurant | Santa Monica
As you can tell, we love a classic diner. And Rae's Restaurant in Santa Monica is as classic as it gets. This old-school gem has been serving up comfort eats for decades, inviting Angelenos to savor breakfast the way it was meant to be — with the same old-school prices. Buttermilk biscuits and gravy, omelets, hot cakes…all around $10 or less. AND cash only. Now that's what we're talkin' about.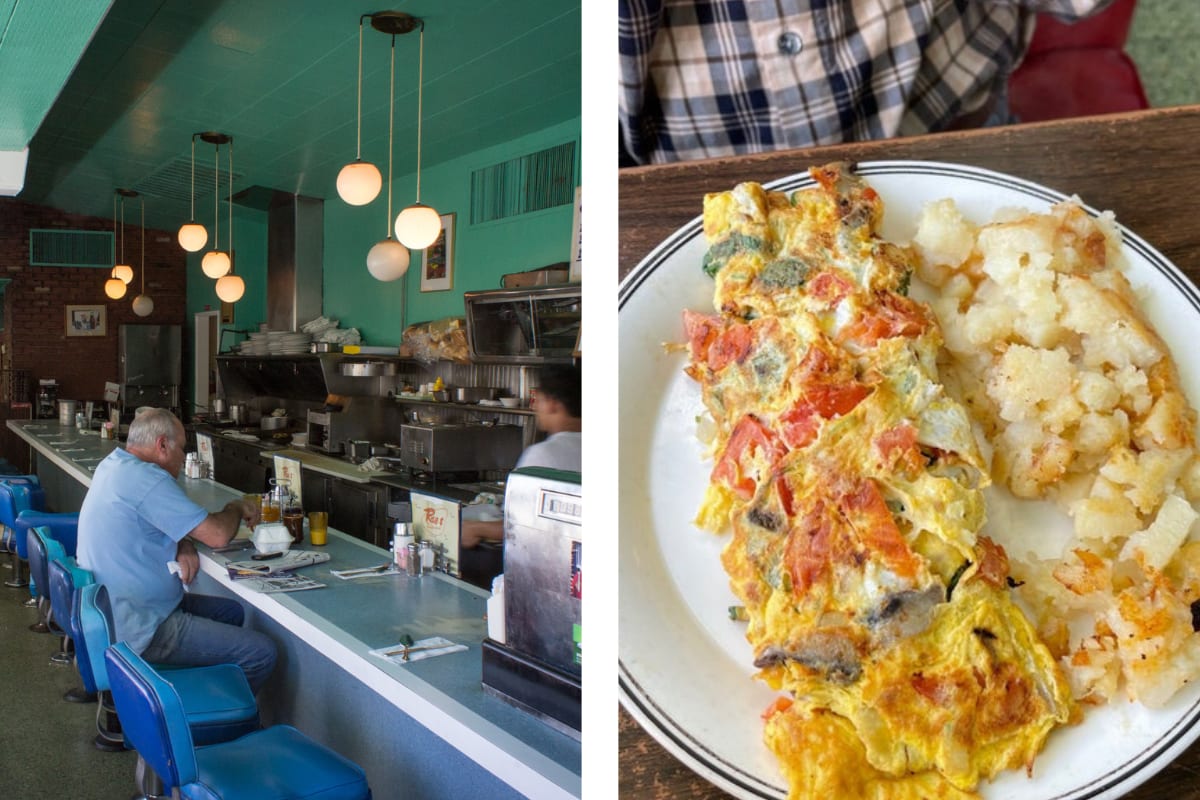 Photos courtesy of TimeOut & Foursquare
The Penmar | Venice
You wouldn't typically expect a golf course to have great breakfast, but The Penmar in Venice is in a league of its own. "I love how family friendly and casual this restaurant is," Courtney Welsh says. "The outdoor picnic tables are especially great for packing in a bunch of kids in a row. It's the little things that make a parent's life easier." Courtney's favorite dish? "The Starter Burrito. You can eat it with one hand while holding a baby, plus it's delicious. And when the mood strikes, go for the Penmar Bloody Starter!"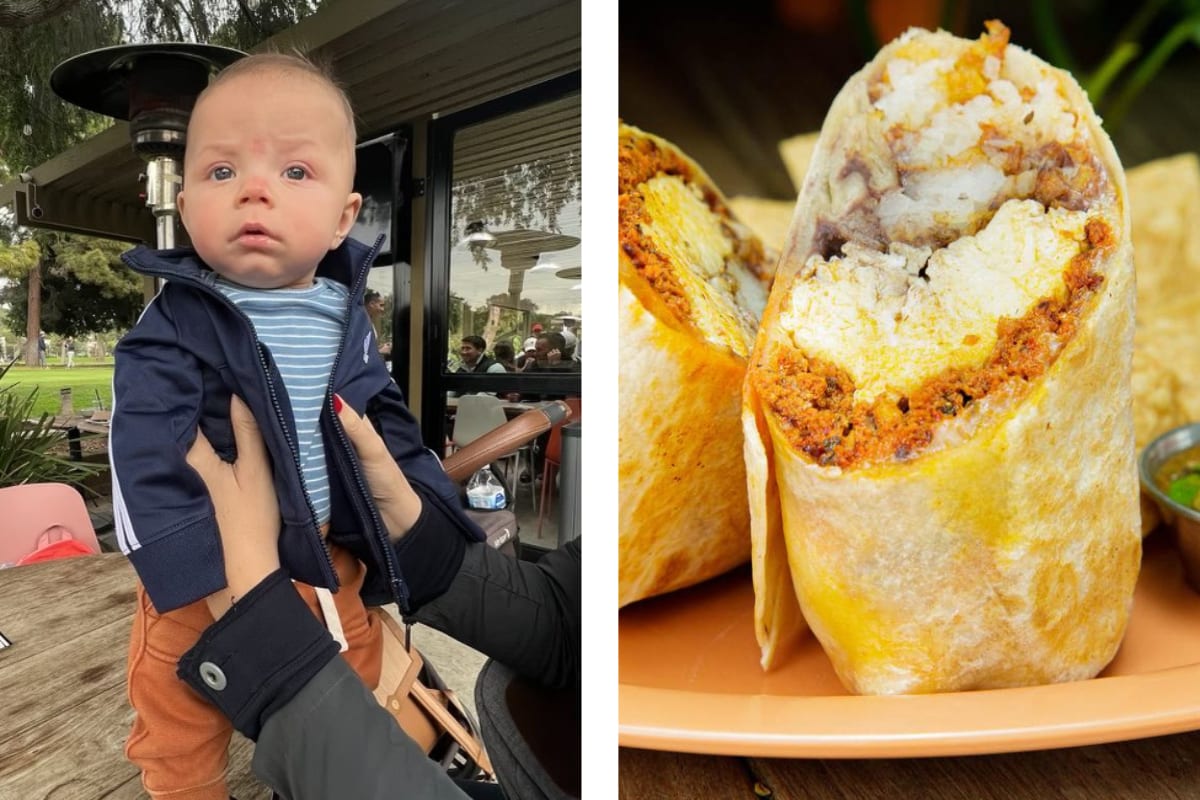 Photo on right courtesy of Penmar
Are your taste buds working overtime right about now? We'd love to add your faves to our list. And if you happen to find yourself at any of the spots above, be sure to tag us in your IG stories @smithandberg!