As Earth completes its annual orbit, the design world, too, experiences a distinctive shift — i.e. certain interior features retain relevance while others fade into the background (oftentimes for good). And since each year brings with it a canon of new home trends, it can be challenging to navigate what's in and what's out. But that's what the Westside's leading real estate team is for. After all, we can't even count how many hours we spend in LA listings each week. So, without further ado, here are the top home trends for 2023 — and what will stay behind in 2022.
WHAT'S IN:
Unexpected color pairings
In: mixing. Out: matching. This year, you can expect to find a really intriguing combination of color palettes, infusing otherwise bare spaces with a distinct sense of personality and whimsy. Colored sofas and accent chairs. A blend of textiles and patterns. Two complementary paint hues. It's all about getting funky with it, like pairing a muted blue with deep rust.
Having young boys, stark white just isn't going to cut it. I love a neutral base with a layered color and textural palette because it always feels more livable and less of a showpiece. Take the living room in my almost 100 year old Tudor-style home; we started with white walls but kept the natural color of the ornate wooden beams and then layered color and texture with our furniture, wallpaper, window coverings and accent pillows. — DAVID BERG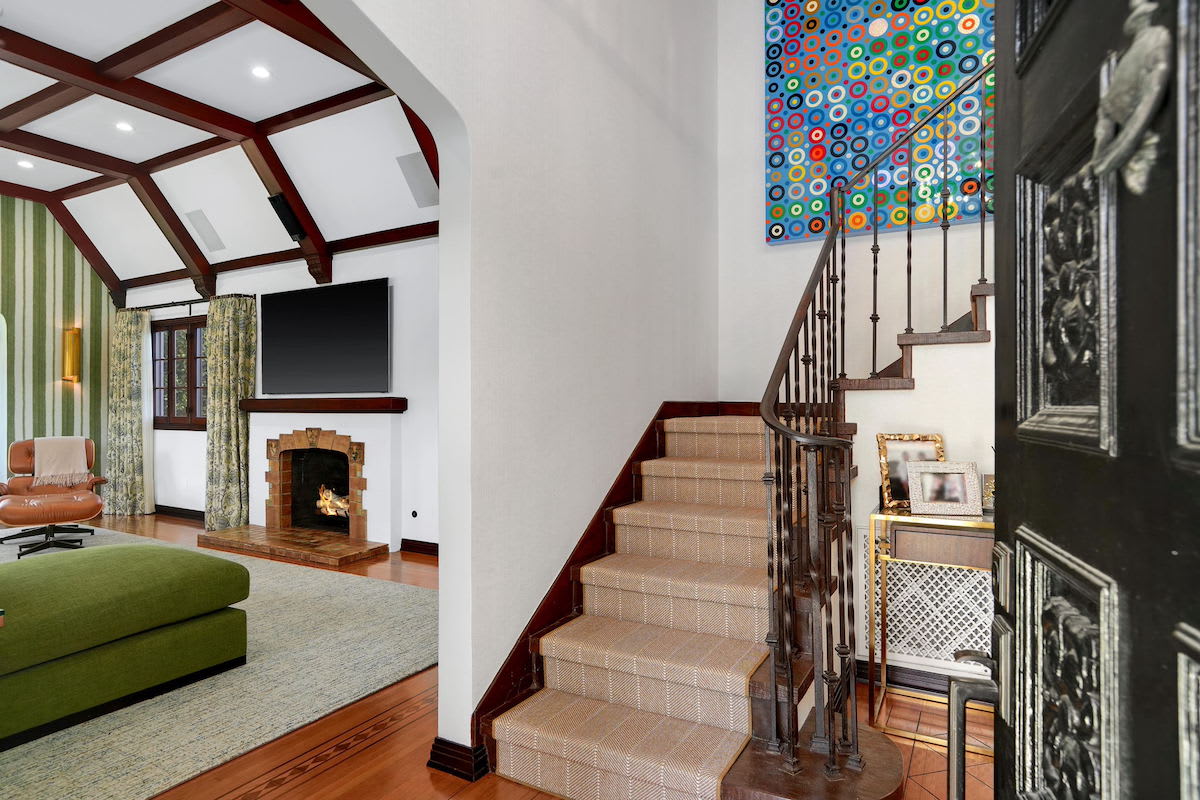 Sustainable features
This is the year to leave a soft footprint. Homeowners will spend big on elaborate solar systems that include energy retention and protect from potential brown-outs. We expect to see even more EV chargers at home, as well as sustainable home product systems like Lettuce Grow that allow people to grow their own organic produce while reducing water and plastic production.
In 2023, I predict we are going to see an increase in features that make homes more self-sustainable and less reliant on public utilities for your electricity needs. Think: Tesla, Generac, SunPower. It's all about going off-grid, without the off-grid location. — F. RON SMITH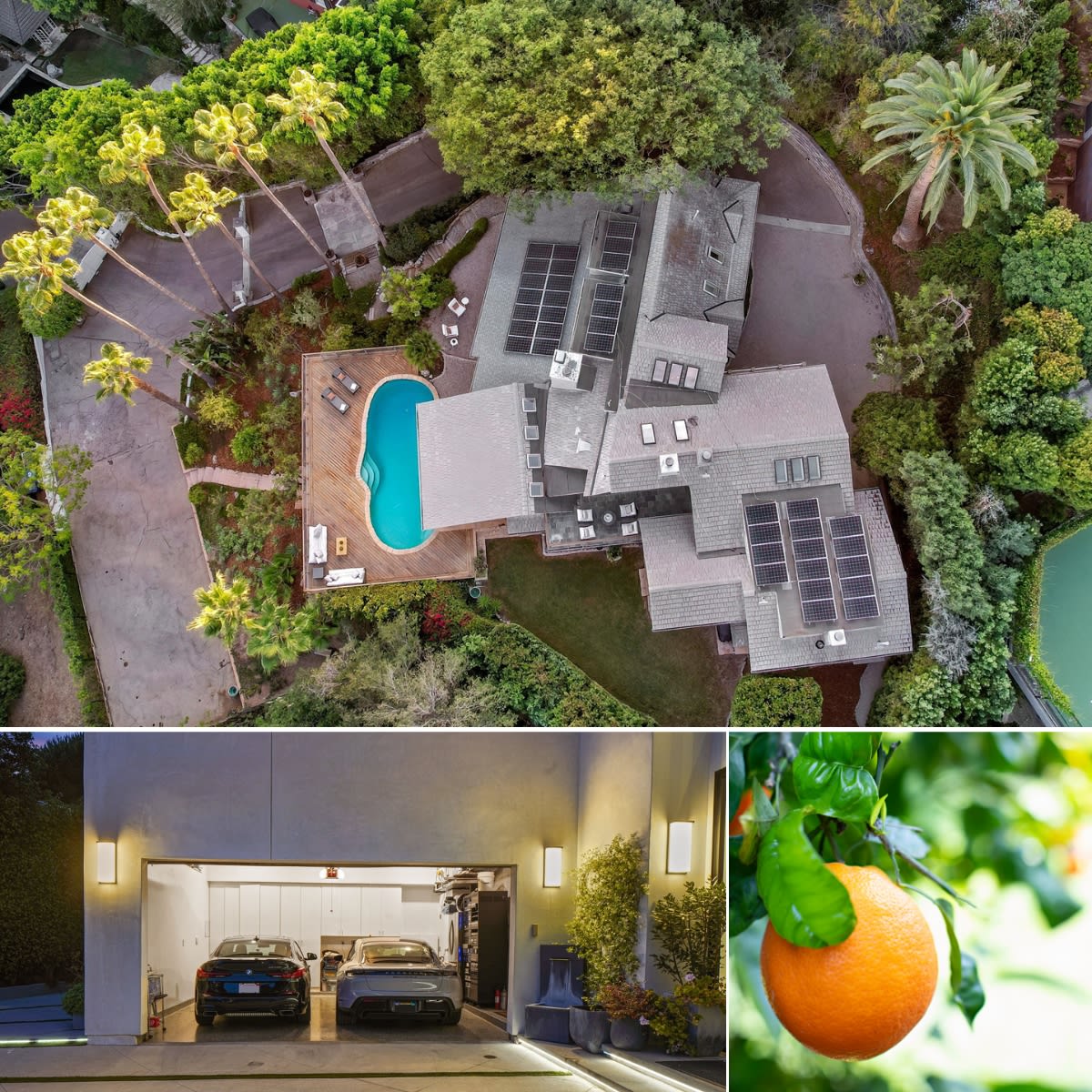 Soft edges and curves
In 2023, we predict that soft edges and curves will beat out harsh squared lines, creating a gentle transition to the kitchen, office, dining space — you name it. And while curved upholstery will be particularly popular, curved architecture (i.e. doorways, shelving, etc.) will gain even more traction. Layer these elements with warm, neutral color palettes and you've got our dream home.

I am excited to be seeing more soft lines and curves coming back to both architectural and interior home designs. I remember a home I sold on 23rd Street in Santa Monica — it was a Mediterranean-style home with a sort of French Country vibe. It had incredible coved ceilings, arched doorways and plush curved furnishings that made the expansive home feel cozy for effortless everyday living and entertaining. — SEWIT ESHETU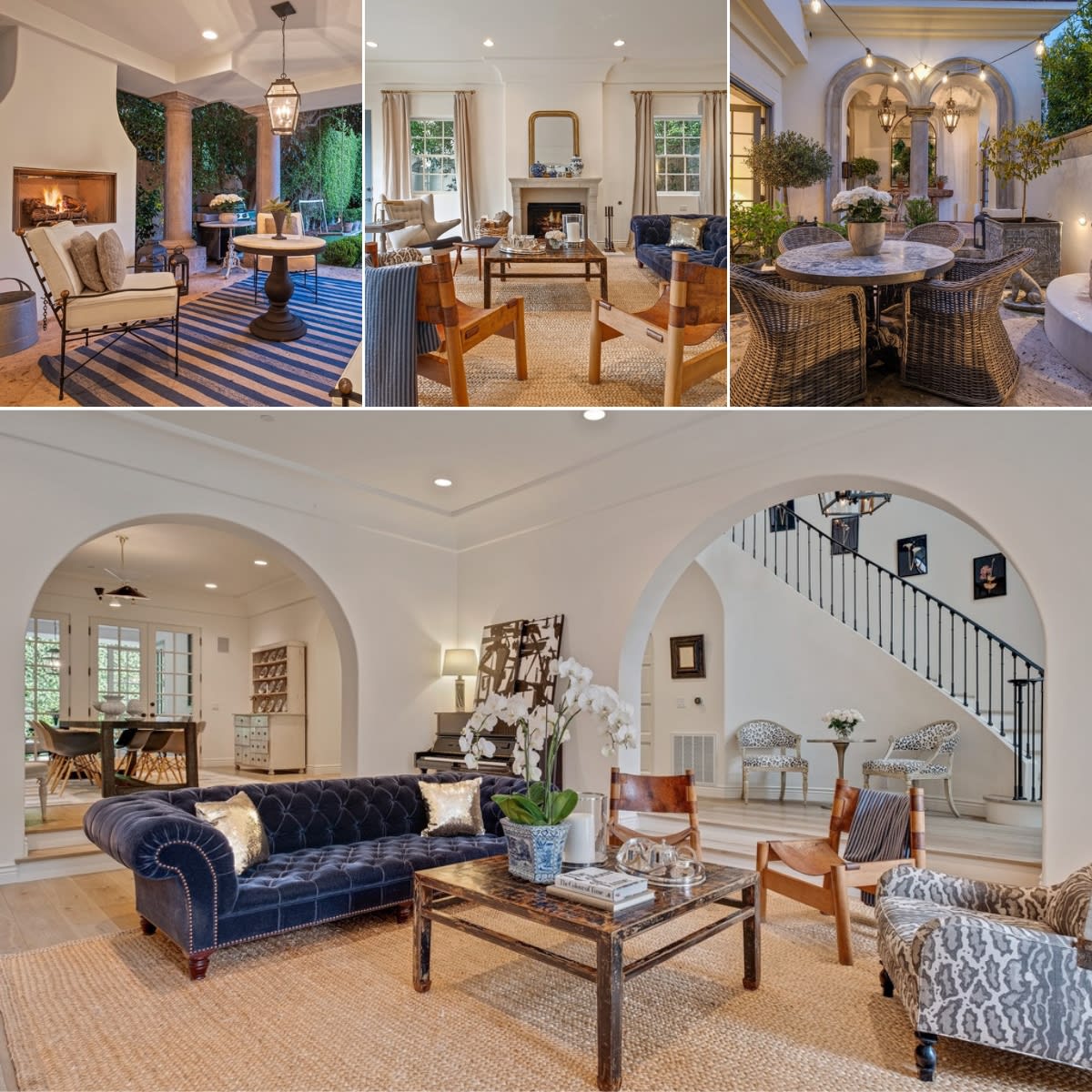 721 23rd Street — PAST SALE
Wellness-minded design
'Wellness-minded design' sounds like a neo-buzzword, but it translates quite simply: to create environments that facilitate healthy living. Who wouldn't want that in 2023? Think water and air purification systems, improved ventilation throughout the home, personalized lighting design that changes based on your activity to nurture either productivity or relaxation. Some features might be an investment, sure, but they're an investment in your health more than anything.

Physical and mental well-being is such an important aspect of all of our lives, so it makes sense to incorporate features into your home that help you achieve your healthy goals. I recently sold a home on Kenter Avenue in Brentwood that was full of smart-home tech that did just that, from the whole-house Aquasauna water filtration system to heated flooring, Lutron Lighting, Bang & Olfson sound system and so much more. Not to mention the architectural design brought nature right into the home through the use of floor-to-ceiling windows and an expansive deck overlooking Westside canyon views. It doesn't get more peaceful than that. — PARISA SCHNIDER

1433 North Kenter Avenue — PAST SALE
WHAT'S OUT:
Open shelving & exposed hoods
There are a few home trends that we predict will fall out of favor this year, two of which relate to the kitchen: open shelving and exposed range hoods. Calming kitchens will be a key component of wellness-focused homes, meaning more streamlined design that conceals clutter behind closed doors with built-in organization and tucked-away hoods to remove harsh metallic tones from the space.

I sold a home on Palms Boulevard in Venice recently that had an excellent kitchen design. The majority of appliances had covers that blended seamlessly into the cabinetry, stripping the kitchen of the typical industrial look and adding a sense of calm through the use of natural stone and a warm color palette. — NATHAN STADLER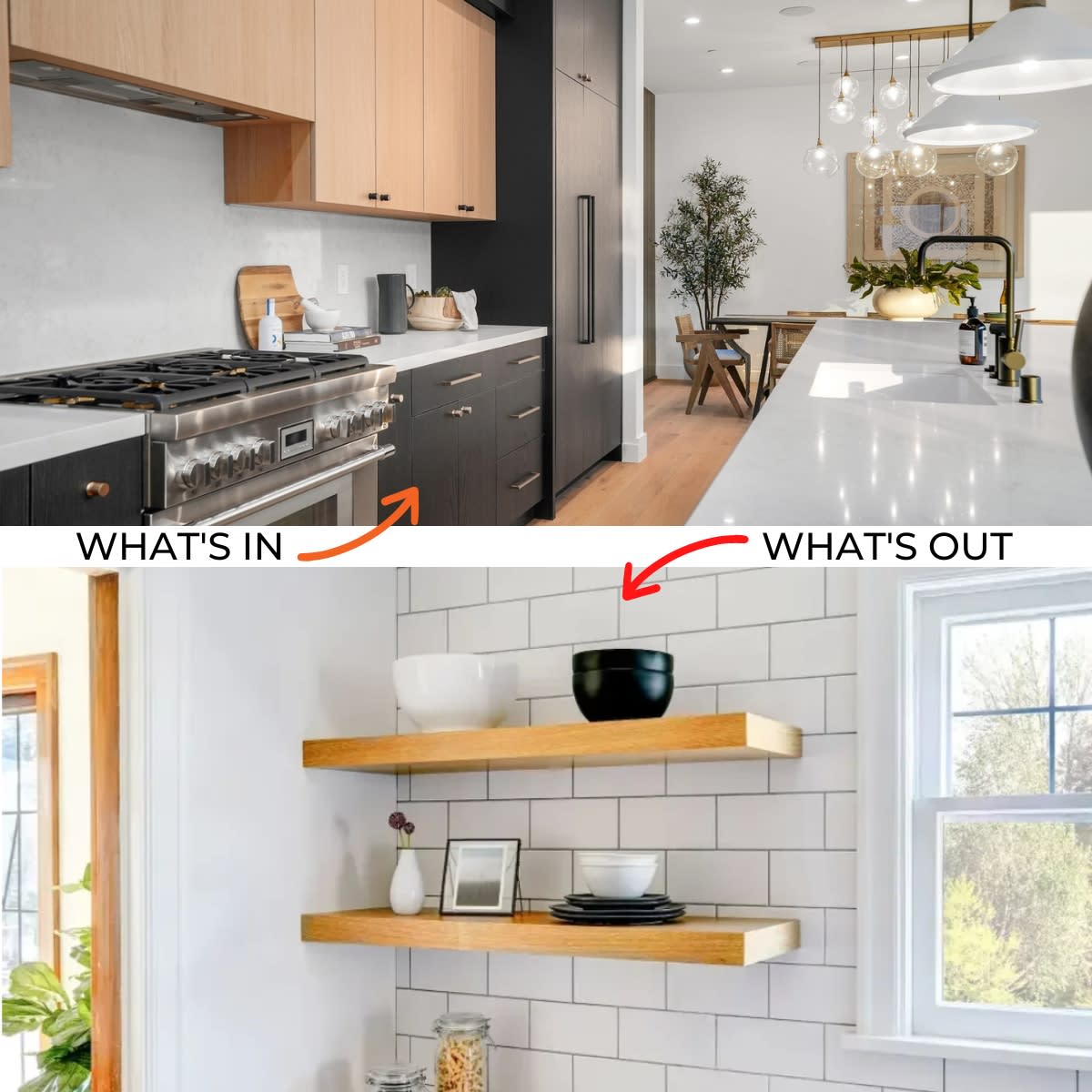 Bottom Photo Courtesy of Insider
Gray color palettes
Ultra-contemporary homes with tons of gray have had a good run. In 2023, these spiritless tones will be replaced by pops of color and more neutral hues inspired by nature, creating cozy yet enlivened spaces for everyone to enjoy.

We sold a home on Chenault Street right here in Brentwood near the office. It was an incredible architectural by Michael Lee, and although the home had stark contemporary lines, there wasn't an ounce of gray in sight. Instead, it was filled with neutral tones and textural accents reminiscent of nature including natural woods and stone for a sophisticated yet comfortable living environment. — TREVOR EDMOND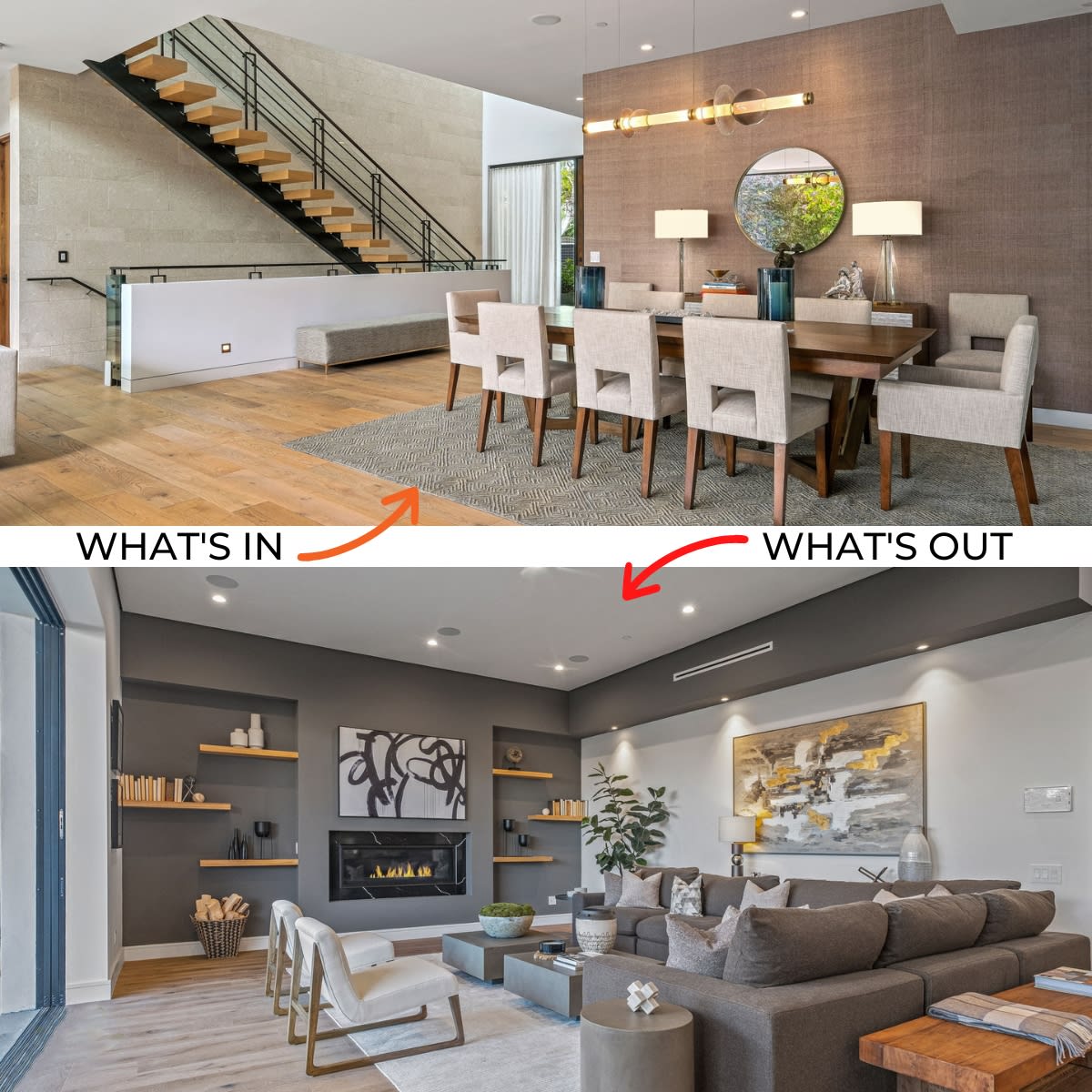 Fast Furniture
Like fast fashion…but furniture. This will be the year of investing in quality pieces, whether new or vintage, and saying goodbye to big-box brands like Ikea or Wayfair. Sure, it's nice to get a good deal here and there, but not when it impacts your home's overall aesthetic. So instead of scouring the top sites for overproduced furniture, head to your local home store or antique shop for distinctive pieces that pack a punch (without a carbon footprint). Here are just a few names we love:
Big Daddy's Antiques
Galerie Half
Galerie Provenance
Cisco Home
Nicky Kehoe
Amsterdam Modern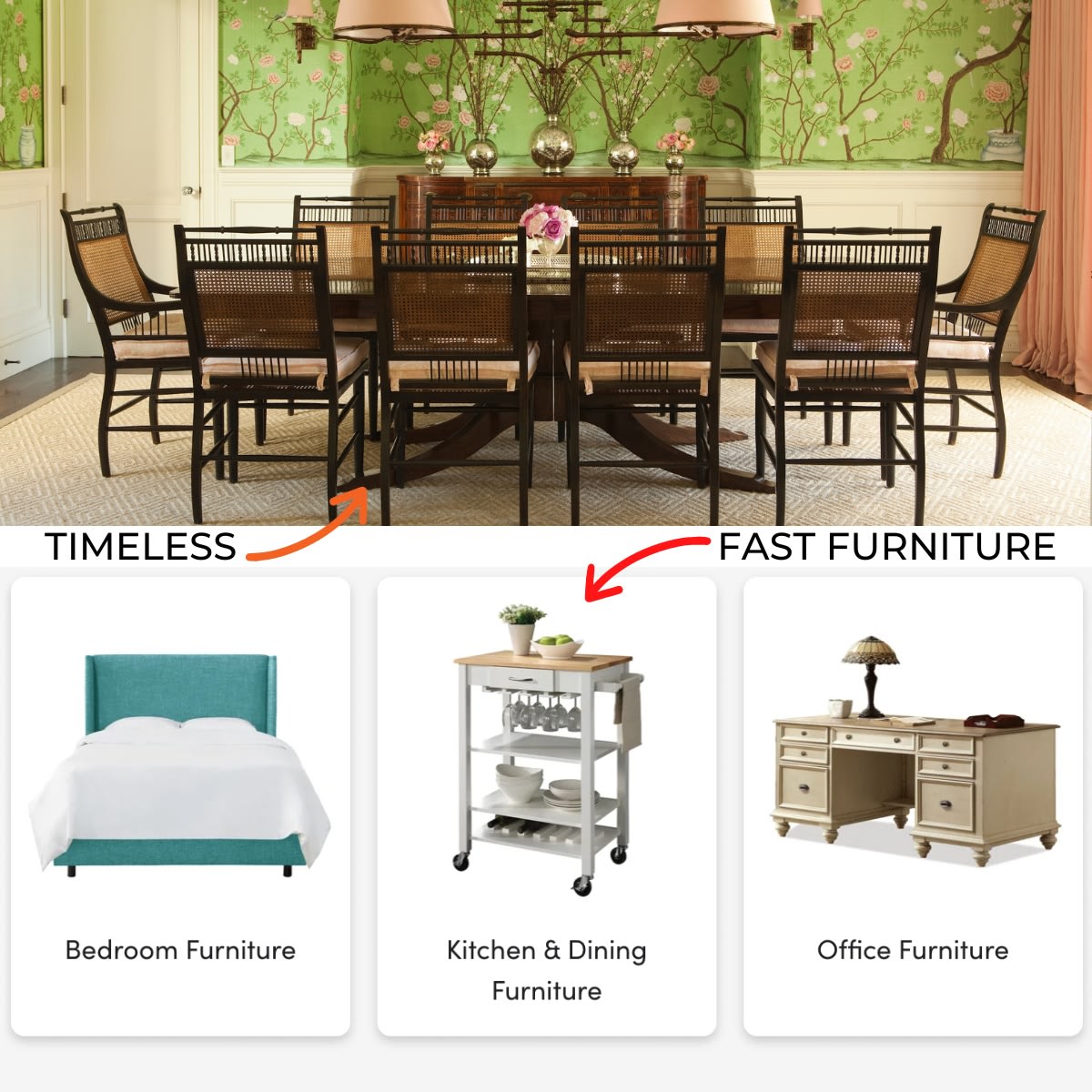 Need design input, or ready to find your new dream home? We've got you. Get in touch with us at


[email protected]

today.