Plus a few things you should leave to the pros.
Summer has finally arrived in Los Angeles (June gloom, don't you dare come back), and while sunny weather calls for long beach days followed by barefoot barbecues, it also warrants a good ol' DIY project. This month, it's time to dive headfirst into a fun makeover that'll not only spruce up your home, but also give its value a well-deserved boost. Whether you're aiming to impress potential buyers or simply want to create a space that reflects your style and taste, these SBP-approved DIY projects are your ticket to success. Grab your toolbox, throw on a killer playlist and get down and dirty this summer.
Transform Your Tired Garage
You might be thinking, it's a garage — who cares! Well, WE CARE. The garage has become so much more than a place to park your cars. It's a workshop, a fitness studio, a storage space, you name it. SBP's Tracy and F. Ron Smith recently gave their garage a major upgrade by adding built-in cabinetry, wine storage and giving their garage floor an epoxy coat in a striking race car red color. Not only does the extra storage add a boost in value, but the epoxy coating is quick to install, a cinch to maintain and provides long-lasting protection from gasoline, bleach, acids, and many solvents. The reno journey began with F. Ron saying, "I want to smile every time I pull into the garage."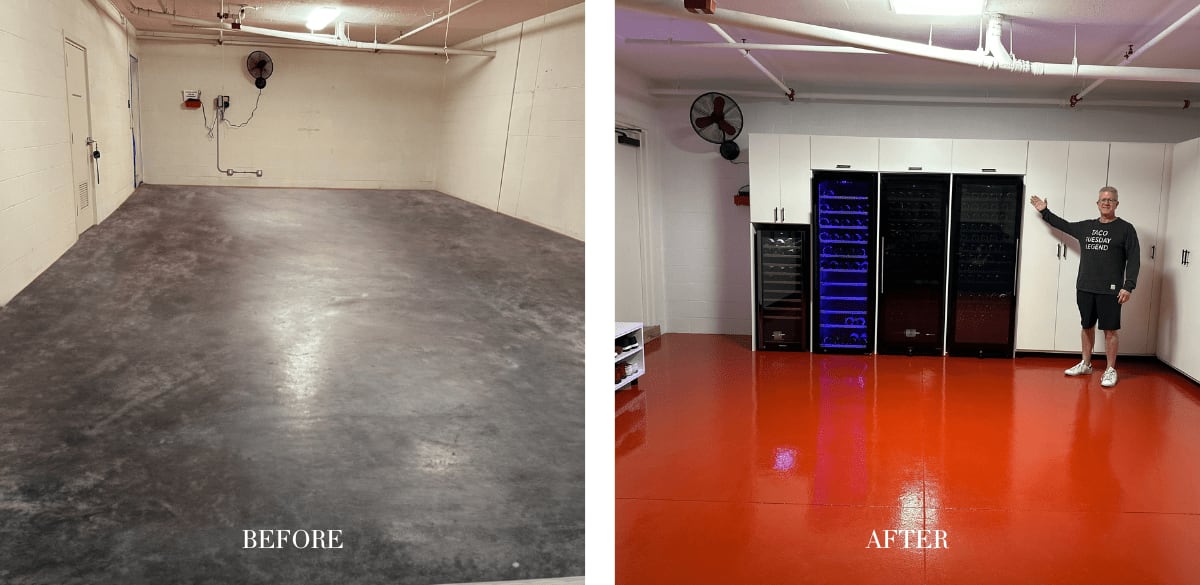 "Through a minor online search, we chose Closet Factory to install the custom cabinetry and our four wine cellar refrigerators," Tracy Smith shared. "It took us a week to clean the garage out, another week to apply the red epoxy coating to the existing concrete floor, and less than three days to complete our cabinet installation." At the end of it all, the duo could not be happier with the result, especially the built-in wine refrigerators (woohoo!), but they have one #PROTIP for others who are considering epoxy, "Move out or leave the house when you epoxy the floor. It stinks, but the end product is well worth it!" Potential buyers will be totally impressed by this upgrade, and it's even a project you can do yourself. Sound enticing? Here's a step by step process on how to do it.
Install New Wood Floors
If you're looking for a more significant renovation, installing new wood floors is pretty much a sure bet according to the NAR's 2022 Remodeling Impact Report. The report found that adding new wood flooring to a home has one of the highest percentages of cost recovery at 118%, making it a worthwhile investment only bested by refinishing existing wood floors (147% cost recovery!). But listen…if you're not experienced in flooring installation, it's best to leave this project to the professionals. What's the DIY portion you ask? Well, someone has to pick the finish, hire the contractor, and oversee the work, right? We recommend taking on those tasks while lounging poolside in the backyard, with cocktail next to your laptop of course 🍹.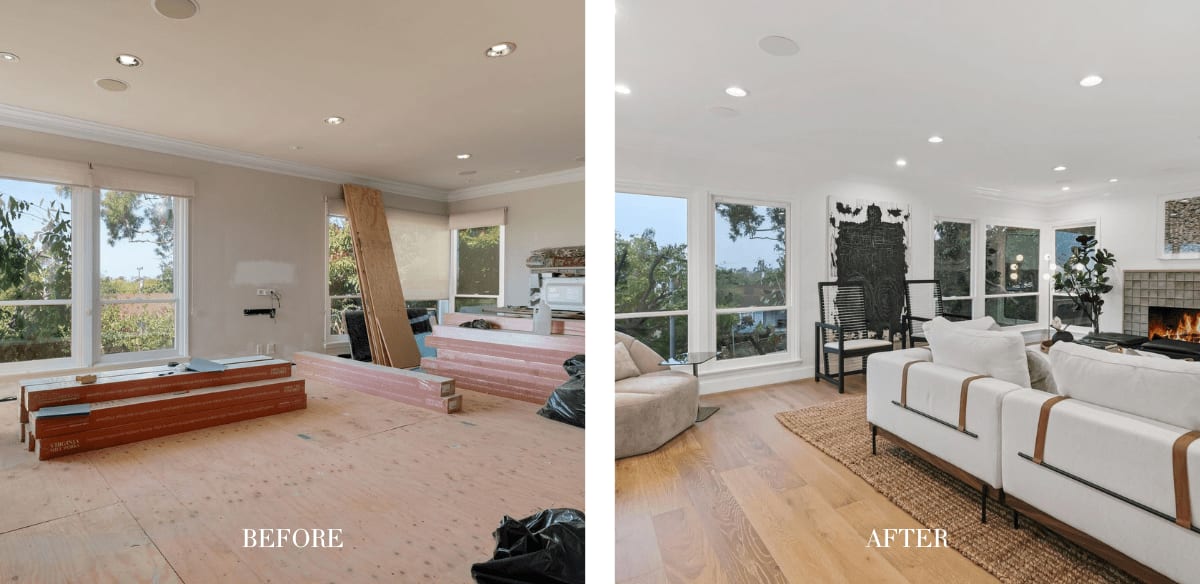 Paint it White
Give your casa some timeless flair by painting the interior or exterior with white, off white or cream paint. A fresh, neutral color palette offers a versatile backdrop for potential buyers to envision their own personal style while creating a sense of spaciousness and brightness.



According to the NAR, 81% of interior design experts recommend whites and creams when selling a house. By embracing the power of neutrality, you can give your home a clean, inviting look that transcends design trends and maximizes marketability. Take these before and afters of 1466 San Remo Drive as a prime example.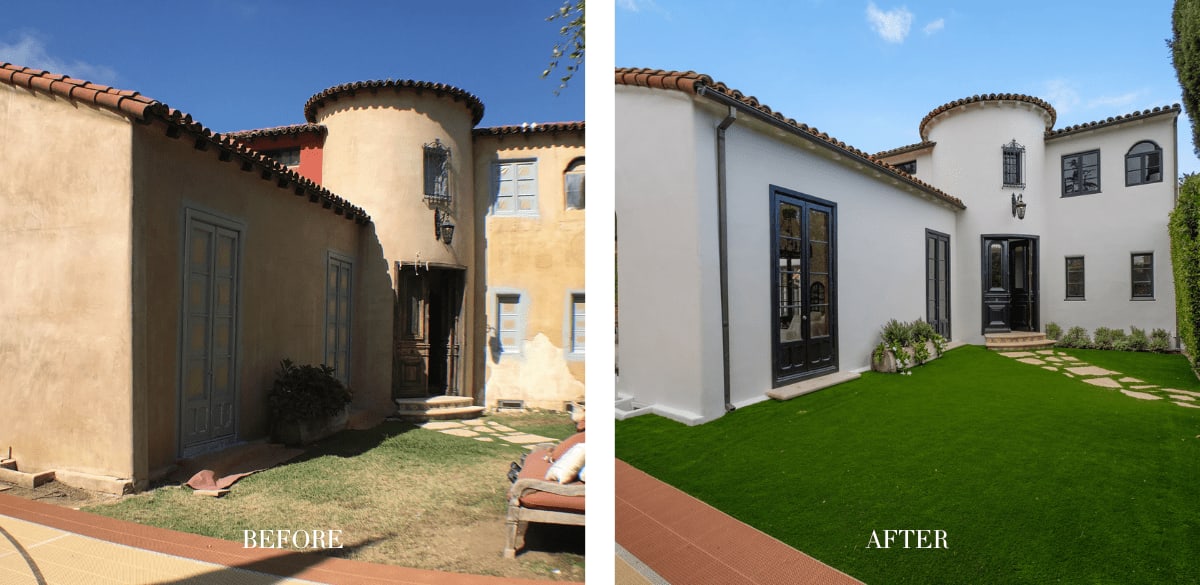 Create a Kid's Lounge & Homework Station
For families, creating a dedicated kid's lounge and homework station can be a real game-changer. Associate Partner Nate Stadler recently transformed his home's second-level loft area into a functional and fun space for his kids. Not only does this project add value to his home, but it completely enhances the Stadler family lifestyle. "We contracted California Closets to help us complete the job," Nate said. "The whole process was seamless. From design to install, it took just a couple of weeks."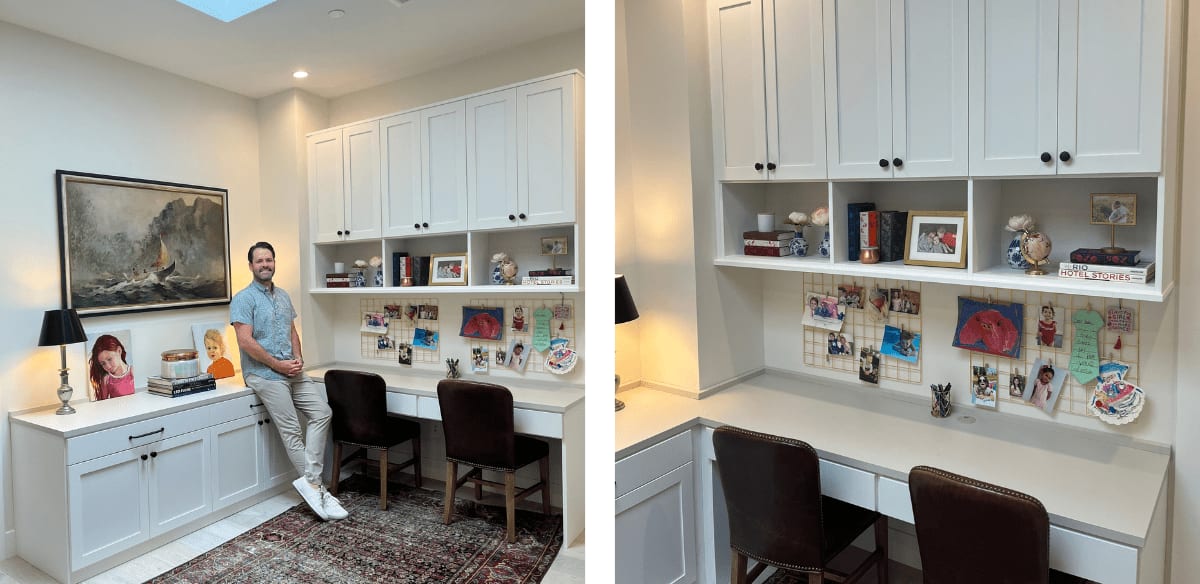 And if you'd rather handle the job solo, consider repurposing existing furniture and adding creative touches to make the space enjoyable for children. Bonus points if you get the little ones involved, too! "Just do it," Nate shared. "Be cognizant of resale value and make sure the project adds value not only to your family, but to future residents, as well."

Expand Your Outdoor Living Space
If you live in Los Angeles where the sun shines year-round (okay, minus June), outdoor space is absolutely key in defining your home's value. Director of Operations Courtney Welsh recently designed a deck for her new home by creating a rough sketch of the layout and enlisting a contractor to get it done. "It's become a true extension of our home and I love the seamless transition from indoors to outdoors," Courtney said.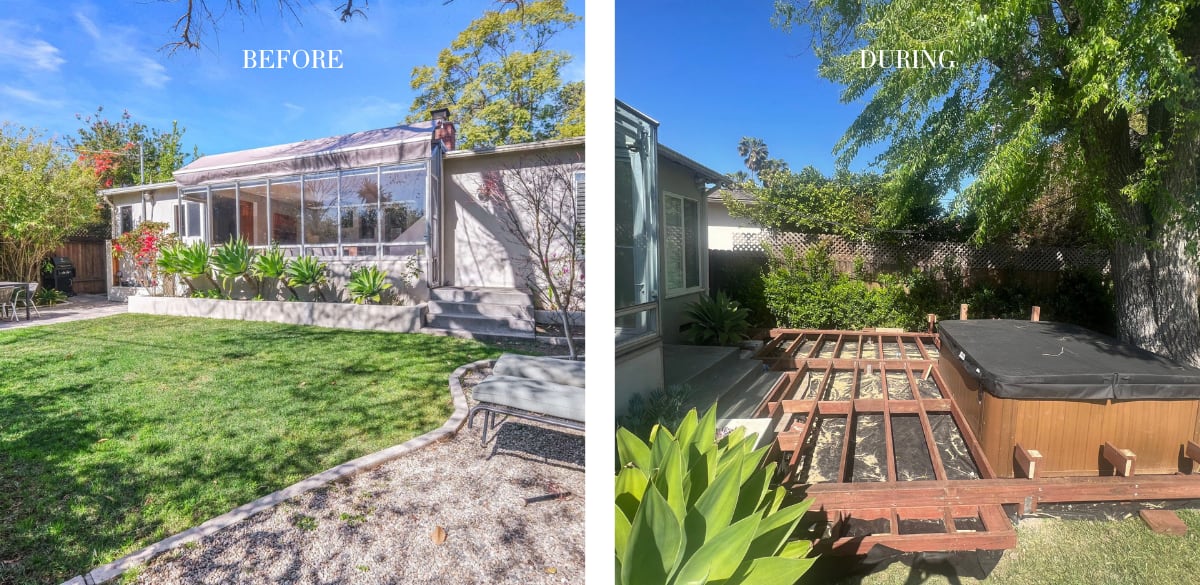 And when we asked for tips, she explained how Pinterest should be your best friend: "When we met with contractors, we always had a specific set of inspirational images we shared to ensure they could understand our vision." According to the 2023 Remodeling Impact Report on outdoor features, decks have a high rate of return on investment with a 9.8/10 Joy Score — because who ISN'T happy while sipping a cocktail at sunset? If you can handle a DIY project, go for it, but we recommend hiring construction experts to ensure safety and structural integrity.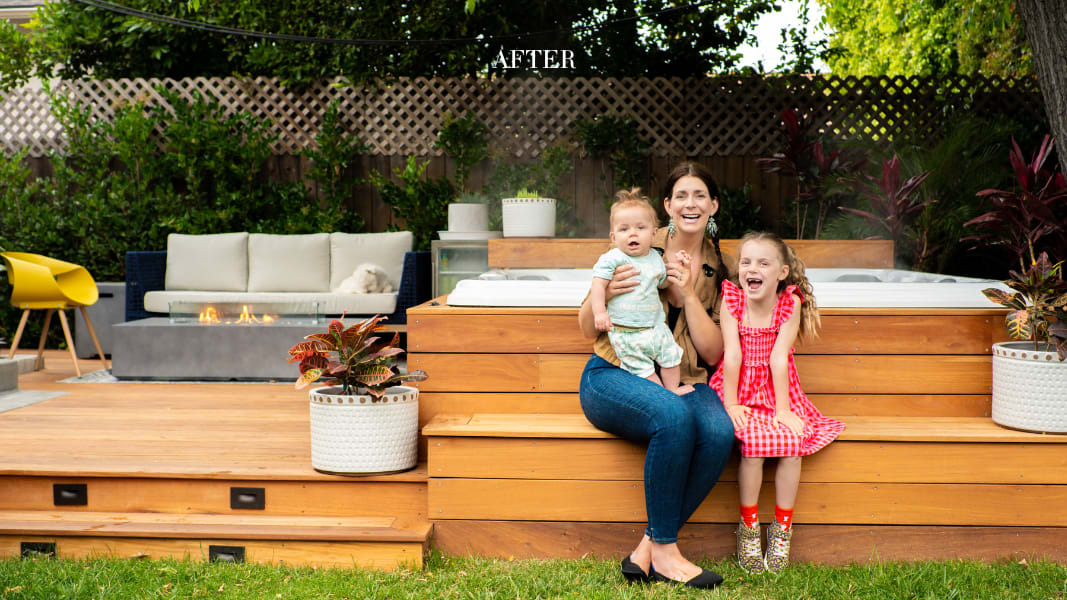 Change Out Your Lightbulbs
Sometimes increasing your home's value doesn't require extensive renovations. One simple but effective DIY project is changing out all the lightbulbs in your home. In fact, David Berg was recently featured in Architectural Digest for this hot tip, suggesting the use of brighter, more energy-efficient LED lighting: "For $200–300, you can ensure every room features matching color temperatures, brighten up dark hallways and closets, and allow the home to be seen in a better light, quite literally," he told AD. Plus, this is something anyone can do….as long as you have a ladder (safety first)!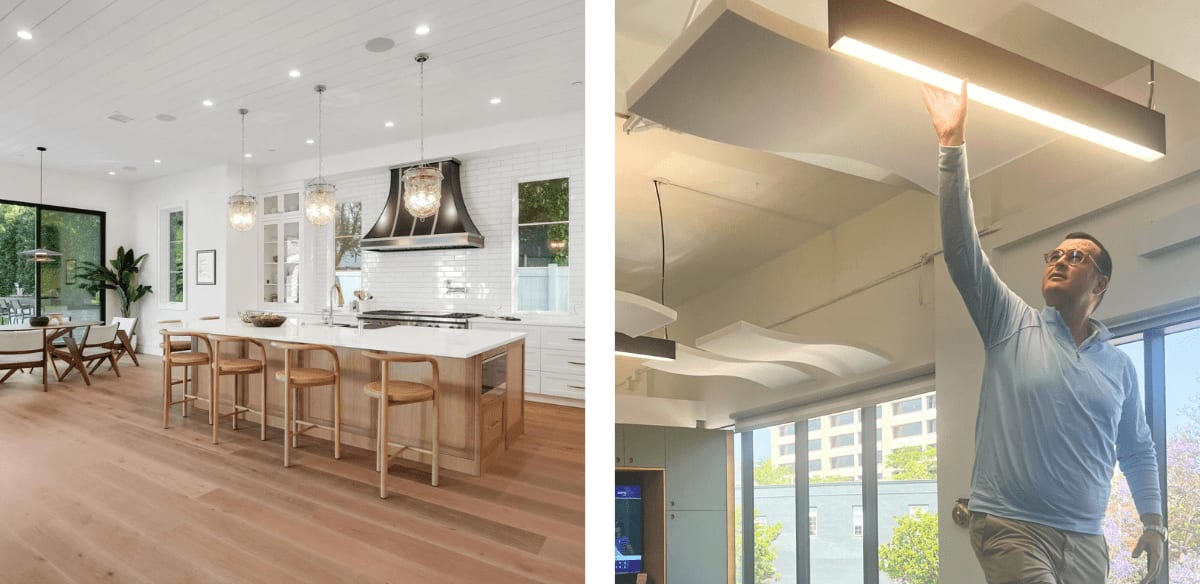 Give Your Landscaping a Facelift
They say to not judge a book by its cover, but when it comes to real estate, F. Ron argues that landscaping is among the most important aspects of curb appeal. His three tenets for epic landscaping? Safety, space and color. To enhance safety and privacy, incorporate fencing and plant hedging that grows over time. For space, clean up overgrown plants to create a well-maintained look while adding turf or hardscape for outdoor functionality. "Remember, if there are overgrown plants in the garden, potential buyers will worry about what hasn't been maintained inside of the house," F. Ron advised.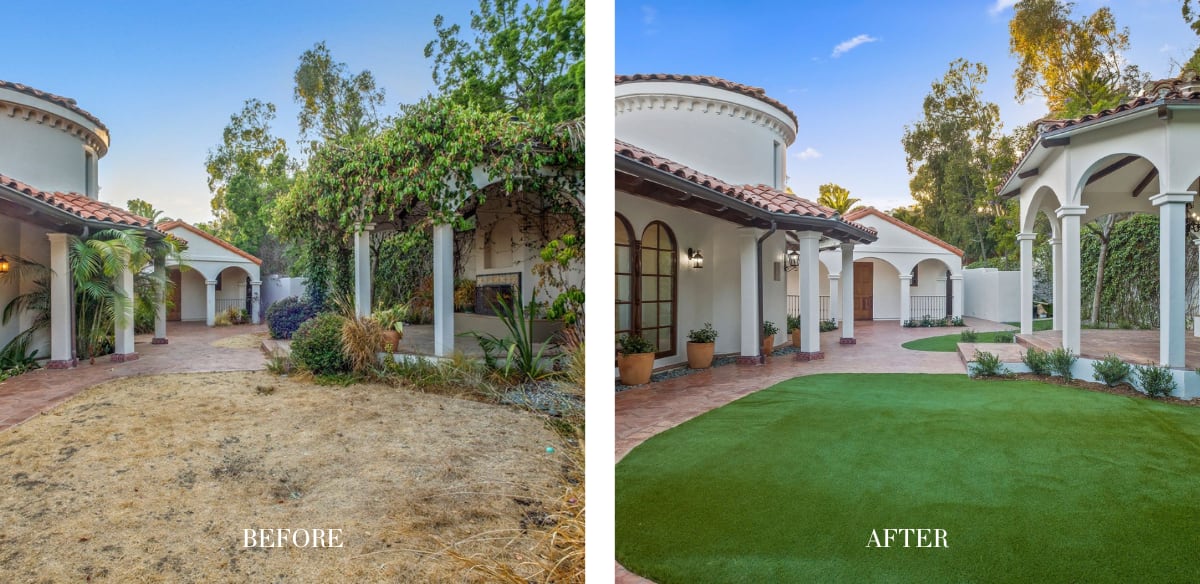 And for a vibrant touch, introduce pops of color with flowers or an edible garden. Choosing low-maintenance options like native flowers also helps reduce water usage and attracts hummingbirds and butterflies. But of course, for more complex landscaping, it's best to consult with a professional. Once it's done you'll have a true outdoor oasis that you can be proud of, and if you do ever decide to sell, just know that CA homebuyers spend big on outdoor space.
Planning to roll up your sleeves and unleash your DIY creativity this summer? We'd love to chat about it! Questions, comments, photos — send them over to

[email protected]

. We're here to help.